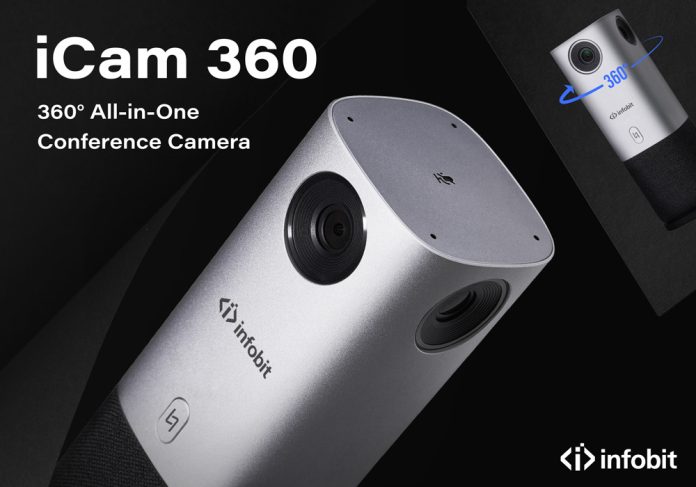 INFOBIT, a professional manufacturer of meeting room technology,  has launched its new 360° Panoramic All-in-One Conference Camera- iCam 360.
Product Introduction
The INFOBIT AV iCam 360 integrates a 360° camera, speakers, and voice-tracking microphones in a design as portable as it is stylish. The camera requires no external devices or time-consuming setup efforts. Plug in the USB and start your meeting. Operating in Standalone Mode, the iCam 360 provides full performance right out of the box.
Features
– Integrated 4-lense configuration for a full panoramic view
– Image Sensor: 1/3.06″ SONY sensor
– 13 Megapixel
– Max Resolution: 4K UltraHD, 3840×2160
– Focus: Auto Focus
– Field of View: 360°
– Digital Noise Reduction: 2D & 3D noise reduction
– White Balance: Auto
– Microphone: Integrated, pickup up to 32 feet total coverage
– I/O: USB Type-C
– All-in-One Design with integrated camera, speakers and mics
– Panoramic 360° Field of View, integrated 4 Lens Camera
– Six (6) Display Modes
– Integrated Microphone for Voice Pickup up to 16 Feet (from device)
– Compatible with all major video conferencing platforms
Learn more: https://www.infobitav.com/icam-360/