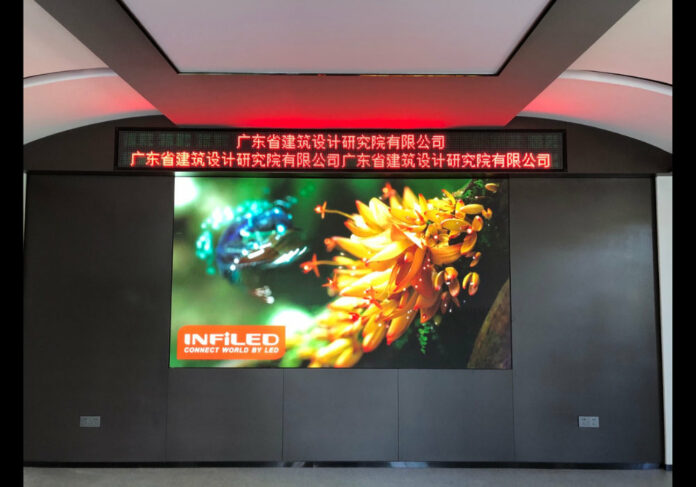 In March this year, INFiLED installed an ultra-thin and high-definition LED display for the conference room of Guangdong Architectural Design and Research Institute Co., LTD. The former has outstanding performance in the global LED screen field, while the latter has made achievements in the construction industry. There is no doubt that the cooperation is of a high standard and mutually beneficial.
The purpose of the renovation project is explicit. On the one hand, the excellent LED screen will undoubtedly provide a better meeting experience for employees. On the other hand, since the meeting room is often used to receive and present content to customers, INFiLED screen helps to improve the customer's visual perception.
The screen provided by INFiLED is 3 meters wide and 1.65 meters high. It fits neatly into the wall without exposing any cables. In terms of visualization, it boasts a fine 1.25mm pixel pitch and a 160° wide viewing angle, ensuring a high-quality visual experience for all audiences.
In this project cooperation, the flagship product of INFiLED, the WP series, is selected, and its available pixel pitch ranges from 0.9mm to 3.1mm. In addition to excellent display performance, the WP series can readily achieve Full HD, 4K, and 8K resolutions with a panel ratio of 16:9. Furthermore, front installation, front maintenance, and built-in media player support make the operation and management more convenient.
About INFiLED WP series
The INFiLED WP series is an ultra-thin, lightweight, high-definition LED display that delivers impressive visuals, combining a slim and elegant design with extremely easy installation. Customers can save a lot of space thanks to its unique 29.5mm edge thickness. The product is suitable for various vertical markets such as command and control centres, broadcast, conference rooms, retail, education, and more.