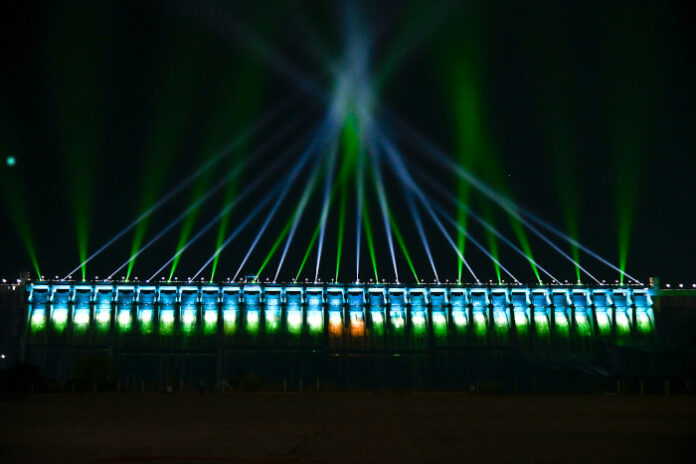 Illuminating water bodies with some impressive sound and light show is less than commonality these days. But trying and achieving it at the world's second largest concrete dam has its pride and prestige. The site is India's very own prideful Sardar Sarovar Dam, and the prestige of illuminating it is owned by Rhino Engineers.
SI Asia presents in its inaugural India e-news a yet another story of brilliance in resilience.
…………………………………………
Creating a sound and light show on any dam surface measuring 900 x 100 meters is as big a challenge as the size of the site. The stakes are even more daunting when the country's Prime Minister is to inaugurate and watch it.
The venue is practically a towering symbol of the nation's pride. Any sound and light show on such venue had to be not just a tribute to the towering personality that Sarar Patel was but also evoke the national spirit, and in a very entertaining fashion too.
More, given the size and nature of the integration – covering an area of over four lakh square feet area – no ordinary proposition would make a matching show. It needed an extraordinary scale of innovation to weave an immersive experience that people can relate to even as they regale in it. It needed to be inspirational, evocative, and at the same time stimulating human senses of health, harmony and well-being.
Sardar Vallabhbhai (Jhaverbhai) Patel – whom the Dam is named after, and who stands as the tallest statue in the world today – was an illustrious son of India. He fondly revered as Iron Man of India for his famously historicized integration of India uniting 565 fragmented Princely States into one nation during his tenure as Independent India's first Home Minister.
A sound and light show at such a gigantic setting couldn't be an ordinary material.
That setting itself making it all the more prestigious, Rhino Engineers – having been appointed design consultant-integrators for the Dam's sound and light show – took on the 'monumental' task with both dedication and determination.
"That was arguably one of the most distinctly qualitative specifications, we ever had to meet," recalls Narendra Naidu, Principal Consultant for Rhino Engineers, and the man who stood all over the project- fore front, central and backbone. "To be able to realize that grand vision, we worked hard deliberated a lot, mooted multiple models before selecting a unique theme for the project," he explains.
According  to him, the content-design team selected a uniquely themed song that pays tribute to the great leader, and emphasizes the spirit of national integration. "The tune is framed in such a way that it stimulates human senses, and revitalizes the innate positive energies for a harmonious connect with the world even as it communicates the importance of national integration," he explains. "We achieved that unique communication effect by creating iconic zones with vibrant colours and lighting effects with a never-before blend of clusters of flood LED lights, moving heads, and professional sound systems."
"That it makes a very unique impact on the human senses it accentuates their appeal and connect to the world," Naidu said. "It's a perfect display of art of ornamental lighting with sound, as it imparts an ornamental effect to the human body."
The exhaustively expansive stretch of systems integrated for the project speaks of the size that it is:
Lighting:
Moving Head RGBW400watt : 32 Nos.
RGBW Wash 1100 Watt: 90 Nos.
RGBW Flood Light 40Watt: 90 Nos.
Warm-white Flood Light 200Watt: 200 Nos.
RGBW Flood Light 200 Watt: 200 Nos.
Neon flex Light Warm-white : 9000 Mtr.
Sound:
10.2 Surrounds Sound Audio System
3-way & 2-way tops: 50 to 70  Nos.
Dual 18-inch Subwoofers: 6 Nos.
32/48-channel Digital Console Inbuilt Effect Processor – 31 Band Equilizer – high performance Pre Amp: 1 Nos.
Backup / Stand by console : 1no
Stage Monitors (800 Watt): 4 Nos
Side Fill Moniters (1000 Watt): – 2 Nos.
Active Cross Over – 1 Nos.
Microphones with Stand: 22 Nos.
DI Box: 8 Nos.
Cordless Microphones: 4 Nos.
Audio Link 32 Channel : 1 Nos.
2-way speakers – 4to6 Nos for Standby SystemEvery evening 5-7 different thematic songs are played accompanying the light show.
The truly monumental effort had its most prideful return- the commendation by Prime Minister Narendra Modi.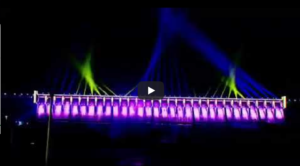 The Sound & Light show at the Sardar Sarowar Dam was inaugurated by Prime Minister Narendra Modi on 30 October 2020. Watch the video of the event that had an aura of rarest kind HERE.