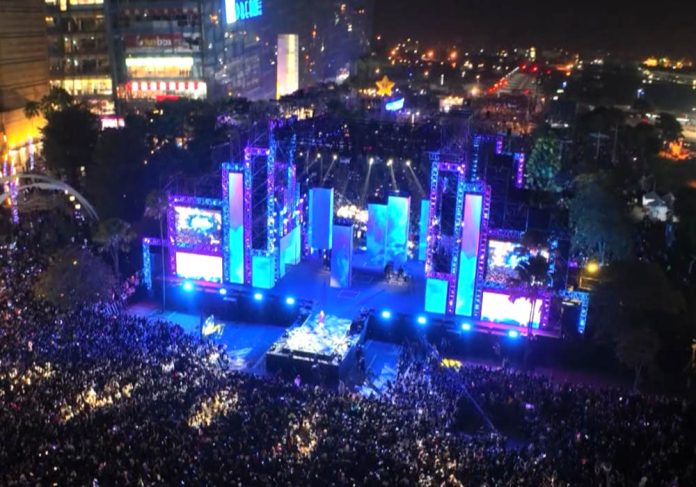 Formosa Television covered the spectacular New Year's Eve 2022 concert and celebration in Kaohsiung, Taiwan with support from Analog Way's Aquilon RS4 4K/8K multi-screen presentation system and the RC400T event controller.
Kaohsiung City Government sponsored the event at Dream Mall. The venue featured a double-sided performance stage, each side with a different theme, which hosted an array of artists plus a gala midnight fireworks display.
"This New Year's Eve concert was the first time the organizer designed and built a double-sided stage with a field of view of up to 260º, which was able to accommodate a larger live audience," explains Yee Tat Nam, Business Development & Technical Services Manager at Analog Way Asia. "One side of the stage had a 'Present' theme and other side a 'Future' theme."
The stage's approximately 600-square-meter LED backdrop featured 3.9 and 4.8 pixel pitch tiles requiring a minimum of nine 4K60 outputs to drive the full LED screen.
When the main contractor for the concert, Sing Tai Yang Stage Co. Ltd., had an equipment discussion with the VJ, he recommended using Analog Way's Aquilon RS4, which was capable of providing up to 16 4K outputs and offered enough 4K layers to display the VJ's 4K content.
"Other brands needed multiple processors to cover the entire LED screen, but the Aquilon RS4 has 16 4K outputs in single unit," says Yee. "In addition to furnishing all that power in just one unit, the RS4's Web RCS was easy to use and the 24 4K layers were really helpful for this setup."
Analog Way provided an on-site technician to support the event for Formosa Television's contractor.