12 April saw a large gathering of consultants, rental & staging companies, system integrators and venue operators at the Joyden Hall in Singapore to witness the outstanding sonic performance of the JBL SRX900 series.
Though the JBL SRX900 series was launched last June, the presentation and demonstration of the system to Asia began later in 2022. This started in Australia and has since covered Vietnam, South Korea, Indonesia, Malaysia, Thailand, and Singapore was the next stop before the tour continues to Japan, New Zealand and the Philippines.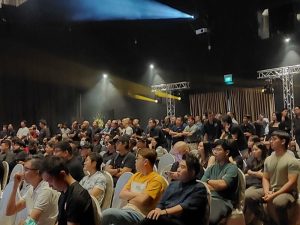 Rodney Houston, Senior Director of Sales, Entertainment, APAC, Professional Solutions at Harman International, a SAMSUNG Company, broke down the key technologies of the SRX900 series to the audience before demonstrating the SRX906LA Dual 6.5-inch Powered Line Array Loudspeaker, the SRX910LA Dual 10-inch Powered Line Array Loudspeaker and the SRX918S 18-inch Powered Subwoofer and the SRX928S Dual 18-inch Powered Subwoofer.
The SRX900 family of powered line arrays and subwoofers addresses the growing need for affordable, scalable small and medium-format professional sound-reinforcement solutions. The speakers' high-power-handling transducers deliver extremely low distortion, high fidelity and class-leading output. Precision waveguides provide accurate pattern control for intelligibility and definition. A full suite of user-configurable DSP and design-and-management software tools provides hands-on computer or mobile device control, making design, deployment and control a breeze. SRX900's cabinet architecture is engineered for easy handling, fast rigging, minimal space displacement and streamlined transport.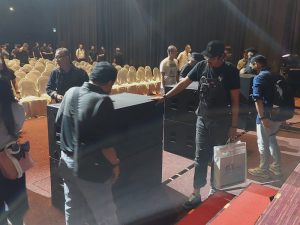 Other key points to note are that the SRX900 series are designed to work seamlessly with other JBL touring sound products, so users can complement their existing JBL systems. Also, the series' advanced LevelMax limiter suite uses sophisticated excursion-control algorithms to protect transducers from mechanical damage. RMS limiting and long-term thermal protection keep transducer temperatures under control, ensuring reliable operation under any conditions.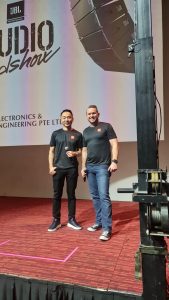 "We're really excited that we were able to showcase this new range of line-arrays as they fit in really well with our market. The turnout was fantastic and the SRX900 was unsurprisingly very well received!" said Gary Goh, CEO of Electronics & Engineering Pte Ltd.
Rodney adds that the response from the tour has been very positive and is confident of soon seeing the SRX900 series as part of inventories in Asia.