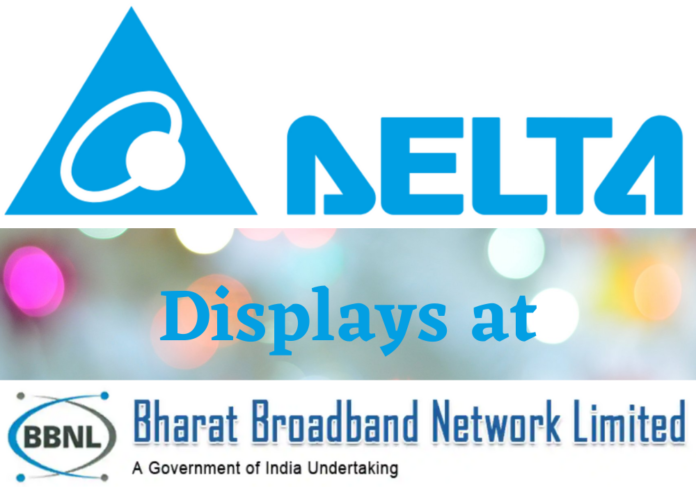 Delta Displays, leading LED display and monitoring solutions major – in association with their systems integration partner Pan Intellecom – has installed its latest Laser Video wall solution at Bharat Broadband Network Limited (BBNL) in India's national capital New Delhi, thereby enabling telecom enterprise with monitoring competence at their Network Operations Center (NOC).
……………………………………………….
A State-owned broadband services giant, BBNL has been mandated to set up BharatNet providing countrywide broadband connectivity from Block level to Gram Panchayats.
For an always-connected world, uptime of broadband infrastructure has become a necessity. Network Operations Centers (NOCs) are set up as the center where all data about the network performance is gathered and monitored. In such a dynamic environment, it is imperative for the display to be scalable, and at the same time, reliable in every aspect of technology and service to monitor and maintain a large broadband infrastructure.
Delta, with their trusted and proven expertise in setting up NOCs, offered BBNL its latest Laser Video wall solution that will help the BBNL Network Operations Center ensure uptime and optimal network performance.
The solution proposed comprised a 349 square feet Laser Video wall with total of 49.77 Megapixel resolution done with 70-inch Full HD DLP panels in 12 x 2 configuration, and running on Windows-based control system. The solution helps the NOC operators provide 24/7 support for effective monitoring operations of all backbone links and network devices that the NOC is connected to from across its national infrastructure.
The NOC monitors and manages the network equipment centrally, offering oversight of problems, configuration and change management, network security, performance and policy monitoring, reporting, scheduling, and documentation by utilizing sophisticated network management, monitoring, and analysis tools. The NOC provides a structured environment that effectively coordinates operational activities with all participants and vendors related to the function of the network.
The focus of the NOC operators is to ensure continuous operation of network equipment and services, providing quality support for network users, troubleshooting of all network and system-related problems, opening tickets to track and document resolution of problems where effective video wall solutions can play a vital role.
"Delta Video wall is a vital component at the center which aims to facilitate effective monitoring of the network; it is designed for 24×7 operation and mission-critical applications, helping our operators to monitor, manage, and troubleshoot problems on the network," said Sarvesh Singh BBNL's Chairman-Managing Director. "Delta team was quick with installation understanding the schedule timeliness, and were on their toes even during COVID-19 times," he commended. "The video wall solution has enhanced overall functional efficiency of NOC and has been a force multiplier in effective monitoring and management of the BharatNet Project."
Delta's Laser video wall has one of the highest brightness in the DLP video wall industry. The rugged design video wall cube and industrial-grade components can withstand tough demands of 24×7 running and long years of service life. The windows based Control system, Icon Pro Controller, can manage multiple video sources on a single display, enlarge a single video signal to multiple displays or enable centralized control of several video walls. The controller creates an unparalleled reliable, and flexible display solution capable of fulfilling critical applications, such as utilities, surveillance, disaster control, and traffic supervision, making it a perfect solution for 24/7 monitoring and controlling operations.