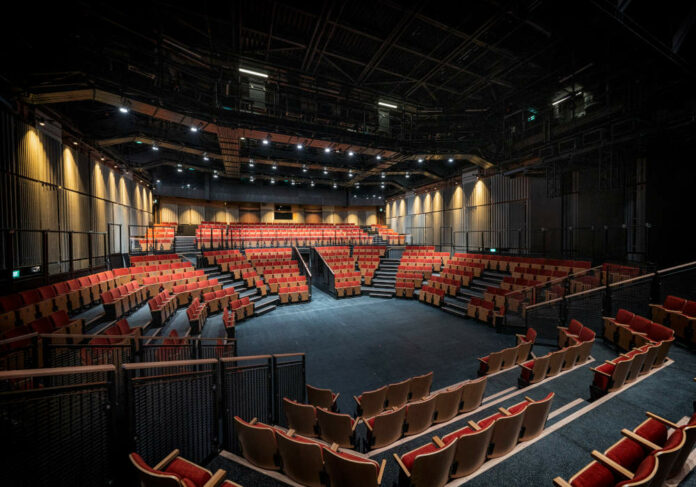 Singapore's highly anticipated Singtel Waterfront Theatre at Esplanade – Theatres on the Bay opened this month, offering a much-needed mid-size, flexible space that can be used for a wide range of productions. Hailed as a "black box theatre on steroids," it is filled with high-end technology, including a configurable sound system from d&b audiotechnik.
The Singtel Waterfront Theatre is part of Singapore's national performing arts centre and it fills the gap between the complex's larger auditorium and studio spaces. Situated prominently along the Esplanade Waterfront, the new theatre can accommodate up to 611 people in its traditional proscenium theatre end-on setting and up to 700 standing in a flat floor setting and can be re-jigged into six different configurations. With such flexibility achieved, it is suitable for a diverse range of programmes, from theatre and musicals to circus acts and opera.
Some of Esplanade's other venues are already installed with d&b audiotechnik systems including the Esplanade Outdoor Theatre, which previously had J-Series for more than a decade, and now has two A-Series cabinets flown horizontal arrays as main left-right, and four KSL-SUB subwoofers flown left-right. In the Esplanade Concert Hall, d&b C-Series has been installed since the doors opened and are still in-play today.
The Esplanade Co Ltd's Head of Sound, Ed Ferguson, said that the new theatre needed an adaptable, flexible sound solution which could be simply re-configured as the seating, staging and sets changed. Working with d&b Singapore's Gareth Kelbrick and the in-house audio team, he designed a system that focused on a standard left-centre-right loudspeaker system, comprising three drops of three d&b A-Series arrays as its main hang. Eight d&b Y10P loudspeakers are in-situ to be deployed in various ways, depending on the configuration of the theatre. In addition, four d&b V-SUB subwoofers – two flown left-right and two as part of the ground stack and there are four d&b E8 loudspeakers in place for front fills on the balcony area. The system is driven by eight d&b 40D amplifiers and controlled by a d&b DS100 Signal Engine.
"We went through a thorough evaluation process to find the right audio solution for the space, taking into account not only how it sounds, but also how easy the system was to re-configure and manage," said Ferguson. "d&b came out on top. Having invested in d&b systems in our other venues, I knew we'd be making the right choice as they have a strong support team in Singapore too."
Ferguson and his team are using the d&b DS100 mainly as a matrix and loudspeaker management tool, but in the future, productions will be presented at the Singtel Waterfront Theatre with a full d&b Soundscape system. One of the first productions to do this was Infinitely Closer by The Human Expression (T.H.E) Dance Company. Created by T.H.E founder and choreographer Kuik Swee Boon, the production included 3D sound and 3D video projection, with d&b Soundscape and the DS100 at the core of the system to immerse audiences in a 360-degree environment.
"It's great to have that additional processing and control headroom as part of our system, ready for when we need to use it for incoming productions," adds Ferguson.