The world has changed exponentially since Covid-19. Many are used to working, interacting, learning and even worshipping in the digital realm. For more than two years, churches had to divert to online services to continue to serve the spiritual needs of the majority of their congregation. When governments allowed physical worship, it came with strict restrictions on the number of worshippers permitted for each worship service. Now, many governments are treating Covid-19 as an endemic and have relaxed the rules regarding the number of worshippers who can gather and lifting distance restrictions among worshippers.
However, like in the corporate world, hybrid worship is expected to be the norm. Online church services will continue to serve the needs of those who may be encumbered or, for some other reason, not able to attend physical services – which is a great option. However, there is also a worry that the ease of online worship may discourage those who are physically well from attending the in-person worship services.
The church is not just a physical space but a community coming together. It is about collective worship. It is about sharing a common bond and being uplifted spiritually together. Further enhancing the experience will help churches to get their congregation to leave the comfort of their homes and return for physical worship services while possibly attracting new church members.
In short, churches need to consider upgrading their AV facilities and creating an experience that can only be achieved physically without distancing remote worshippers.
We live in a visual world
Visual technologies are being used to create larger-than-life personal experiences. Shopping malls have impressive LED screens installed within their premises or on facades to attract huge attention. Some museums engage visitors with immersive visuals and interactive storytelling through projection technology. And even in the corporate world, large video walls have been effectively implemented to engage stakeholders in a new manner.
Churches too can create that wow impact and immersive experience for their worshippers. Visual technologies can transform the worship experience by encompassing the worshipper's visual senses. They can complement the pastor's preaching by reinforcing the message and displaying lyrics of songs as part of the celebrations and prayers.
When done right. Visual technologies can even help to engage remote worshippers. By "transporting" them to the video wall or projected images, they can become part of the physical service and have that shared experience.
Visual experiences at the sanctuary and beyond
Visual technologies can be installed in several spaces within the church to build on the visual experience. Walkways to churches can have displays installed for spiritual and informational messages. Sunday school classrooms and meeting spaces can enhance the learning and meeting environment through visualization and collaboration. And extended worship spaces can undoubtedly benefit from the visual technologies streaming services.
If you want to take it even further, projection mapping on church facades can also provide a different dimension to the worshipper's experience, especially during special occasions. It gives churches the unique opportunity to attract and immerse worshippers with captivating images and inspiring messages.
Barco visualization solutions
LED & LCD video walls
Video walls offer high performances, brightness and reliability. They can fit in perfectly at the sanctuary as a background display or as side displays. Their high resolution and fine pixel ensure that every word, graphic and picture can be seen wherever the worshipper is seated. Video walls provide the advantage of being configured according to the width and height of the display needed to fit each space's requirement.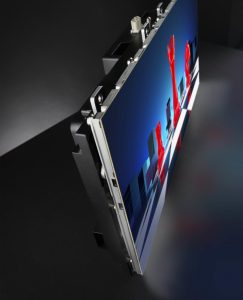 Barco recently introduced its newest video wall platform – TruePix. TruePix is designed completely from the ground up to create a purpose-built video wall for a variety of applications. It perfects all aspects of the LED experience starting from installation, throughout its long lifetime, to after-sales support and maintenance. TruePix offers a truly seamless display with superb colour accuracy, under all lighting conditions. Smart engineering of the display ensures easy and perfectly aligned installation regardless of imperfections in the flatness of the walls and level of the floors at the installation space. TruePix is the first product to incorporate Barco's superior Infinipix Gen2 image processing system, ensuring an unmatched viewing experience for all types of content. No visual distortions, low latency, perfect sync, and no tearing are the hallmarks of this system. TruePix also shows that visual excellence does not equal high energy consumption. Its EcoPower mode ensures reduced energy consumption, helping to limit the ecological footprint. And Barco offers 10 years full service support for TruePix.
Barco offers both tiled-LCD and direct view LED video walls. Both are excellent to display any type of content, from plain text to colourful videos. Furthermore, they are very flexible in size and can vary from small to very large. For both LCD and LED, there are models that produce sufficient brightness to be used in daylight conditions. Especially direct-view LED modules are perfect for use in bright environments. Barco's LCD and LED video walls both offer excellent quality. The choice of which technology to use will depend on budgets and the type of content to be screened.
Projectors
Projectors offer a different visual dimension. They offer effects that LED/LCD/Videowalls can't duplicate. Projector technology has improved by leaps and bounds. Laser-based projectors offer minimal maintenance and a long life span giving users a good return on investment. The projectors are available in various configurations, sizes and weights to suit different space needs, be it big or small.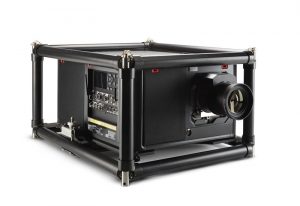 Barco's rugged large venue projectors offer excellent brightness for auditoriums and projection mapping. Barco's range of single-chip and 3-chip DLP laser projectors for large venues and events covers a large spectrum of brightness levels, ranging from 12,000 up to 75,000 lumens. Image quality of projection is a key consideration. Barco projectors combine outstanding brightness, resolution, and colour performance to give you the perfect image.
Creating a seamless experience for the church AV team
The church AV team are at the centre of ensuring an enhanced experience for the pastor, the music ministry, guest presenters and the worshippers. Understanding their challenges and helping resolve them is critical to the success of the overall experience.
Screen management of video walls and projectors is an essential element. Ensuring different sources connectivity, scaling of images where necessary, multi-windowing, strong processing capabilities, easy switching, video effects and integrated control of multiple screens at the fingertips of the Church AV team will certainly help the workflow. The choice of controllers, presentation switchers, and scalers plays an important role.
Barco offers a range of image processing solutions to meet the needs of the Church AV Team. The tools include presentation switchers, controllers and scalers. Barco's screen management systems provide scalable quality and consistent performance. Advanced screen mapping, expandable configurations and the integrated control of multiple screens make it easier to totally wow worshippers. True 4K at 60fps ensures striking images, while reliable, flexible and field-serviceable performance guarantees a future-proof system and complete peace of mind for the Church AV team.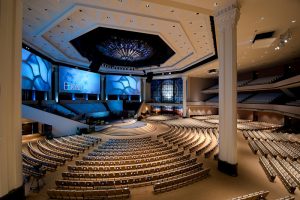 One brand for all your visual needs
At Barco, you find the answer for the entire visual chain from input to output. The company has the full range of display solutions – projectors, video walls, and complementing technologies such as controllers, processors and presentation switchers. By implementing technologies from a single brand, churches can scale up progressively without any technological incompatibility issues. Investing in value-adding technologies can be seen as investing in the church's future.
Are you interested to know how visual displays can transform your church? Begin your visual display journey, by clicking HERE.
Barco. Enabling Bright Outcomes.
This article is sponsored by Barco.