Christie laser projectors deployed for a spectacular projection mapping showcase on the iconic Secretariat Building in India's capital have elevated the scale and solemnity of the annual Beating Retreat ceremony to new heights.
The captivating visuals, specially designed to commemorate 75 years of India's independence, perfectly complemented the grand ceremony at Vijay Chowk, which included military bands, pipes and drum bands, buglers and trumpeters from India's armed forces. Held annually on January 29, the Beating Retreat ceremony is a centuries-old military tradition dating from the days when troops disengaged from battle at sunset. In India, the elaborate military ceremony is conducted to mark the formal conclusion of Republic Day celebrations.
Over 40 Christie D20WU-HS laser projectors were deployed for the six-minute projection mapping performance on the parapet walls of the Secretariat Building's symmetrical North and South Blocks, which feature Indo-Saracenic revival architecture and house key government offices. They were installed and commissioned by Christie's longstanding partner, Modern Stage Services, a renowned systems integrator with numerous high-profile, large-scale projects across India under its belt. This is the first time that a massive projection mapping performance has been staged during the Beating Retreat Ceremony.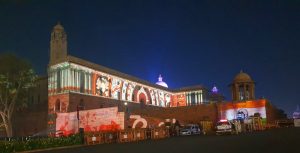 "We are thrilled to be given the honour of delivering the first-ever projection mapping show during the annual Beating Retreat Ceremony, which is a major highlight of Republic Day celebrations," said Pratik Wadhwa, Chief Executive Officer, Modern Stage Services. "The Christie D20WU-HS laser projector is our preferred choice to light up the Secretariat Building due to its high brightness, colour performance and reliability. The projector's compact, lightweight and omnidirectional capabilities also provide us with a lot of installation flexibility and reduce the complexities to accomplish this major outdoor spectacle."
Rishubh Nayar, Sales Director for India, Enterprise, Christie, commented, "We are delighted that the Christie HS Series has been chosen to illuminate the majestic Secretariat Building for this large-scale projection mapping show, which is a stunning combination of military tradition and state-of-the-art projection technology. My heartfelt congratulations to Pratik and the Modern Stage Services team for delivering a colourful, breathtaking spectacle that brings this year's Republic Day celebrations to a close on a high note."