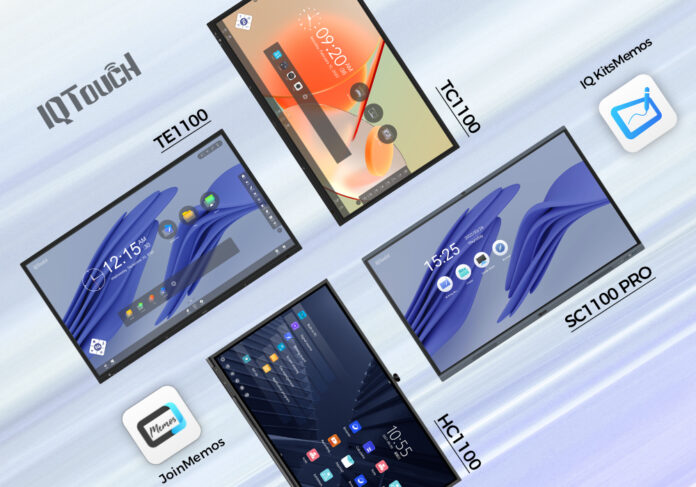 The market-leading Android 11.0 system has been launched. Is there any difference between Android 8.0/9.0 commonly used on IFP in the past and the new version of Android 11.0? What improvements can be realized to the customized system based on Android11.0? In terms of IQTouch 1100 Series with self-developed IQ OS based on Android 11.0, what innovations does it bring to IQ OS?
Needless to say, the upgraded system ensures a more stable system that runs faster and operates far smoother than before. Multi-users account allows multiple users with individual logins and varying permissions to use the same account. Users can personalize settings and backup confidential data on their own accounts so that their privacy can be protected by personal access. Split-screen multitasking presents flexible windows as a productivity tool, allowing you to easily perform different tasks in multiple windows at the same time. It avoids the trouble of tedious application switching, increases the utilization of large screens, and greatly improves meeting efficiency.
Besides, IQ OS offers an efficient and real-time device management system with access to control your devices instantly through the Cloud. Remotely control, lock, and wakeup screens, manage the applications that you can enable, disable, install, and update apps on multiple touch screens at once with quick access, check the operations information for each device, and set scheduled tasks for auto-executing powering on and off the devices can be realized on a unified platform.
BYOD, wireless screen sharing is a feature that all of IQTouch series IFPs have, which supports two-way screen sharing and touch, multi-split screen, group display, etc. The new generation IQ OS brings the innovation that achieves BYOM based on BYOD. When you want to do a presentation with partners in different locations, cast your screen from your personal laptop to the IQTouch, you will be able to call out the built-in camera and microphone from IQTouch to quickly set up a video conference. It also applies to the situation of the epidemic that business travel has been greatly reduced and partners hardly have a face-to-face discussion. For the display, it upgrades to 4K UHD resolution in screen sharing, empowering you the clarity to see every detail of the content being shared. In addition, screen sharing across networks is approved on IQ OS of IQTouch 1100 Series, which means remote screen sharing in different places is feasible. So long as there is Internet access, you can remotely share the screen content of your personal mobile device to the large screen even if you are not present in the meeting room. It gives you a stress-free way to interact and collaborate with your teammates remotely in the meeting.
For hardware, IQTouch 1100 Series adopts integrated design of camera, mic, and speakers. Fully upgraded performance 13MP ultra-high-definition camera with auto framing and voice tracking, 6 array microphones for long-distance voice pickup, 2x20W and 1x15W subwoofer speakers which brings top audio-visual effects to you. There is also powerful RAM+ROM which is available in 8G+128G, 8G+64G, 4G+32G, and 2G+16G. A variety of customized configurations and sizes can meet needs. Come and see how the top-of-the-line smart board behaves.