The next generation of video-based flame and smoke detection is already here. The technology behind AVIOTEC 8000i IR from Bosch Security is intelligent AI algorithms which can analyze high volumes of data for deep learning. The algorithms, together with high-quality images and an infrared illuminator can reliably distinguish between a harmless occurrence and the start of a real fire within seconds, even in harsh environments, low-visibility conditions and overnight.
…………………………………………………..
The next-generation technology of AVIOTEC 8000i IR is already extremely reliable as it is based on the analysis of vast quantities of image data from real fires and false alarm scenarios. It can therefore make a clear distinction between alert events and false alarms within seconds. The deep learning algorithms go one step further with the continuous input and analysis of further data from live footage. This makes it not only fast, but also highly robust, sensitive and customizable for every fire safety application.
High Resolution Images: Sensors within AVIOTEC 8000i IR video cameras produce and monitor images at 4 megapixels. This elevates the image quality of video-based fire detectors – and therefore reliability of smoke and flame detection – to a whole new level across the entire fire protection market. High-quality footage continues to be monitored down to 1 lux and even in darkness, thanks to an automatic, built-in infrared illumination.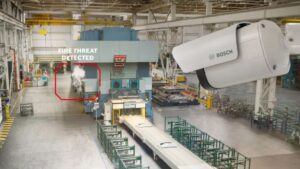 All-in-one customizable camera: No additional accessories are required for the installation and operation of AVIOTEC 8000i IR. The product is fully equipped with IP 67 housing, an integrated lens, 4-megapixel sensors, infrared illumination, and alarm and trouble relays. Bosch also offers an easy-to-use planning tool to design the installation.
Dual relay function: Besides its robustness against false alarms, AVIOTEC 8000i IR can also help support safety managers responsible for fire system maintenance. The device features two different relays, one to trigger an alarm in case signs of real fire or smoke are detected and the other to trigger an alert to indicate the rare occasion of trouble with the system itself.