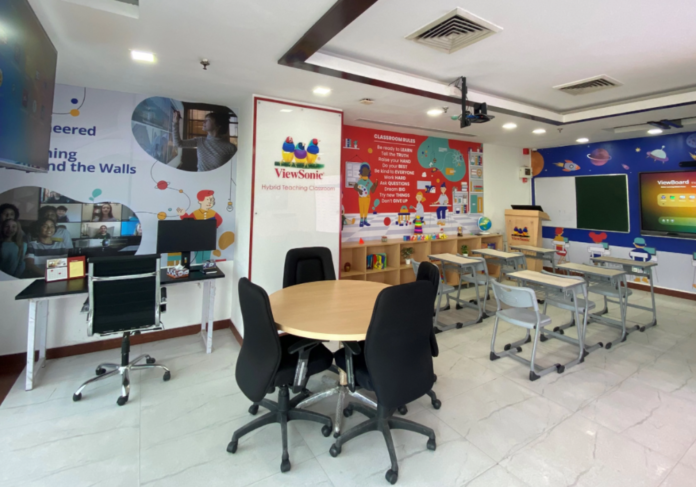 ViewSonic India, a leading global provider of visual solutions, recently launched its first ever Experience Zone in New Delhi. Targeted at the three potentially large, and rapidly-expanding segments of corporate, education and entertainment, the 1895-sft-spread Experience Zone aims at providing engaging and immersive experiences to its consumers and channel partners from the three domains under one roof- making it easier for them to access ViewSonic's latest visual technology solutions.
…………………………………………….
In the process, the American visual solutions company, made an apparent statement of its entry into the demanding segments with its first "India-showcasing" of solutions.
"We have always been customer-focused, and our solutions are developed to solve customers' pain points," said Eric Wei, Asia Pacific General Manager at ViewSonic. "India is one of the key markets for us, and therefore we are extremely excited to be launching the Experience Zone here," he said. "We understand the diversified needs of our consumers and we strive to provide them with our range of solutions and services."
According to him, the Bria, California-headquartered electronics major has plans to launch more Experience Zones in India and strengthen its position in the country in the coming months.
Corporate Area: The corporate area showcases professional and commercial products. Notably, the innovative all-in-one DirectView LED display is a one-stop solution that incorporates revolutionary technology, user-friendly features, and the integration of several systems into a single display, which boosts easy installation, operation, and maintenance.
The company's showcasing of premium range 135-inch fullHD DirectView LED display – the LD135-151 – also marked its entry into the LED video wall market that is exponentially growing in India. Built to impress as a centerpiece in any conference room, boardroom, or lobby, the LD135 is  a feature-rich display coming with 1.5mm fine pixel pitch, 600-nit high brightness, 4,440Hz ultra-fast refresh rate, and 120 per cent Rec.709 wide colour gamut.
Integrated ViewBoard Cast screen sharing software (along with optional ViewSonic vCastSender app), it enables both on-site and online attendees to participate in video conferences and simultaneously share content. Equipped with twin dual-core processors, 4GB RAM, and 32GB of internal memory, the LD135-151 can play multimedia from internal storage or a USB flash drive 24/7. Compatible with Chrome, Android, Windows, Mac OS, and iOS, and operable via remote configuration, the ViewSonic LD135-151 perfectly syncs with a wide array of diverse signage applications.
The area also includes the wireless presentation display, ViewSonic CDE20 series. The product reduces accessibility problems by making it easy to share content in person and remotely. These characteristics results in increased efficiency during meetings and conferences.
Education Area – Hybrid Learning Classrooms: Keeping in view the diverse levels of requirement from the education segment, ViewSonic is bringing forth a broad-spectrum of solutions, from myViewBoard to the ViewBoard interactive displays. This area of the Experience Zone displays various edtech products and solutions that are aimed to help teachers and students streamline and smoothen the teaching and learning experience.
As hybrid learning becomes more essential in education spaces, the hybrid learning area showcases ViewSonic's first hybrid classrooms in India with the ViewBoard IFP52-A series. With this solution, a PTZ Camera will record teachers' lectures, delivering the lesson to the student's device at home. This solution maintains an in-person bond between the teacher and student, even when both parties are online. Further, TD2455 can work as a teaching podium to enhances the teaching and learning methods.
Entertainment Area: The entertainment area comes with a reclining chair and its own home theatre system, truly bringing a comprehensive cinematic experience to the visitors. This area showcases the upcoming flagship model X1000-4K+ HDR Ultra Short Throw Smart LED Soundbar Projector along with their hero model X100-4K+ Projector. Equipped with 4K UHD resolution and an integrated 40W Harman Kardon-customized soundbar, the projector delivers bright visuals and crystal-clear audio, offering an immersive audiovisual experience to its users.
In addition, the entertainment area also showcases some of the brand's premium monitors, such as ColorPro and the ELITE Gaming Monitors. These products offer industry-standard color accuracy and smooth, uninterrupted gameplay, respectively. Through the Experience Zone, ViewSonic is expecting to see more engagement with its customers and expand its reach in other Indian cities.
"The launch of Experience Zone is one of ViewSonic's biggest accomplishment to strengthen our brand position in the Indian market," Sanjoy Bhattacharya, Director – Sales & Marketing (IT Business), ViewSonic India said on the occasion. "Giving first-hand experience of all our products and solutions to the users will help us establish ourselves and build a close-knit relationship with our customers," he explained. "Our display solutions have gained significant momentum in the Indian market with innovative technology and unique features."
According to him, the Experience Zone will showcase their new product- the 'Pen Displays,' that comes with a built-in software that eases the internal communications in the corporate usage environments. In addition, it will also demonstrate ViewSonic's recent monitors such as ColorPro and ELITE Gaming Monitors.
"With this zone, we are expecting to see more engagement with our customers and expand our reach in other cities."