Patna Women's College – one of the earliest higher learning colleges in India, and first of its kind in Bihar – is an institution that glows with a grand aura of nearly a century. Known for its heritage architecture that is as grand as its journey through history, the college has recently invested in a massive, best-in-class audio-visual and lighting system for its newly created 2500-seat Veronica Auditorium.
The prestigiously large AV systems integration is a fruition of coming together of Delhi-based AV distribution major Sun Infonet, and Mohali-based systems integrator Soundxperts.
An SIA exclusive:
…………………………………………………..
Patna Women's College, simply said, is unique for many reasons- grand architecture, colossal structure, and century-old history.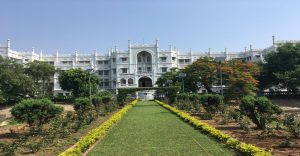 Having its initial seeding in third quarter of 19th century – through an assiduous missionary endeavour – it traversed history to take shape as full-fledged college of higher learning as early as 1940, and has come a long way to occupy a haloed status in promoting women's education- in a region hardly known for female literacy.
Growing from strength to strength over the years, the college was conferred upon with Autonomous status by the University Grants Commission in 2018. Today, the institution offers holistic education in as many as 26 undergraduate streams, nine post-graduate courses and four post-graduate diplomas for around 6000 students.
With such a grand setting, and expansive academic endeavour, the historic institution required a matching venue to cater to its increasing demand for a dedicated facility.
Apparently, keeping in view its stature, nay, statute for quality infrastructure, the college administration envisioned the facility to be a multipurpose venue equipped with best-in-class audio-visual and communication technology, in a very classy ambience and able to address applications of diverse nature and size.
Thus came the ideation for its own, dedicated, multipurpose auditorium, and that resulted in the creation of what is christened as Veronica Auditorium- a 2,500-seat large ensemble of art and audio-visual technology.
A thorough market scan and due diligence saw the combination of Delhi-based AV distribution major Sun Infonet and Mohali-based AV solutions provider Soundxperts landing the prestigious project to deploy the turnkey solution that included AV, lighting, acoustics, seating and flooring.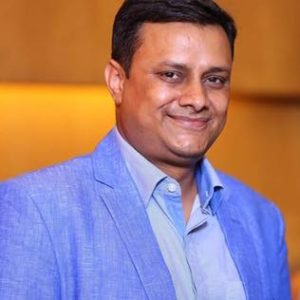 "Having the complete audio solution with renowned brands like Shure, Allen & Heath, Audiofocus, Quest Engineering and Meyer Sound from under one roof will bring a great advantage," says Soundxperts owner Amninder Warraich. "It's not just about economies of scale; it's about delivery, precision, technical support, and after sales service," he details. "Sun Infonet is known for their commitment for all that."
Stylized Grandiose – Veronica Auditorium
The Veronica Auditorium is a veritable statement of grand setting. For,
It's been designed with a vast stage that can accommodate as many as 350 performers at one go; it can be used for the full spectrum of live band performances, theatre shows, cultural events, video conferencing and cinema screenings.
The main screen featuring Samsung P4 active LED screen is the biggest of its kind, with switching provided by AMX. Four networked cameras, and as many as 14 smaller Samsung display screens have been installed alongside the main screen and in the green room, VIP room, control room and main hall.
For the main PA system, Soundxperts installed eight Audiofocus ARES 8a line array elements and three B 18a LF extensions on each side of the stage, plus a further cluster of four ARES 8a cabinets as centre fills.
Keeping in view the potential for large numbers of artists onstage, the integrator deployed as many as eight Audiofocus CM 15a low profile monitor speakers, together with four MTSub 218a twin 18" subwoofers.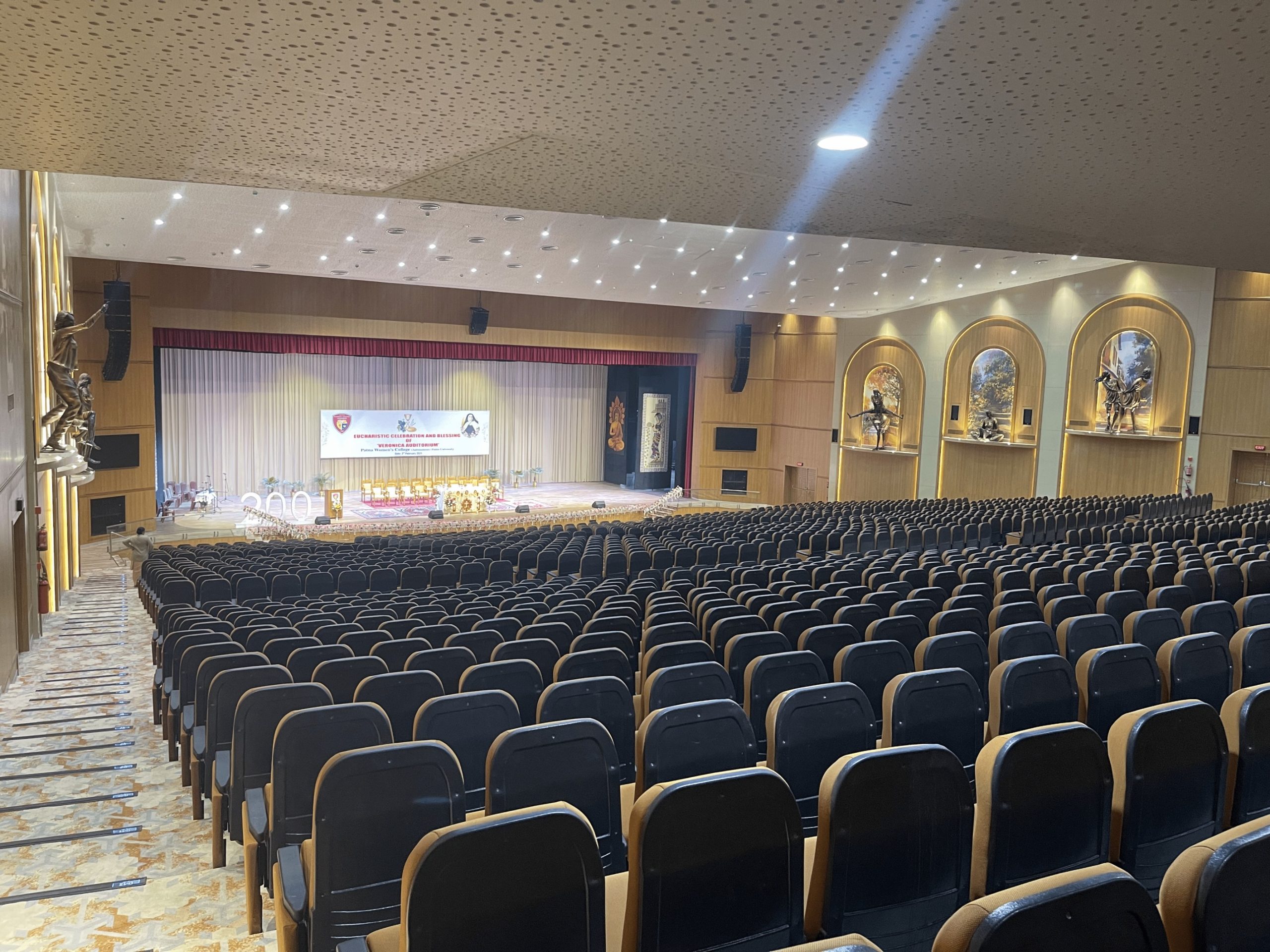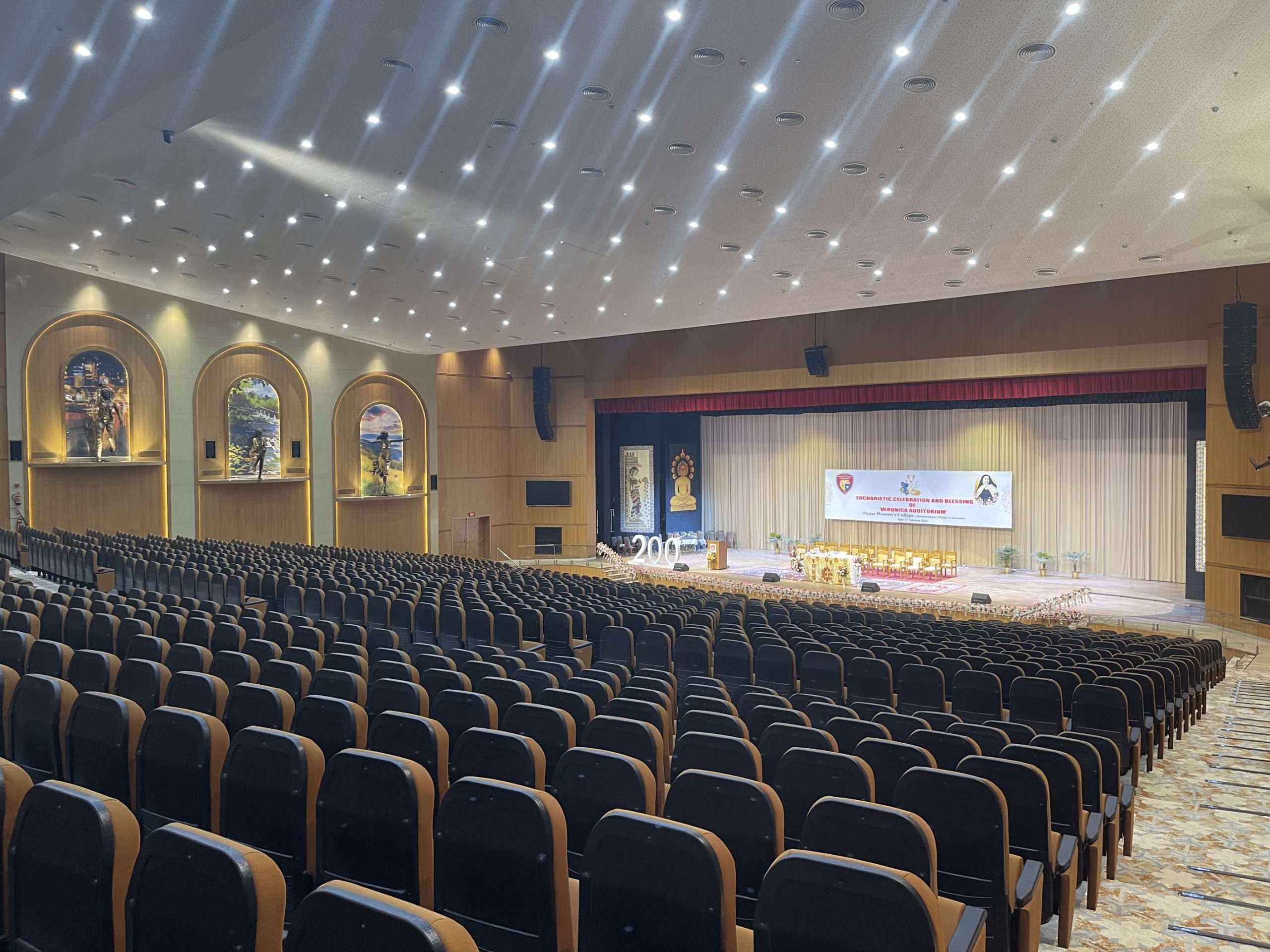 "The P4 Samsung active LED screen comes with a super wide viewing angle," informs Amninder. "It adds another star to the venue and allows multiple pieces of content to be shown at once."
"Audiofocus has always focused on transparent tonality that needs minimal equalisation," commends Sun Infonet Senior Application Engineer, Kallol Nath. "Audiofocus being the main PA system, it gives the user a great ease of operation," he explains further. "As all the cabinets are equipped with internal Wi-Fi, the user can check and alter any parameter of any loudspeaker whenever needed. This brought a lot of flexibility to the entire system."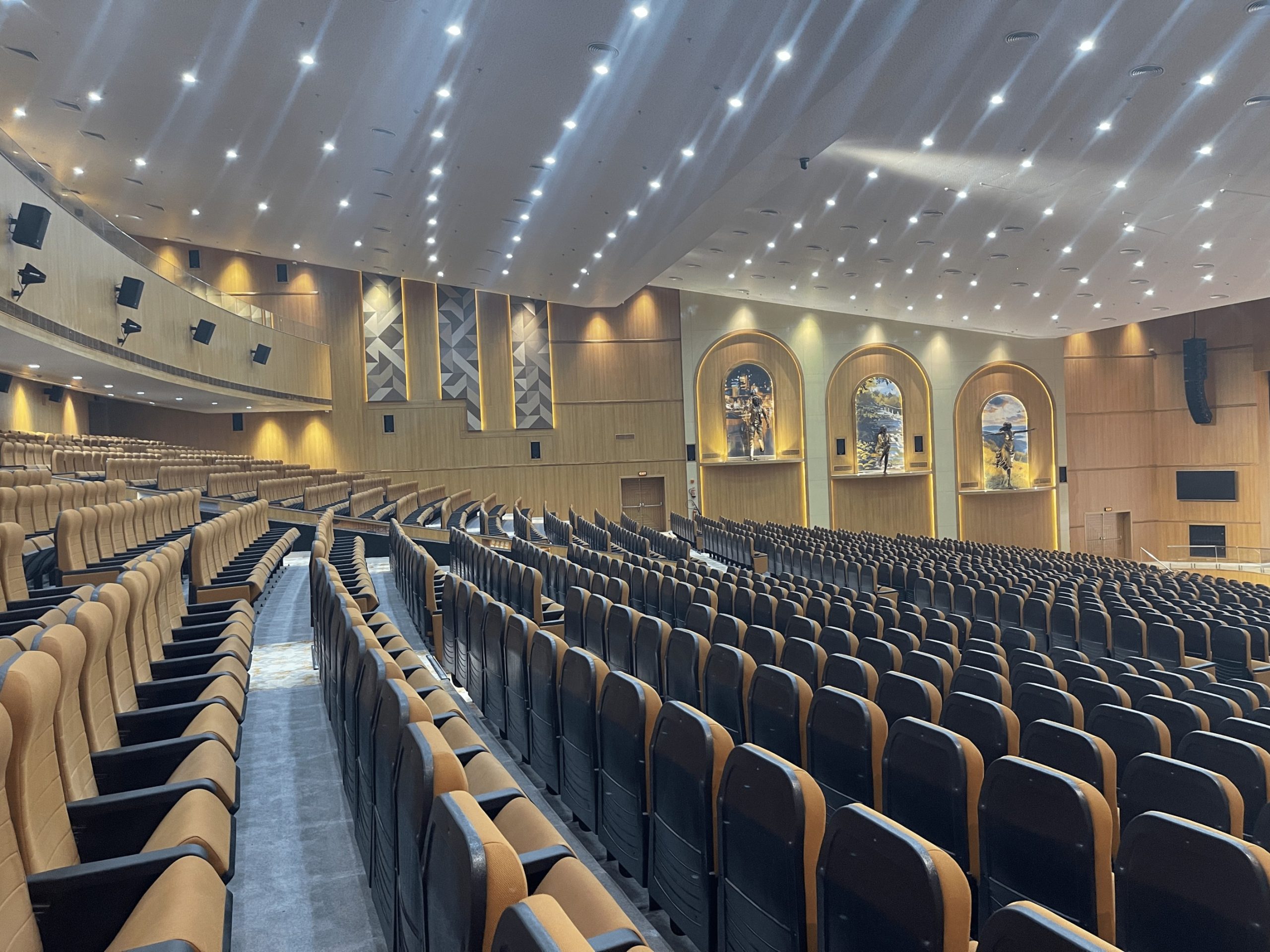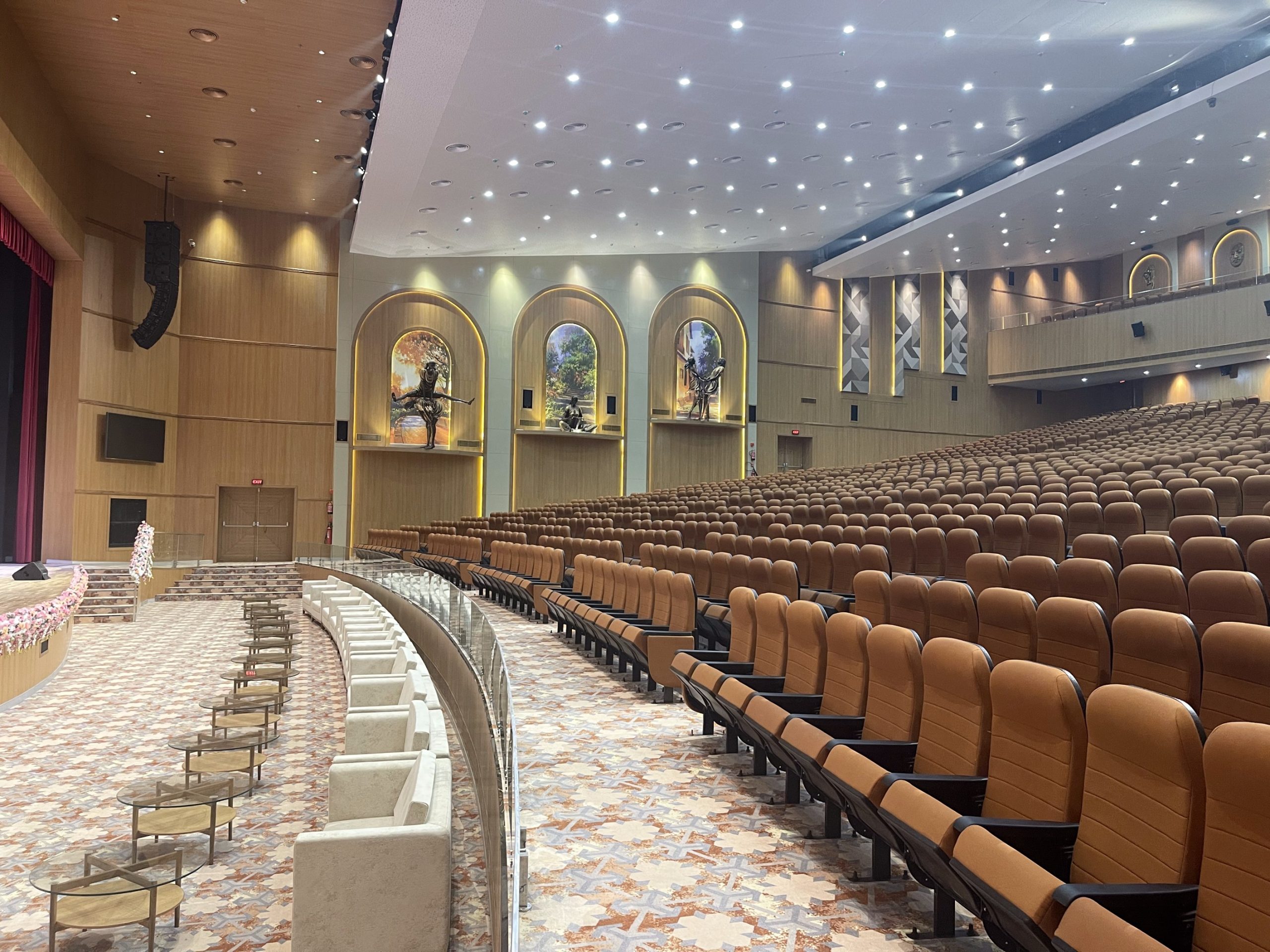 The beauty of the PA system here is that in addition to live events, it is also capable of delivering full 7.1 Dolby cinema sound for screenings. In order to achieve this surround sound capability, as many as 18 Quest Audio HPI 110 loudspeakers have been installed, with a further 13 units of HPI25 cabinets employed as front fills under the stage and balcony and 2 QM4 as side fills, plus a pair of QM18SA speakers on each side of stage.
Four Quest QSA200i active speakers have also been positioned in the main and stage control rooms while Quest QX2280 amplifiers were weaved in to power the speakers in the main control room and entrance foyer.
A pair of Allen & Heath Avantis mixing consoles console was supplied for both FoH and monitor mixing duties. The main PA and surround systems are controlled by an Allen & Heath AHM-32 matrix processor, supported by DX168 and DX012 I/O expanders connected over S-Link. Presets transforming the entire auditorium from a live venue to a cinema can be recalled from the AHM-32's front panel.
"Allen & Heath's AHM DSP is built for scenarios where we have multiple sources and zones," explains Amninder Warraich. According to the Soundxperts chief, the ability to link AHM-32 to external input and output modules expands its horizons and allows one to control the entire system with surrounds, green rooms, control rooms and more.
"AHM is a very versatile, powerful DSP and it is readily available on the market; that makes it a great choice," he endorses.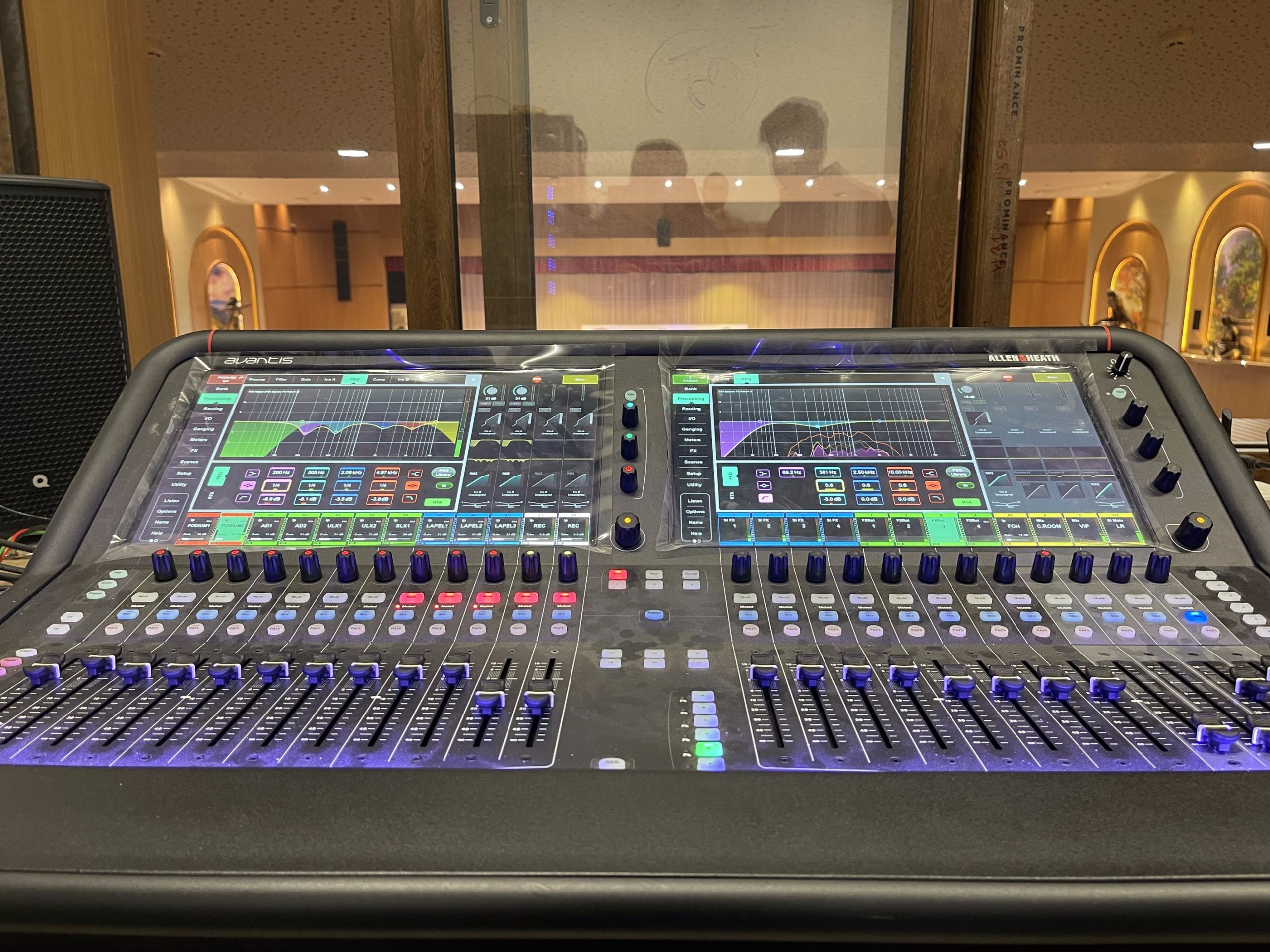 The console operations to manage the stage as well as control room activities have been entrusted to Avantis units equipped with a gigaACE card and a DX Hub remote audio networking hub. This enables the consoles handle multiple inputs and outputs.
The microphone architecture is across the facility, and the control rooms has been done with Shure microphones, that include the Shure Axient digital system for the main presenter, plus ULX-D, SLX-D and SVX systems for the audience, anchors, performers, and main control.  All Shure systems are networked and can be checked and controlled through the Shure Wireless Workbench application.
The system is designed to cover the entire facility, enabling easy communication between audience members and guest speakers during panel discussions, and allowing interaction between the stage and control rooms.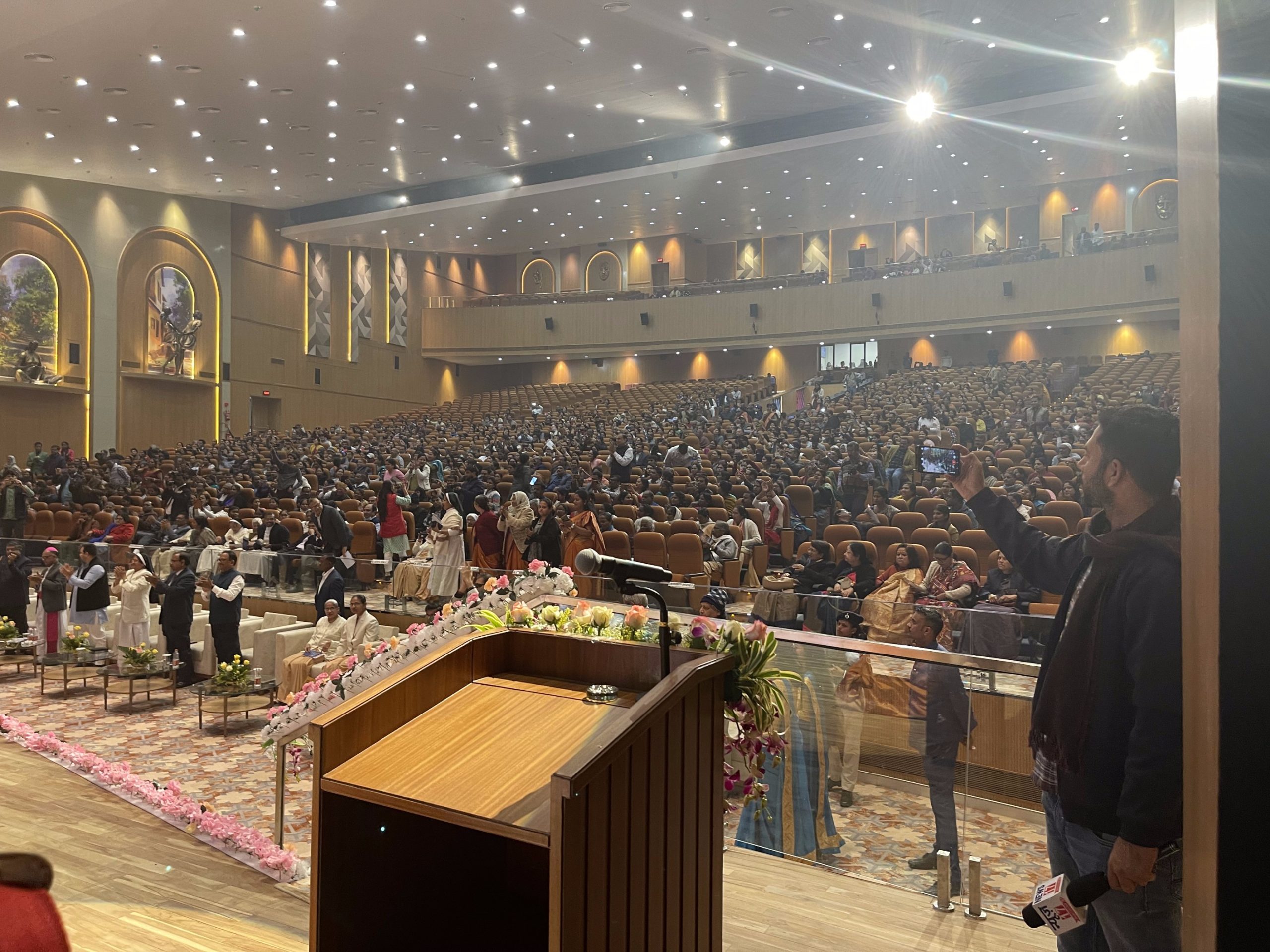 While wired Shure CVG 18RS-B/C gooseneck mics have been installed at the podium, SM7B vocal microphones have also been roped in to enable studio quality recording of key performances and speeches.
Thinking futuristically, the Patna Women's College management has also invested in a large inventory of microphones for musicians and performers, adding Shure Beta 91/A/C-X, SM57, SM58, PGDRUMKit7, MX 418D/C, MX393/C, SM81-LC, PSM 300, PGA57 and PGA58 to cater for all performance scenarios. Shure UA844+SWB antenna distribution systems and UA874 active directional antennas have also been used to ensure strong, uninterrupted wireless signals.
In the words of Amninder 'today's auditoriums go above and beyond to provide high-impact entertainment, from video, to music, to live performances, delivering an awe-inspiring experience. The high-end range of audio products installed delivers full fidelity, full bandwidth sound, from the deepest lows to crystal clear highs, over a range of programming, from announcements to music.'