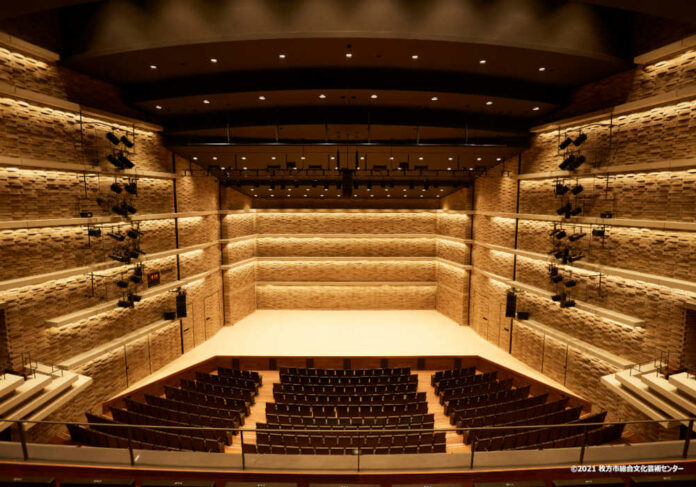 Less than an hour northeast of the multicultural and cosmopolitan city of Osaka lies Hirakata, one of the 33 cities that make up the Osaka Prefecture. In September last year, Hirakata's government inaugurated the newly built Hirakata Performing and Visual Arts Centre to serve the local community with cultural programming. The centre counts both a main and annexe building, which includes multi-purpose halls, an art gallery, rehearsal rooms, and spaces for creative art activities.
Within the main building lie two halls: the 1,468-seat Kansai Idai Main Hall and the 325-seat Kansai Idai Small Hall, both named after the nearby Kansai Medical University. The Main Hall stages various shows, from music performances and theatrical plays to industry-specific conferences. It can also act as a medium-sized hall, using only its 836-capacity first-floor seating when needed. The Small Hall also holds theatre and music performances, as well as more intimate music recitals. Both halls' interior walls are brick-lined to create a rich sound.
To add premium audio technology and sound reproduction to both halls' indoor acoustic environment, Yamaha Sound Systems Co. chose L-Acoustics Kiva II supplied by L-Acoustics Certified Provider Bestec Audio. Mr Tamura of Yamaha Sound Systems Co. explains, "L-Acoustics speakers feature well-controlled directivity to provide clear sound across the audience area."
For a safe and hassle-free installation process, Mr Tamura and his team also depended on L-Acoustics rigging hardware of frames, plates, and clamps. The Yamaha Sound Systems Co. team installed L/R hangs of seven L-Acoustics Kiva II, topped by one SB15m subwoofer per side. A centre proscenium array consists of nine Kiva II, and an X8 enclosure acts as in-fill on each side of the hall. Further X8 coaxials provide coverage for second-floor balcony seats on both sides of the hall, with five X12 enclosures rigged as rear-fill for the third-floor seats. Two X8 and two X12 are used for the stage monitoring system, while eight LA4X amplified controllers drive the whole system.
The Small Hall features five L-Acoustics Kiva II per side, topped by a single SB15m subwoofer, with a centre proscenium array of six Kiva II. Two compact X8 enclosures provide stage monitoring, with four LA4X amplified controllers to power the system.
The centre also has a mobile system of 12 Kara II, two SB18 subwoofers, and four LA12X amplified controllers shared between the two halls."We realized how accurate Soundvision is when we found no difference between the simulation and the post-installation results. The theatre's technical team will also be able to tap into these resources if they need to make any adjustments further down the road," explains Yamaha's Mr Tamura.
Osaka Kyoritz Co. Ltd. operates the system and have expressed their appreciation of the pristine, intimate sound and the ease of manipulation that the L-Acoustics solutions provide. "The main hall had great sound coverage after installation. With Soundvision, my team can determine the optimal angle between speakers, allowing us to use the mobile Kara system in different situations easily. Our frequency response calculations using AutoFilter can easily be imported into LA Network Manager and then rapidly deployed. No detailed speaker tuning is required with these small adjustments, ensuring even more efficient coverage."
Mr Inoue from the Hirakata City Facility Maintenance Office concludes, "We just opened in September last year. I have already heard from performers that the systems sound great and can execute performances without technical difficulty. I am very impressed with the sound in both halls. I am sure that many more performers and visitors will be pleasantly greeted with world-class sound in our facilities."