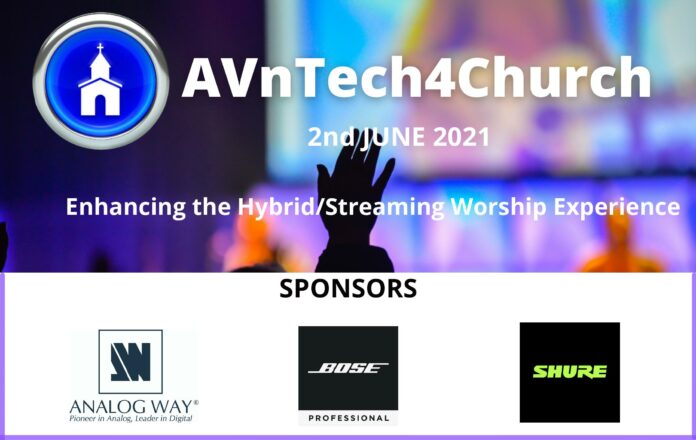 Systems Integration Asia will be presenting a series of webinars under the theme AVnTech4Church. Targeted at the church community in the region encompassing church management, officeholders, worship and AV crew as well as volunteers responsible for AV operations, attendance to the webinar is free of charge.
"With AVnTech4Church we hope to provide a resource platform for churches to learn, share experiences and connect with others across countries. Understanding how to use technologies effectively will help churches present a more conducive environment for worship," said David Lim, Director of Industry Engagement, Spinworkz Pte Ltd.
The first webinar will be held on 2nd June 2021 with the topic Enhancing the Hybrid/Streaming Worship Experience.
The webinar synopsis is as follows:
Pre pandemic era worship services are conducted live with a full congregation of worshippers on-site, so AV systems then are designed and operated to support such live requirements. Today with social distancing, hybrid worship services are conducted with at least half of the congregation worshipping from their homes instead. How can churches continue to cater to on-site worshippers and stream the same worship experience to the home worshippers simultaneously? Will the existing AV system suffice or will it need a complete upgrade? What else will be required? This session addresses all the key technical components needed to support a proper hybrid worship service.
The webinar will be presented by Robert Soo of Cogent Acoustics. Robert is no stranger to the church community in Southeast Asia as he has done consulting and training for churches in Singapore, Malaysia and the Philippines. Robert Soo has been in the music and audio industry since the mid '80s, where his work involved studio recording, music arrangement, stage performances and eventually in live sound engineering and system design. A proficient worship leader and musician, he served as both Technical Director and Worship Pastor of a 10,000 member church for over 7 years during the '90s.
"Most churches are already streaming their services but what this webinar hopes to share is about best practices," commented Robert.
David added, "This webinar will not be possible without our sponsors Analog Way, Bose and Shure. We look forward to a fruitful webinar for the attendees and our sponsors."
Register HERE to attend the webinar on streaming on 2nd June (Wednesday) at 8 pm (SGT).