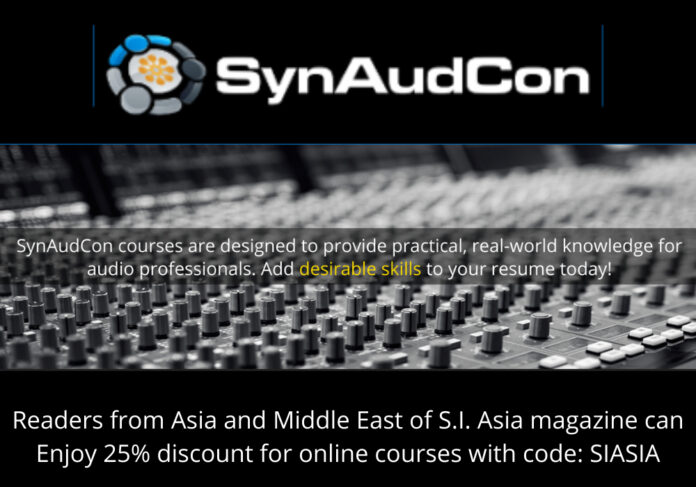 SynAudCon, the leader in audio training, has joined hands with Systems Integration Asia magazine to encourage knowledge upgrading for professionals and end-users who work in the AV realm. Asia and Middle East readers of the magazine can now take advantage of a 25% discount on the online courses offered by SynAudCon by using the promo code SIASIA.
"SynAudCon is a renowned name in audio training and System Integration has an ongoing relationship with SynAudCon. We have brought Pat and Brenda Brown to Singapore twice and to the Philippines for audio training. The response for the training has always been very positive," says Thomas Prakasam, Publisher/Editorial Director, Systems Integration Asia.
Thomas continues, "Pat Brown, the developer and instructor for the training, always keeps up with current audio trends and updates his training accordingly. With COVID-19, he has translated the in-person training to the online platform."
Pat Brown states, "We are extremely pleased to have this opportunity to work with System Integration Asia. Thomas understands the importance of education and we consider it a real privilege to work with him."
There are currently ten online courses designed to enhance audio competence. The courses range from Sound System Essentials to DSP, Equalization, Sound Reinforcement for Designers, Speech Intelligibility for Public Address Systems, Revit for AV Systems and more. The courses includes instructional videos, lectures, demos, interactive calculators, and case studies; providing a well-rounded, multi-faceted learning experience. Video transcriptions, a reference manual, and self-evaluation quizzes are also included in the course purchase.