PPDS, the exclusive global provider of Philips Professional Displays and complementary solutions, is delighted to announce the highly anticipated launch of the new Philips Signage 3000 EcoDesign Series QE-Line, delivering unrivalled 4K UHD video and picture performance while running on half the power compared to other models.
Continuing an aggressive rollout of highly innovative, world-first hardware and software solutions into 2024, the slick and stylish Philips Signage 3650 EcoDesign – configurable to meet the needs of any environment with no additional hardware necessary – marks yet another major technology milestone for PPDS (and the AV industry) for the development and delivery of highly sustainable and energy efficient professional displays for the global market.
Available now in 50", 55" and 65" variants, the portrait or landscape mountable Philips Signage 3000 EcoDesign Series complements the unique features and benefits enjoyed on the highly acclaimed Philips Signage 3000 Q-Line Series – installed around the world in schools, retail stores, hotels, cinemas, TV studios, corporate offices, among others – redesigned, remodelled and repackaged using PPDS' new Eco Design methodology, for seemingly impossible energy efficiencies and reduced wastage.
Manufactured with the environment in mind and utilising the latest in breakthrough hardware and software –developed both in-house and in partnership with market leaders, including advanced remote management – the Philips Signage 3650 EcoDesign consumes up to fifty per cent less power versus comparable models, while continuing to offer best-in-class 4K Ultra HD visual performance via a powerful 350 cd/m2 LED display.
Martijn van der Woude, head of global marketing and business development at PPDS, commented: "At PPDS we take a circular approach to business, creating products that are more sustainable and energy efficient from the moment they are conceived, through the manufacturing process, their delivery and installation, all the way to the end of their extended first life – and beyond.
"We continue to work hard to develop new technology, and new manufacturing processes with improved logistics, to help our customers effortlessly make the transition into creating more sustainable business and learning environments. "With the Philips Signage 3650 EcoDesign display businesses will benefit from instant environmental and cost benefits, while ensuring content always remains the centre of attention, whatever environment it's in."
The complete package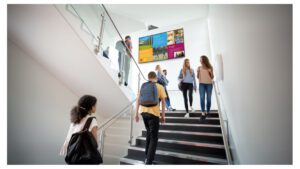 Available now, and set to go on display at ISE 2024, the Philips Signage 3650 EcoDesign has already been awarded the EPEAT Silver Climate+ Ecolabel, which measures the social and environmental impacts of products from extraction to end-of-life, certifying that it has met 100% of the Climate Criteria plus at least 50% of the existing optional criteria. It has also received among the industry's lowest energy label ratings for a high-impact professional display, with EU Energy Label E rating on the 50″ model, and D rating label on the 55″ and 65″ models.
The EU energy labelling system has been a key driver in helping consumers choose products that are more energy efficient. At the same time, it also encourages manufacturers to drive innovation by using more energy efficient technologies, with PPDS aiming to lead the advance.
The Philips Signage 3650 EcoDesign also benefits from PPDS' strategy to significantly reduce wastage – including plastic – from its packaging, with the Series delivered in 100 per cent recycled and recyclable materials.
All plastic bags (including those for individual accessories and components in the box) have now been removed, while the use of polystyrene has been replaced with innovative cushioning made using 100 per cent recycled paper, maintaining the same high levels of safety and protection of the product.
Robert Hsu, VP global product strategy at PPDS, commented: "It's estimated the world is losing 10 million hectares of forest each year due to deforestation. According to the United Nations, there are about 400 million tonnes of plastic waste produced every day, with around 8 million pieces of plastic making their way into our oceans every 24 hours. That is simply not acceptable, and it is vital that companies like us remain committed to helping reduce that unacceptable statistic, and to make a difference for generations to come.
"Packaging is a small yet significant step that we can all get behind. I am proud of what we as a business have achieved so far, and the culmination of that work, together with outstanding quality, is evident with the new Philips Signage 3650 EcoDesign display."
Ready for impact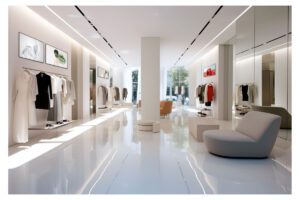 Designed with a proven track record of bringing any indoor space to life, the Philips Signage 3650 EcoDesign comes with an extensive range of out-of-the-box features and capabilities for more flexible, tailorable, stress-free installations.
Mirroring other premium models, including the market favourite Philips Signage 3000 Series Q-Line, the Philips Signage 3650 EcoDesign is equipped with a powerful quad-core chipset ensuring smooth running and consistent performance. It joins PPDS' ever-growing Android SoC family of displays, and can be managed manually, or entirely remotely, using third party software or PPDS' range of in-house of solutions.
This now includes PPDS Wave – the company's secure cloud ecosystem, providing advanced and effortless remote device management and content control for Philips Professional Display fleets of any size and in any location. Adding further sustainability opportunities, Wave can proactively monitor and address issues, even before they occur, while optimising performance and managing power schedules, screen brightness, and therefore energy consumption, of each display.
Harnessing the power of Android 10, the Signage 3650 EcoDesign is already equipped to extend into the future, with regular updates able to be added – either manually, or remotely via PPDS Wave, further increasing the lifetime of the display.
Never a dull moment
In the unlikely event of a content disruption, the Philips Signage 3650 EcoDesign also comes equipped with PPDS' 'FailOver' technology, ensuring the display never goes blank, switching automatically to the secondary input if the primary source becomes unavailable.
With SmartPlayer, content (video, static images, audio) can simply be saved onto a USB or microSD card plugged directly into the display, while the integrated media player allows for playlists to be easily created and scheduled via the intuitive on-screen menu, ensuring the display remains active and opportunities are never missed.
Completing the Philips Signage 3650 EcoDesign's versatility, the displays also come with Bluetooth 5.2 and Wifi ready via an optional CRD22 module, with conveniently positioned HDMI, DVI, VGA, RS232, RJ45, and USB connectors ensuring all eventualities and needs are covered.
Bart Wouters, International Product Manager at PPDS, said: "We are thrilled to introduce this new Philips Signage 3000 EcoDesign Series, one of the most powerful and sustainable digital signage displays in the current marketplace. Our R&D teams have worked extremely hard, breaking down new technological challenges, to bring all the latest features, as well as advanced environment and energy-saving features, to this product. The result is a display that comes without compromising on quality and without the running costs customers have come to accept."
Martijn van der Woude concluded: "2023 has been a fantastic year for PPDS, fulfilling not only our internal ambitions, but those of our partners and customers, too. We continue to lead the way in bringing sustainably focused displays and software solutions to market. We are doing this not only by introducing brand new products, such as our Philips Tableaux ePaper displays, but we're also evolving our existing products to become more energy efficient and environmentally friendly, with this EcoDesign Philips Signage 3650 EcoDesign marking the latest evolution in our portfolio. We look forward to bringing more of the same in 2024. Make sure to visit Philips stand 3P500 at ISE."