Novastar's H series is a highly integrated, brand new, first all-in-one splicer and controller with the capacity to handle up to 130 million pixels. With true 4K video processing, the H series make it perfectly suitable for driving ultra-large walls for fine-pitch application and simplifies system integration.
The H series offers modular design for both inputs and outputs with up to 8- custom inputs and 200 LED outputs including HDMI(1.4 or 2.0), DVI, DP(1.1 or 1.2), SDI, CVBS, VGA input cards and IP card. H Series gives you the convenience to control your display directly with each LED output card, using 16x RJ45 with 2x 10G fiber ports or 20 x RJ45.
H Series supports up to 160 2K open layers or 40 4K open layers. Each LED output card supports 16 x 2K open layers or 4x 4K open layers, giving you maximum creative control. Each input and output supports RGB 4:4:4, HDR and EDID Management.
Embedded intuitive drag and drop web-based interface front-panel monitoring allows for easy control. Up to 2000 user-defined presets for quick applications, and automatic scheduling with fade-in and fade-out effect, gives users the creative tools to complete the job. Advanced user management allows up to 50 users in local network to control simultaneously. The control system software supports Windows/ Mac OS/ iPad/ App control.
The H Series offers ultra low latency. Entire system latency is 2 frames, compared to the 5 frames latency of traditional solutions. This helps with a smooth and seamless viewing experience. The Patented synchronization technology ensures no tearing and is Bi-Level & Tri-Level Genlock supported.
For flexibility there are four options to meet demands: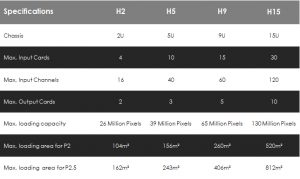 www.novastar.tech/h-series