Founded in 2001, Management & Science University (MSU) is a private university in Malaysia located in Shah Alam, Selangor. MSU has been accorded 'Excellent Status University' twice in the national university-rating system and named the 'Best Entrepreneurial Private University by the Ministry of Higher Education Malaysia. The university offers more than 100 programs: diplomas, bachelors, masters, PhDs, skill-base and professional programmes.
Management & Science University has also been awarded Platinum 5 Crowns by the UK's Accreditation Service for International Schools, Colleges and Universities (ASIC); and QS-rated 5-Stars on the metrics of Teaching, Graduate employability, Facilities, Social Responsibility, and Inclusiveness.
Challenges
Following the COVID-19 lockdowns and the social distancing requirements, MSU decided to upgrade their campus boardroom. There has been an increased usage of the rooms, particularly for virtual as well as hybrid meetings, which resulted in an urgent need for a more flexible and scalable wireless system.
The campus boardroom plays host to a variety of speeches and panel discussions. It was critical for the conference microphone system to deliver high-quality sound consistently and reliably.
Unfortunately, their current system was not able to meet their changing conferencing requirements, especially in terms of quality and setup time. After technical evaluations, the university opted for a complete infrastructure overhaul to provide state-of-the-art audio technology.
Solution
Shure Microflex Complete Wireless Digital (MXCW) System provided a steady and reliable audio performance system that exceeded MSU's requirements. The audio system was delivered with the installation of gooseneck microphones and discussion units. The setup was straightforward, user-friendly and built to last. The discussion system was set up to allow for up to 24 participants, and it has the flexibility to be used in multiple venues.
With the MXCW System, the integrator overcame cable limitations for off-site, flexible meeting rooms or buildings where drilling holes in furniture is impractical. The system is integrated seamlessly into the existing furniture to maintain the aesthetics of the room and also features automatic radio frequency (RF) interference detection and avoidance technology, encrypted digital wireless transmission, and digital audio networking using Dante.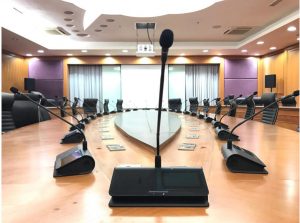 The MXCW access point has multiple mounting options for discreet communication between wireless conference units and the digital audio network. It also works within the frequency bands of 2.4 GHz and 5 GHz Dynamic Frequency Selection (DFS). The access point web application monitors, controls and sets up the conference system units. Each conference unit has configurable roles for meeting participants and can be routed to the floor audio or an interpretation channel. Each wireless conference unit is powered by a smart lithium-ion rechargeable battery whose remaining charge, shown in hours and minutes, can be checked remotely by a technician. The networked charging station (MXCWNCS) charges and stores up to 10 Shure rechargeable batteries that can be monitored through its own web application.
With the Dante system of MXCW, the integrator enabled a hybrid collaboration experience using the Intellimix P300. The fixed architecture of the Intellimix P300 provides a simple setup, requiring less DSP programming and commissioning time. Multiple connectivity options allow for seamless integration with Shure conferencing microphones, laptops and even mobile devices.
Advantages
MSU's campus boardroom is now fully equipped with its desired audio system that offers an inclusive experience to all its users across every setting. Leveraging portable discussion units allows them to have a flexible and scalable solution that can be broken down and reassembled easily, depending on what the room is being used for. The setup is easy and quick. There are no more cables to limit the participants' movement, and everyone has access to great audio from wherever they join the meeting. The audio system is designed to work together seamlessly, and the management or control can be done remotely by their tech team.
"Shure has exceeded our expectations. It has opened a new way of experiencing efficient discussion and the potential of the environment over the years and in different scenarios," said Mohd Nadzri, audio visual engineer, MSU.