Finding the right sound system for a high-end lounge bar can be challenging- for the simple reason that the chosen solution must create the sonic signature of the venue and set an engaging atmosphere, and takeaway experience for the guests. Which is why the owners of Kolkata's Club Carpe Diem decided to test different brands and hear for themselves what would work best to achieve the ultimate audio experience at their prideful dine n drink destination.
……………………………………………………………………….
After conducting an onsite product shootout with competing brands and solutions, a system comprising Electro-Voice loudspeakers and Dynacord electronics proved to be the winning combination for the club.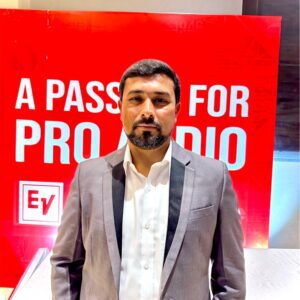 "Club Carpe Diem is located in a premium spot near to some of the best clubs in town," says Dipankar Sengupta of Bosch, who led the project from the manufacturer side. "The owners wanted to be able to compete at that high level, and the right sound system was obviously a key factor in achieving that goal; they were also new to the world of Pro Audio and had a specific budget in hand. So we shared a range of Electro-Voice and Dynacord options and suggested that a product shootout with a leading competitor's product would be the best way to arrive at a solution," he explains. "The competitors were invited to a shootout, and we won the project."
Loudspeaker models from the extensive Electro-Voice product portfolio were selected to precisely compliment the needs of different spaces in the venue, ranging from compact EVID and ZX1i surface-mounted models in the bar and dining areas up to higher-output EKX and EVF models for the main room, which hosts DJ sets along with big-screen sports/event coverage.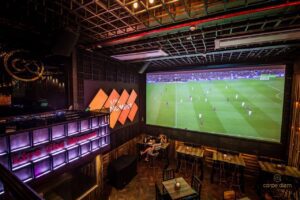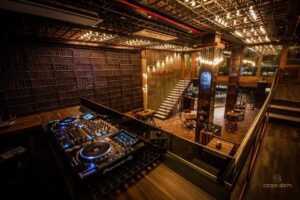 Thus came in the eng aging solution. Four EKX-15 15" full-range loudspeakers combined with two EVF-2151D dual-15" subwoofers serve as the main system in the venue, covering the lounge and dancefloor. Upstairs, a mezzanine area with theatre-style seating features four ZX1i 8" two-way full-range models. A further private dining room features four EKX-12 12" models with low-end support via a pair of EKX-18S 18" subwoofers. Finally, a chill-out area has lighter sound reinforcement via a pair of compact EVID 6.2 enclosures, while a ZLX-15P 15" powered loudspeaker serves as a monitor in the DJ booth.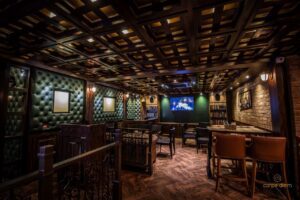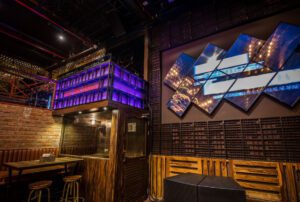 The system is powered by Dynacord L Series two-channel amplifiers. Four L3600FD (2x 1800 W) amplifiers drive most of the venue, with an L1800FD (2x 900 W) and an L1300FD (2x 650 W) joining them in the rack to complete the solution.
With the system installed, the decision to select Electro-Voice and Dynacord has been fully validated. Club Carpe Diem has gone on to establish itself in the highly competitive local market and its clientele share glowing social media reviews about the sound throughout the venue. "Working with the system integrator, we were able to deliver exactly what the owners had in mind for their venue and their brand," adds Sengupta, "and, on top of all, it perfectly fitted their budget. We are confident that Electro-Voice and Dynacord will be the first choice as they expand their operations."