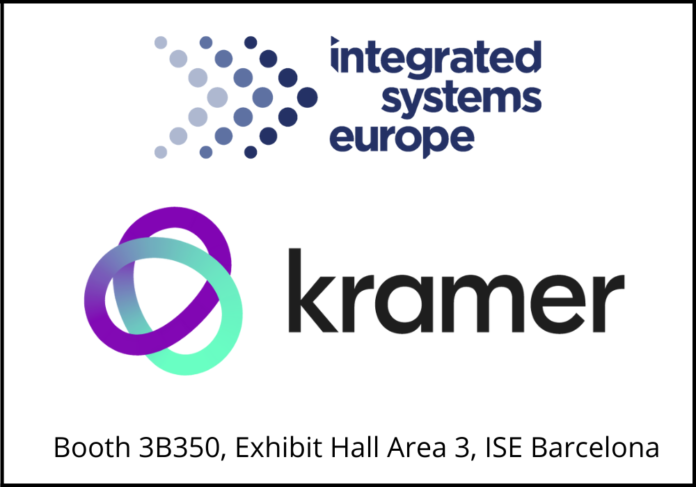 Kramer, a leading audio-visual experience company, reveals its next generation of engagement technologies at booth 3B350, Exhibit Hall Area 3, ISE Barcelona.
An audio-visual pioneer with over 40 years of experience and 20+ offices worldwide, the extraordinary growth of virtual communication has led Kramer to refocus on products and devices that seamlessly intersect the physical and digital.
Now, Kramer technology enables users to intuitively communicate and collaborate in our modern 'physi-digi' world. With Kramer by their side, organizations can future-proof their people's audio-visual experiences for real, human engagement, no matter how far apart they may be.
AVoIP – main zone
In the main zone of Kramer's ISE booth, visitors can experience the company's full eco-system of AVoIP solutions. This includes the new KDS-7 family of encoders and decoders, which provide low-latency, high-quality 4K60 4.2.0 video presentations and easy scalability to suit any size network AV installation. With fast deployment capabilities, a simple user experience, enterprise IT-grade security, and advanced, intuitive management, KDS-7 is a perfect fit for any enterprise, education, military, or government site.
Also on show is Kramer's latest line of speakers for enhanced audio experiences. When paired with KDS-7, these advancements form Kramer's industry-leading AVoIP eco-system, enabling instantaneous, secure engagement across organizations worldwide.
Collaboration devices – secondary zone
In the booth's secondary zone, visitors can explore the new line of Kramer collaboration devices, spanning speakerphones, video cameras, and all-in-one collaboration bars. From the smart panoramic K-180 Mini camera, crafted for small meetings and huddle rooms, to the ultra-HD K-Cam4K, which offers crystal-clear coverage of auditoriums, the range ensures everyone can see and hear – and be seen and heard – whether they're dialing in from home or sitting at the back of a boardroom.
Kramer also demonstrates its VIA Connect² platform, upon which users can hold scalable wireless meetings and classes from any Windows, Mac, Chromebook, Android, or iOS device, on all major videoconference platforms, in any location worldwide. The platform also features enhanced security capabilities, helping all participants to meet stringent enterprise-grade and government requirements for safety, reliability, and confidentiality. Put simply, the palm-sized VIA Connect² tool turns any space, anywhere, into a secure hotbed for hybrid productivity and collaboration.
Unified communications and collaboration (UCC) – secondary zone
Finally, Kramer also exhibits solutions from its latest strategic acquisition, unified collaboration experience pioneer UC Workspace (UCW). Amplifying Kramer's mission to power extraordinary audio-visual experiences, UCW products transform how people communicate across multiple different platforms through unprecedented levels of simplicity, automation, and collaboration.
UCW's Quicklaunch software is the industry's fastest and most secure way to launch any meeting, regardless of conferencing provider. In just 'one touch', end users can wirelessly connect to over 30 meeting providers for instant communication and productivity, while enjoying customizable environments, interfaces, languages, applications, and more. With UCW's full suite of solutions, Kramer is supporting organizations to supercharge output across multiple dimensions.
"From education to enterprise, government to military, Kramer's next-generation product portfolio allows us to bring immersive, end-to-end audio-visual experiences to organizations worldwide," said Gilad Yron, CEO of Kramer.
"We're ready to support customers on their physi-digi journeys and give them the tools and solutions to succeed in the hybrid world in which we now live and work. I can't wait to personally meet visitors at Kramer's booth to demonstrate our audio-visual breakthroughs first-hand."