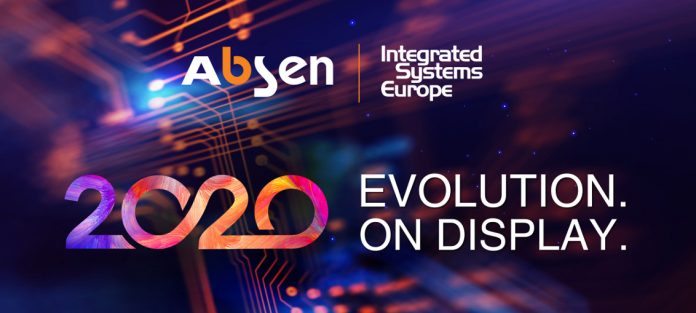 Absen, will return to the RAI in Amsterdam this February (11-14) to present its latest range of MiniLED products for the fixed installation and rental markets, as well as introduce a large range of new and enhanced products.
Absen will occupy an impressive 324 sqm of floor space, representing the company's largest ever presence at the show.
Spreading across two neighbouring stands, these will respectively be dedicated to fixed installation (12-C50) and rental solutions (12-E80), though the theme of 'Evolution. On Display' and focus on MiniLED will remain consistent across both sections.
Absen's MiniLED are ultra-fine pixel pitch LED panels, incorporating 4-in-1 pixel configuration (IMD) and common cathode technology. These boast superior visual performance, flatness and contrast, and makes them 2.5x stronger than standard SMD LED – not to mention 20% more energy efficiency.
Demand for Absen MiniLED products has been very high since the launch of the CR series in 2018, and intensified significantly with last year's launch of the Aries (AX) series, the market-leading sub-2mm MiniLED rental display,
designed to meet the rigorous demands of the rental staging market.
The popularity of MiniLED has further increased with exceptional demand from the corporate/retail market in applications such as corporate lobbies, event spaces, car showrooms and retail stores.
Absen MiniLED now comes as standard in four core product lines: the Aries (AX), Acclaim (A27 Pro) and Control Room (CR) series, as well as the newly launched HC series for mission-critical environments.
The Next Evolution MiniLED products
The A27 Plus has been Absen's best-selling fixed install product, seeing over 300% growth in 2019. The Acclaim series is Absen's flagship display for indoor fixed installation, predominately in corporate and retail environments.
This year's ISE will see the series become available as a MiniLED range – the A27 Pro series – making it better, stronger, and more efficient.
Since its launch at ISE 2019, AX1.5 has become the best-selling 1.5mm MiniLED rental product on the market and – due to popular demand – it will now be available in 1.2 and 1.9mm varieties, providing even more flexibility and choice to meet the evolving demands of global rental customers.
Finally, the CR series will now be available in 0.7mm pixel pitch, which represents the company's smallest pixel pitch and highest resolution display. As well as this improvement, Absen will also present the HC series, a new 0.9mm MiniLED display for the high-end control room market. The HC0.9 delivers excellent contrast and colour uniformity and will be set up as a nine-piece video wall at the show.
Other product announcements
Absen will also launch a new product for the Digital Out-Of-Home (DooH) advertising market. The AW series is Absen's new outdoor fine pitch LED for light box displays, bus shelters and other types of urban street furniture.
The 5,000nit AW series will also act as a "smart" pole display to cater for the growing trend of LED display and 5G technology integration, which is sure to usher in a new wave of intelligent applications.
Absenicon, the popular meeting room solution unveiled at ISE last year, is also back with a slimmer frame, a flatter surface and better ease-of-use.
Available in four standard sizes, the upgraded Absenicon is set to open up the market for LED with its improved accessibility and affordability.
In addition, Absen's stand at ISE will also be showcasing existing products, including Polaris (PL), the leading rental series for indoor and outdoor applications, the N-Plus and K-Plus series, which are suited for retail and corporate applications, as well as various LED solutions for the outdoor and sports market.
ISE Partnerships
Absen is also due to partner with a number of leading providers at ISE; with 7th Sense supplying its Delta Media Server – Infinity – to drive its primary booth at ISE, whilst Green Hippo and Notch will be showcasing an interactive large-format LED wall on the rental booth using Absen's multi-award-winning Polaris PL2.5 Pro and Green Hippo's Hippotizer Media Server. Absen products will also be on display on the Novastar booth (8-G160).
Join Absen in Hall 12 (12-C50 and 12-E80) for daily presentations at 4pm and, of course, the company's famous beer time from 4:30pm onward (Tuesday to Thursday).
Email europe@absen.com to arrange a demo or book a meeting at the show.