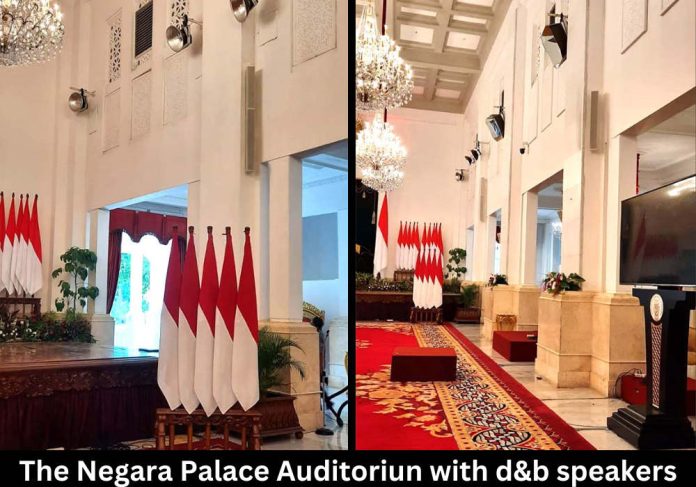 The beautiful Negara Palace in central Jakarta has upgraded its decades-old loudspeaker system, opting for a complete d&b audiotechnik solution comprising a series of 24C column loudspeakers to provide clear and powerful sound from a non-imposing cabinet.
The 200-year-old Indonesian State Palace presented Jakarta-based audio specialist ProMedia Innovative Solution with some challenges, given that there was no blueprint or detailed drawings from which to base a sound system armed with key information about cabling, electricity standard, weight capacity and so forth. Therefore, exploration of the site and a flexible solution was required.
Numerous spaces within the Palace needed a loudspeaker upgrade, including the Main Palace Auditorium, Dining Room, Indonesia State Room, corridor and aisle, and the North and South Terraces.
"Premium palaces must use premium products and d&b is the answer – quality and durability are most highly requested by Palace Household," says Yosua Yan Heriyanto from ProMedia Innovative Solution. "The d&b 24C is a premium passive column speaker with very good sound quality. The speakers are slimmer than the previously installed ones but they offer much higher clarity and sound reproduction."
Inside the Main Palace Auditorium, which measures 20 metres by 30 metres, the team installed four d&b audiotechnik 24C and two 24C-E extension loudspeakers in a white finish, with two 18S-SUB subwoofers on low end duty, powered by two d&b 30D amplifiers. "The 18S-SUB was chosen for the main auditorium due to its high quality and compact size, which made is simple to install under the main stage," says Yosua.
In this room, regular addresses by President Joko Widodo are given to in-room attendees and his words are broadcast on national TV and radio. In addition, music is relayed via the loudspeaker system along with the national anthem for state events or to honour visiting dignitaries.
"d&b as a premium loudspeaker brand can reproduce the sound in much better quality even from this compact loudspeaker size," says Yosua. "Most of the inauguration or official events which involve speeches, minister meetings and dinner parties are held in Negara Palace, that's why the Palace Household required very good sound quality and product durability, needing the best solution."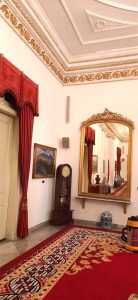 In the State Dining Room, four d&b 24C loudspeakers are installed and powered by a d&b 10D amplifier. The Indonesia Room also features a 10D amplifier, which powers two further 24C loudspeakers. In the corridor and aisle area, which measures ten metres by six metres, twelve d&b 8S-SC loudspeakers are hung from the walls, providing full-range frequency sound, powered by three d&b 10D amplifiers.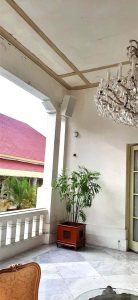 Outside, on the North and South Terraces, the ProMedia Innovative Solution team specified the d&b 10S-WR (Weather Resistant) loudspeakers, powered by one 10D amplifier. "We used the d&b 8S loudspeakers for the corridor because in addition to providing great sound response, we could order them with the Special Colour option so that they matched the interior scheme of the Palace in those areas," explains Yosua. "As a special request for the Terraces we installed weather resistant version of the 10S loudspeaker to prevent any water damage – we were keen to ensure the d&b models would thrive in the outdoor setting."
Yosua and his team also installed an Allen & Heath AHM-64 matrix processor, to distribute audio to all areas of Negara Palace. "This makes it easier for the in-house sound engineers to operate on a plug-and-play basis and play, input and output everywhere within the spaces," adds Yosua. "The client is very happy with the d&b solution."
Photos courtesy of ProMedia Innovative Solution.