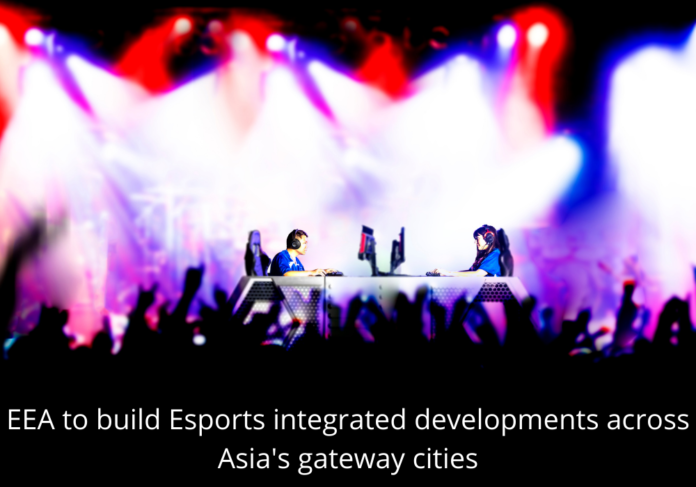 Esports Entertainment Asia (EEA), a Singapore-based company was set-up in 2019 to realise a bold vision to build a comprehensive ecosystem for esports in Singapore and the Asia region. The company held a press conference on 11th March to launch the Asia Esports Festival (AEF). The inaugural AEF will be held in Singapore from 3rd to 5th December at Suntec Convention Centre. AEF 2021 in Singapore promises all esports enthusiasts the ultimate multi-sensory experience with the latest games, merchandise, accessories; and guarantee the most fun-filled esports exploration journey for families and children of all ages. After the inaugural launch in Singapore, the AEF will travel to other key gateway cities across Asia, including Shenzhen (China), Kuala Lumpur (Malaysia), Jakarta (Indonesia), Bangkok (Thailand), Phnom Penh (Cambodia), etc.
Johnny Ong, EEA Co-Chairman, explained that the Asia Esports Festival (AEF) took more than a year to conceptualise and design by EEA. The AEF will be a mega-esports festival that exhibits the broad genre of cyber-gaming and esports competitions. Together with the esports-driven entertainment and youth pop-culture it will capture the millennials' imagination.
Roland Ong, EEA Co-Chairman highlighted that EEA plans to execute its vision of building a solid ecosystem for esports through 4 key thrusts over the next few years:
* Organise world-class esports events and competitions (like the AEF) across Asia
* Develop esports entertainment venues across Asia's gateway cities with the launch of the
Esports Entertainment Asia Venue Fund
* Build a Pan-Asia social platform for esports enthusiasts to network and engage
* Nurture talents to meet the needs of the esports industry by setting up a training academy
Part of Esports Entertainment Asia's (EEA) vision is to build a portfolio of sustainable recreation-centric integrated developments that become iconic esports entertainment venues across Asia's gateway cities. EEA plans to achieve this by working with a strategic partner in real estate fund management to launch the Esports Entertainment Asia Venue Fund.
Johnny Ong elaborated, "EEA has recently started to introduce the Esports Entertainment Asia Venue Fund to select investors and has received very good response so far. Most real estate investors we spoke to have shown strong interest in recreation-centric venues with a thematic focus on esports and esports-related entertainment concepts that serve as a key attraction to millennials and families. These venues will be uniquely designed to house the full spectrum of esports "work-live-play-learn" eco-systems under one roof. Each venue will offer a Multi-Purpose Esports Arena; Esports Business Hotel with esports-theme and gaming facilities; Esports-thematic Retail and F&B, Esports Training Academy, Flexible Co-Working Spaces for Publishers, Developers, Brands, Platforms and Athletes in the Esports and related industries.
With the strong growth of Esports in the region, venues with good quality Esports content have stronger pulling power, market branding and positioning that can potentially contribute to higher yields for investors."
Johnny Ong added the Esports Entertainment Venue Fund will invest and develop Esports integrated developments across key Asia gate-way cities of Singapore, Bangkok, Taipei, Kuala Lumpur, Jakarta, Manila, Ho Chi Minh City, Phnom Penh, Shanghai, Guangzhou, Beijing and India. The first Esports venue is planned to be built in Singapore, which is expected to become South East Asia's Regional Esports Hub. The Singapore Esports venue will feature a 6,000 seat multi-purpose Esports arena, a 400-room Esports Business hotel, with office, retail, restaurants and open community space for everyone.
Johnny further explained, "We plan to make this a choice destination for millennials and families – a place where people come to work, live, play, learn and have fun. Esports competitions, product launches and major events in the esports industry will be held here in the Multi-Purpose Esports Arena, with other entertainment events for millennials. We will have a lot of community space for families and a common collaborative space for the esports fraternity to congregate or just to hang out socially. Many esports start-ups, game developers and retail merchandise are looking for a venue in Singapore where they can share and thrive as a cluster. Being close to their millennial customers will enable them to understand their target audience better.
Brands and merchandise producers can also reach out in a creative way to the millennial customers at this venue. We want amateur players, hobbyists and families to come to the venue to learn and understand esports and gaming in a safe and conducive environment. We will have training facilities for those who want to develop their skills and perhaps prepare themselves for the many new job opportunities available now in Esports. We are excited about this vision not only for Singapore but the region."
EEA has also appointed UnUsUaL Productions to provide event organisation and technical services for the Asia Esports Festival.
Regarding the agreement with UnUsUaL Productions, Roland added, "The plan is to make AEF a regional event touring the different countries in Asia. We want to ensure that the experience for both the players and the audience is excellent. We need a trusted partner with deep knowledge and technical expertise to deliver a high-quality event and memorable experience for everyone. In this aspect, we are appointing UnUsUaL Productions, who have years of experience executing some of the largest concerts and events in Singapore and the region.
Leslie Ong, Group CEO, UnUsUaL, commented on the cooperation with EEA, "We believe that UnUsUaL's strong technical capabilities in delivering world-class entertainment and large-scale concerts both in Singapore and overseas will also help EEA in delivering the most memorable, multi-sensory and entertaining experience to the audience at the Asia Esports Festival in Singapore and across key gateway cities of Asia. We will work with our regional offices and partners to ensure that the AEF at every stop is executed well for all to enjoy."
UnUsUaL Productions, as the technical expert and strategic partner to EEA, is expected to play a key role in the AV design and recommendation of equipment in the integrated Esports venue in each of the cities.