Located 30 kilometres from the Philippine capital of Manila, Dasmariñas City has seen explosive growth in recent decades. Founded in 1990 in the Salitran neighbourhood, the Dasmariñas Church of God (COG) serves as a beacon of hope and light for both the local population and the wider Manila metropolis. Originally housed in a small rural complex, COG has seen impressive growth, which led the worship team to build a dedicated five-storey Generation Blessing Building in the heart of Dasmariñas to serve their current 15,000-plus congregation better.
Church of God reaches out to parishioners and locals with an open-all-week plethora of offerings like a fitness centre and sauna, a café, a dance studio, a photography studio, music classes, and more. But the heart of COG's ministry are the eight worship services offered every Sunday in the main, 2,000-capacity hall and an overflow, 600-capacity smaller hall. Altogether, COG welcomes over 20,000 people on any given Sunday. To ensure the ministry's message is communicated clearly, the church requires both halls to be equipped with dependable audio systems.
"We want to give the congregation and visitors a great worship experience, an experience in which they will hunger to come back for more," says Head Pastor Dr Anthony Velasco of COG Dasmariñas. "Our work is to share the Gospel of Jesus Christ with the lost in the city. The main hall is one of our avenues to accomplish this mission. Through the performance of live worship songs, vocal clarity and full-range music from backing band are top priorities."
L-Acoustics Certified Provider Distributor for the Philippines, Metatech has been servicing the church's audio, video, and lighting needs since 2012. Metatech was tasked with upgrading the audio system in both the large and small sanctuaries earlier this year.
In 2012, Metatech had already worked with COG to address poor acoustics due to reflective wall surfaces. At the time, they installed a combination of acoustic treatment and a sound system based on L-Acoustics Kara. Now, COG chose to upgrade the first-generation Kara to Kara II with the addition of Panflex horizontal directivity to focus sound on the audience area better, avoiding unwanted reflections from venue walls.
"The upgrade was quick and budget friendly as we could upgrade COG's park of Kara to Kara II using upgrade kits," says Wayne Gutor, L-Acoustics Product Manager at Metatech.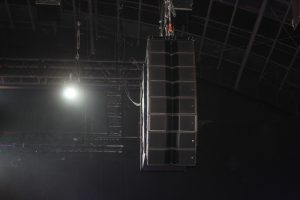 Using Soundvision to accurately predict SPL and coverage throughout the room, Metatech, with the assistance of Application Engineers at L-Acoustics, designed a Left / Right system for the main sanctuary composed of two flown arrays of eight Kara II each, with three SB18 subwoofers flown behind each array. A ground stack of two SB28 subwoofers at the centre stage provides low-frequency extension L-Acoustics 8XT coaxial boxes are placed along the stage for front-fill, while four 12XT boxes are installed beneath a balcony ceiling. Six 12XT act as monitors for stage performers, and the entire system is driven by five LA8 and three LA4X amplified controllers. Metatech configured the system and conducted one-on-one training for the church's technical team.
"Our objectives for Church of God's mission are met with this new system. The current and future members of our congregation will be able to experience a life-changing worship service that they will never forget. L-Acoustics has helped us to achieve this with the high-quality sound system playing a major role in our everlasting mission," praises Dr Anthony.
"Along with positive feedback from members of our congregation, sound engineers from other churches have visited us and benchmarked the sound of the L-Acoustics Kara II system in our main hall as a point of reference in terms of quality. My team and I are greatly humbled," concludes Head Pastor Anthony.