His Holiness Jagadguru Dr. Sri Shivarathri Rajendra Mahaswamiji established the Jagadguru Sri Shivarathreeshwara Mahavidyapeetha (JSSMVP) in 1954 in Mysore – the then capital of Mysore State – with a holy vision of spreading an auspicious blend of knowledge and wisdom via education. It was later registered under the Societies' Registration Act 1960.
Focusing on a purpose as expansive and yet as specific as improving quality of life through human development, the JSS Mahavidyapeetha has grown from strength to strength as a revered institution which actually had its origin as the establishment of a small hostel in 1928 aimed at catering to the accommodation needs of students pursuing higher studies in Mysore.
Currently under the guidance and efforts of Jagadguru Dr. Sri Shivarathri Rajendra Mahaswamiji, the Mahavidyapeetha has witnessed enormous growth in the field of education. Today, it has over 300 institutions under its fold – from kindergartens to postgraduate centres and postdoctoral research – catering to the educational needs of over 1,00,000 students.
B K Suresh Babu – director, Engineering Division of JSS MVP – desired to equip the Mysuru campus of the JSS MVP with a state-of-the-art conference room for the management staff, and also outfitting with leading-edge technologies across audio, video and LED video walls so that the space would be perfect to conduct confidential board meetings with His Highness Shri Shree Shivaratri Swamiji.
The AV Gear at a Glance:
·       ATEN Scalers/Extendors/Matrix Switchers
·       BOSCH Conferencing Systems
·       BOSE RoomMatch speakers
·       BOSE PowerSpace amplifiers
·       Kramer VIA Go Wireless Presentation System
·       LG Video wall
After a brief scanning of the market for possible SI service providers to work with on bringing this vision to life, the JSS MVP management decided to partner with Bengaluru-based AWAN India who were entrusted with the responsibility of bringing together the desired technological solution, while ensuring the room design and functionality parameters were met satisfactorily.
Considering the fact that the space had to conduct confidential board meetings, it was also imperative to ensure that appropriate acoustic treatment was conducted within the room space to avoid any kind of audio leakage whatsoever from the conference room. That was exactly what team AWAN India did as the first step to bringing together the would-be state-of-the-art conference room at JSS MVP.
Once the room was commissioned with the thorough acoustic treatment, team AWAN India turned their focus onto equipping the room with the kind of leading-edge products and technologies that the management desired to have for the space.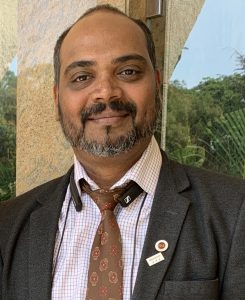 "We arrived at the products after a thorough understanding of the customer's requirement, keeping in mind their usage and application," says Prasad ES, managing director of AWAN India. "Since this was to be a confidential discussion room, we knew that a primary requirement would involve the ability to view any image / visual content with the highest level of detailing while ensuring optimum speech intelligibility," he explained. "With such being the key requirement, we made sure we delivered just that kind of an experience, in all its clarity and crispness. In a nutshell, team AWAN India provided JSS MVP with a comprehensive turnkey solution that has greatly impressed all of the management staff and all concerned users."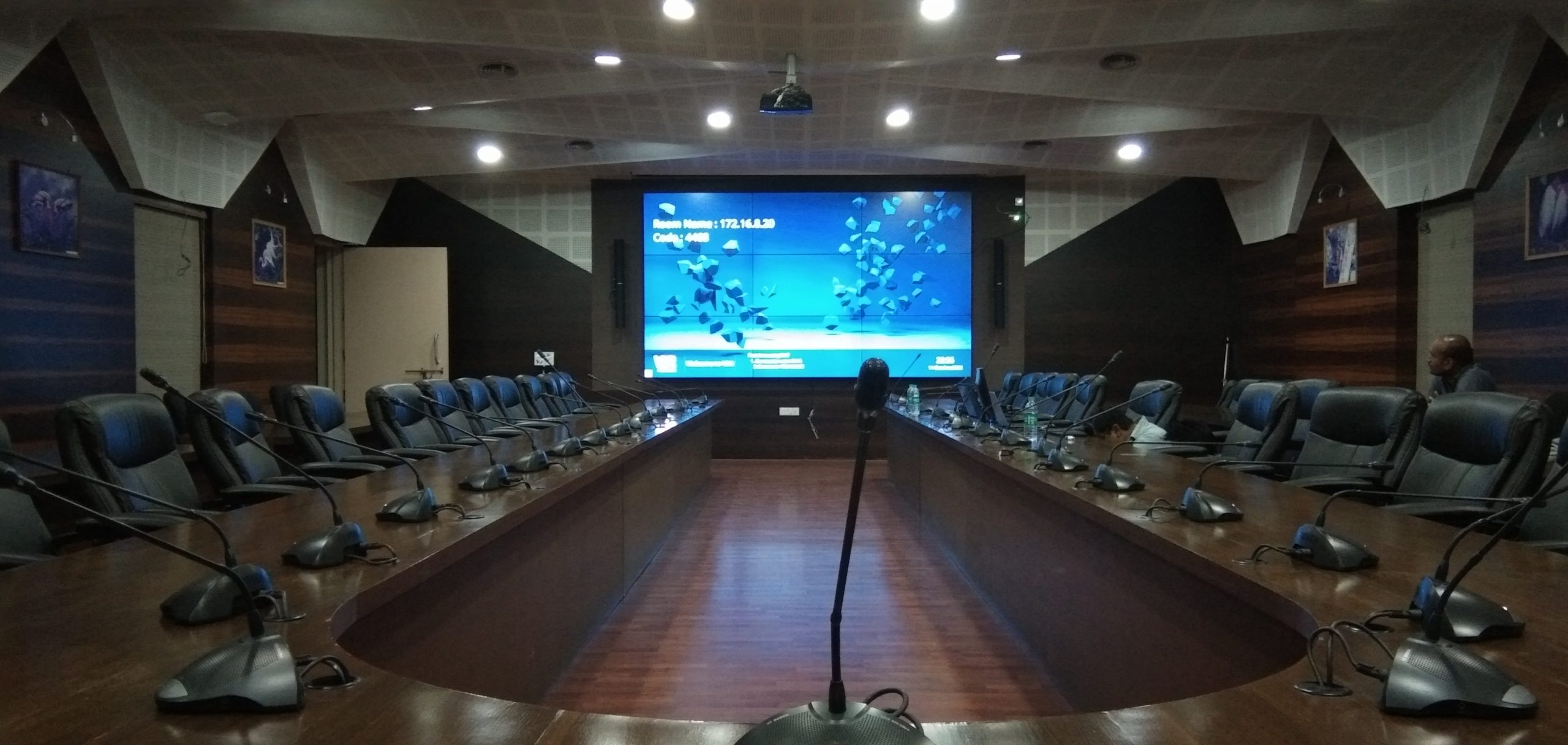 Working off of the brief, team AWAN India equipped the principal wall of the room with a lavish high-performance video wall comprising a 3×3 matrix of the 55VM5E 55" inches LED panels from LG controlled through ATEN VP1420 multi-in-one presentation switch (which integrates a video matrix, True 4K scaler, audio processor, and analog-to-digital converter functions) and the ATEN VE802 HDMI HDBaseT-Lite Extender.
All presentations are viewed on the massive LED wall in crystal clear detail, with the content control achieved through the VIA Go wireless presenter from Kramer. Furthermore, the room has also been outfitted with a comprehensive loudspeaker reinforcement solution from Bose Professional.
AWAN India have integrated multiple numbers of the compact yet extremely powerful RMU 208 loudspeakers from the brand's acclaimed Room Match Utility series of products that are in turn powered through the ultra-efficient P2006A power amplifiers by PowerSpace series. With a view to ensuring delegates enjoyed absolutely seamless meeting and discussion experience, team AWAN have outfitted the plush conference table with a comprehensive conferencing microphone system from Bosch that comprised a main Chairman unit (which holds principal control over the entire conferencing system), and as many as 24 delegate units.
"Every new installation is an experience in itself and a great opportunity for learning many new things- both about the products as well as its application, and the very execution of project," says the AWAN chief. "It was indeed a pleasure working with JSS Group of Institutions, as this project presented us with the perfect opportunity to put our AV expertise to good use as we custom-designed a very comprehensive AV and conferencing solution for them, keeping in mind their niche requirement," he recalls. "The immense appreciation that's come our way from the JSS management has only reinforced our belief in our expertise and competence to execute large, complex project installs with aplomb."
"We are deeply thankful to JSS MVP for trusting us with their projects," adds the AWAN chief.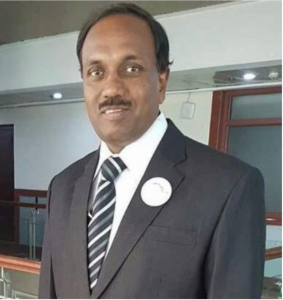 Says B K Suresh Babu, the man from the JSS institution, who 'engineered' the project from the word go. "We're glad to have chosen to partner with AWAN India to equip the AV systems at our conference room," he says, "Prasad ES has rich experience and technical know-how in professional AV and had personally taken responsibility to complete our conference room well within the deadline."
"I extend my heartiest congratulations to the whole team of AWAN India for their projects with us," he commended.