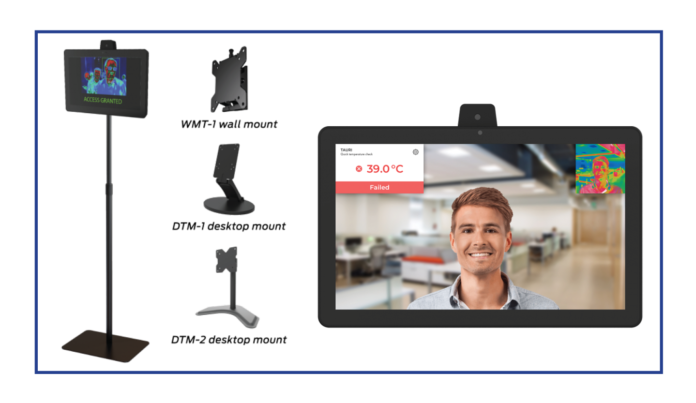 Responding to the demands of 'testing' times of COVID-19 across the globe, AV switchgear and control systems major Aurora Multimedia has introduced an all-new Tauri Temperature-Check Tablet — an all-in-one infrared temperature sensing tablet!
That there has been a countless number of surveys and guidelines stressing the importance of physical distancing and keeping the threat away at every move that humans make, Aurora came up to contribute to strengthening preventive mechanisms of people and companies against the spread of the pandemic.
That monitoring the body temperature is one of the primary requisites to check the spread of the deadly virus, Aurora came up with the Tauri monitor system that helps organizations check the viral temperature of every staff, guest, visitor, patient at any managed entrance onto the premises.
Once installed, the Tauri instantly senses any person running high temperature from 3.3 feet away and beeps an alert on the monitor. It thus provides for the first layer of screening protection using a hygienic non-touch infrared technology.
Coming in three variants of TTS-10 (10.1 inch); TTS-15 (15.6 inch); and TTS-21(21.5 inch) sizes, the non-touch panel monitors are space agnostic- can be installed for any segment and space such as corporate and commercial establishments, retail destinations, government offices, educational institutions, entertainment centres, healthcare centres, and public spaces like transport stations.
According to the company representative, the beauty of the TTS is that they produce results in less than a second, with +/- 0.5 degree Celsius accuracy.
"With the human movement environment being so much at risk, people need such sensing and preventive mechanisms," said Nataraju Upputuri, Director of Aurora Multimedia (India). "Given its competence to roll out responsive systems of the need, Aurora rose to the occasion," he explained. "With TTS in place, people and companies do not need to check anyone from close proximity and stand the risks of infection. That can be warded off from as much as over three feet."
The systems are being shipped globally and would be available within 4-6 weeks from the date of orders, he said. That there are no restrictions on cargo flights shipping healthcare materials and essential requirements, these systems can be shipped without any hassle, he maintained.
"With the current social milieu and business environment being so much hazardous, people and companies do need such systems as TTS till at least the start of 2021, if not beyond," Nataraju emphasized.
Get all the product specs at https://bit.ly/2z3KRsF