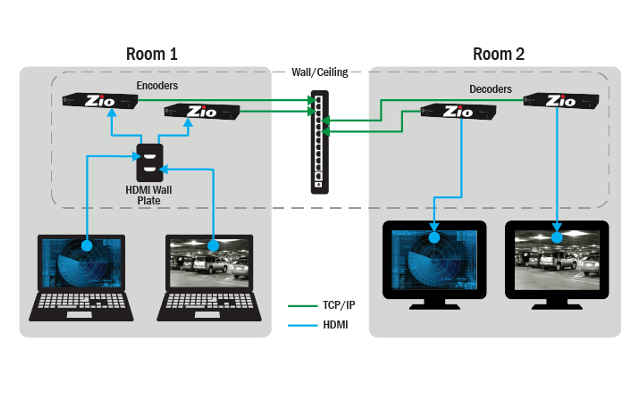 R
GB Spectrum's new Zio AV-over-IP technology offers video and audio distribution over an IP network, replacing traditional dedicated switchers. Zio endpoints provide HD and 4K video-over-IP encoding and decoding over conventional 1GB networks.
Now these Zio endpoints offer simplified integration possibilities with their new plenum rating. Plenum spaces are the open spaces above the ceiling, behind walls or below the floor that are used for air circulation. To achieve plenum-rating, Zio endpoints meet stringent environmental and fire protection regulations.
With their plenum-rating, Zio endpoints can be easily installed in any plenum building space, this offers aesthetic and pragmatic benefits. Integrators can deploy Zio endpoints in facilities with discrete, clean architectural simplicity. To further streamline installation, Zio endpoints also offer Power over Ethernet (PoE+). In a typical installation, Zio endpoints are accessed via standard HDMI wall plates.
Zio's AV-over-IP architecture delivers many advantages over other technologies, including seamless switching, support for both dedicated and shared networks, and 2K and 4K encoding and decoding of video, audio, and control signals using industry standard H.264 and H.265 compression.
The new plenum-rated Zio AV-over-IP system is suitable for networked AV in any size room, building, campus, multi-site facility, and even multiple locations worldwide.
RGB Spectrum provides innovative solutions for the display, recording, and transmission of computer and video signals. Since its founding in 1987, RGB Spectrum has established itself as a leading designer and manufacturer of cutting-edge video/graphics processors and decision support systems.
Company offerings include multiviewers, video wall processors, matrix switchers, codecs, recorders, and integrated solutions for control room management. RGB Spectrum's products are preferred by major global organisations in industrial, security, medical, educational, commercial and military markets.