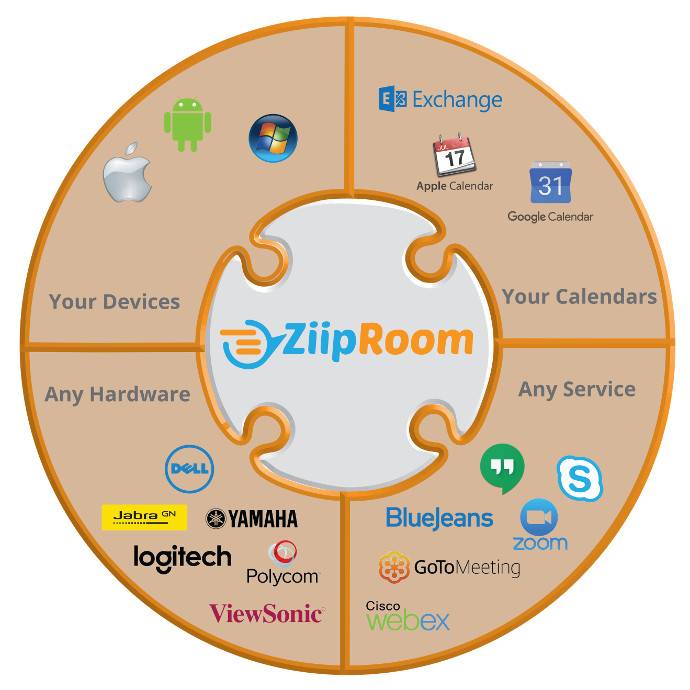 Many tech companies approach the market brimming with pride over their new product. Their new offering represents the bleeding edge of technology harnessed with the most impressive engineering. But far too often, their new product is just that – a product. Even worse, their new product is really technology looking for a market and not at all a solution to existing pain points customers are suffering from daily in the field.
The situation could not be more opposite with ZiipRoom. Born directly from acute end-user frustration, ZiipRoom was conceived in the field by suffering end users.
In 2016, Martin Bodley, ZiipRoom CEO and co-founder (and prior CEO/founder of RevoLabs which was acquired Yamaha), was contacted by a colleague who was responsible for nearly 7,000 rooms globally for a Fortune 250 pharmaceutical company.
Bodley's colleague lamented over his challenges to properly enable his organization with the collaboration spaces and workflows they demanded. To that point, less than 250 of the 7,000 meeting spaces had been enabled for collaboration. Why? Because efforts to date just hadn't been successful. For each 'thank you' there was a much larger chorus of complaints and trouble tickets. Each of their pain points were shared with Bodley and read like the Seven Deadly Sins of contemporary collaboration:
Initiating meetings was too slow and complex (losing 8-10 minutes at the beginning of meetings was all too typical)
Connecting BYO devices with correct cables or dongles was uncertain and sometimes difficult
Deploying hardware for both VoIP and UC video created clutter, cost and confusion
Supporting various BYO devices and multiple UC Apps was proving impossible
Supporting guests for sharing presentations and initiating calls 'off network' was often a complete gap
Eliminating wiring to the table to reduce build-out cost and tripping hazards needed attention
Tracking, analyzing and reporting insights on room and system utilization was a mismatch collection from multiple sources with no complete, aggregate view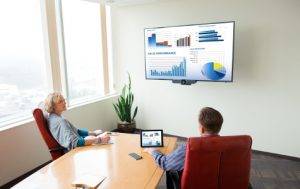 Bodley picked up the gauntlet and assembled a small core team of experts with well more than 100 years of collaboration, wireless and mobility expertise between them. Eighteen months later, they annouced ZiipRoom, the only software purpose-built to connect people and technology to make every meeting experience consistent, simple, productive and free from vendor lock-in.
ZiipRoom is a software subscription offering that complements what's already in the room. With patented software on BYO devices (Android, iOS, Windows), in the meeting space, and in the cloud, ZiipRoom knows users, their locations and the devices they're carrying. Within seconds, ZiipRoom's intelligent software scans users' calendars (and the calendar for the room) and shares click-to-join buttons to start any scheduled VoIP or UC Video meeting or share wireless presentations directly from their device of choice.
While some solutions try to do a bit of everything (often at the expense of succeeding at anything), Bodley and the ZiipRoom team kept laser focused on addressing the core pain points and did not stray. When sharing their value proposition and providing demonstrations of the ZiipRoom meeting experience, the team consistently highlights the real-world problems they'v addressed that organizations are still looking to solve (just as Bodley's colleague in pharma lamented over in 2016):
Speeding and simplifying meeting starts with one-click buttons on BYO devices: Fed directly from meeting invites on users' calendar(s) or via the room's scheduled meetings
Supporting multiple VoIP and UC Video platforms from meeting to meeting and user to user: One consistent app that connects to all the platforms (VoIP or BJNS, GoToMtg, SfB, WebEx, Zoom, etc.)
– One consistent experience that eliminates training and trouble tickets
Eliminating frustrating cable connections and incompatibilities: Connects wirelessly to BYO device (Android, iOS and Windows) – no cables or dongles required
: Use BYO devices for wireless presentations, joining calls, adjusting volume and controlling camera
Providing secure presentation option for guests or off-network employees: Easy URL access with security code and media relay in the cloud
Reducing clutter, wiring and cost:
:Includes SIP soft phone with dial-in/dial-out support and merging audio and video calls
:Deliver Wireless Presentation, VoIP and UC Video from shared A/V device(s)
Providing a single data set for valuable analytics and insight
: Aggregates data from devices, calendars, VoIP/UC platforms and in-room A/V hardware
: Enables real-time monitoring, alerts and reports
: Includes room utilization, participant counting and even learns behavioral trends about individuals to aid them over time
Since emerging from 'stealth mode' at InfoComm 2018 in Las Vegas in June, the ZiipRoom team has been busy finalizing software for release in Q4, executing pilots and demonstrations with future customers, and even garnering a couple awards. The team has also been actively completing go-to-market plans and aligning reseller and distribution partners.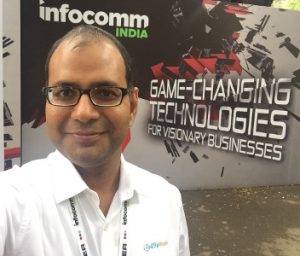 Roshan Gupta, ZiipRoom's Regional Director for India Region interacted with many AV channel partners during InfoComm India 2018, and their most common response was very simple yet very profound: ZiipRoom solves long-suffered problems for end users and uniquely fills a market gap.
ZiipRoom complements the solutions many vendors are selling for VoIP, UC Video and the A/V hardware in meeting spaces (monitors, cameras, speakerphones without competing against any of them. This allows resellers to easily add ZiipRoom software benefits without complicating room design or alienating existing solution providers. And, at just $299 per room per year (apps are free for as many users and devices as desired), ZiipRoom brings long-sought simplicity and consistency that's the core driver of user adoption which, in turn, drives higher customer ROI.
That said, the largest opportunity ZiipRoom brings for partners is the missing opportunity between the 250 rooms that have been deployed and the remainder of the 7,000 (like the challenge facing the global Pharma organization mentioned above). Roopam Jain's (Frost & Sullivan) recent blog, Huddle-room Collaboration – Looking Beyond the Hype, indicated there are now over 32 million huddle rooms worldwide, but only 2% of them are video enabled.
More importantly, Jain shared that huddle room utilization for video calls would explode, growing exponentially from just 8.1% of video calls today to 70% of all video conferencing room meetings by 2022.
If you're an AV/IT reseller looking for business expansion, which market opportunities are anticipated to have such a promising CAGR? Ensuring that every meeting experience is simple, consistent and productive goes a long way in creating satisfied customers and securing future orders for ZiipRoom software – and all the A/V gear in the rooms as well.
And, with the insightful data and analytics from the ZiipRoom cloud portal, channel partners can leverage ZiipRoom to provide enhanced services to the many collaboration spaces that were once just too costly to reach with high-end, white glove type services.
ZiipRoom may be a small startup, but their impact looks to be much larger.