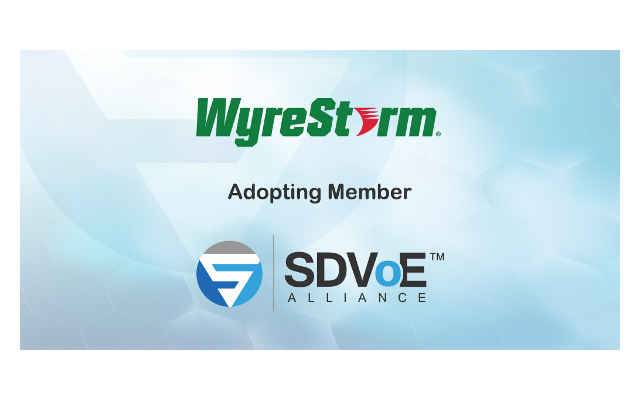 T
he SDVoE Alliance has announced that WyreStorm has joined the alliance as an adopting member and has introduced its first SDVoE-capable products at
CEDIA 2017 (San Diego, Sept. 5-9, booth 2233)
.
SDVoE technology gives the WyreStorm NetworkHD 600 Series the power to deliver uncompressed instant seamless switching of full HDMI 4K UHD @60Hz 4:4:4 with HDR and zero-frame latency over Cat6a up to 100m via off-the-shelf 10Gb Ethernet switches.
On joining the SDVoE Alliance, WyreStorm NetworkHD and Control Product Manager, James Meredith stated: "Our decision to become an Alliance member manufacturer illustrates WyreStorm's dedication to the rapidly accelerating transition to AV over IP technology, our unwavering belief in the importance of industry standardization in the adoption of new technologies and the exciting new era of AV connectivity this movement heralds."
"To date, most of the SDVoE membership has been focused on the commercial AV installation space," said Justin Kennington, President of the SDVoE Alliance. "WyreStorm debuting the NetworkHD 600 line at CEDIA illustrates that SDVoE technology will have a serious role in replacing matrix switches in the custom residential AV channel. Users who demand flawless quality without latency exist in all markets – perhaps none more so than the home user. This is why it is so exciting to see new members focused in the CEDIA channel."
All AV distribution and processing applications that demand zero-latency, uncompromised video can benefit from SDVoE technology, which provides an end-to-end hardware and software platform for AV extension, switching, processing and control through advanced chipset technology, common control APIs and interoperability. SDVoE network architectures are based on off-the-shelf Ethernet switches thus offering substantial cost savings and greater system flexibility and scalability over traditional approaches such as point-to-point extension and circuit-based AV matrix switching.