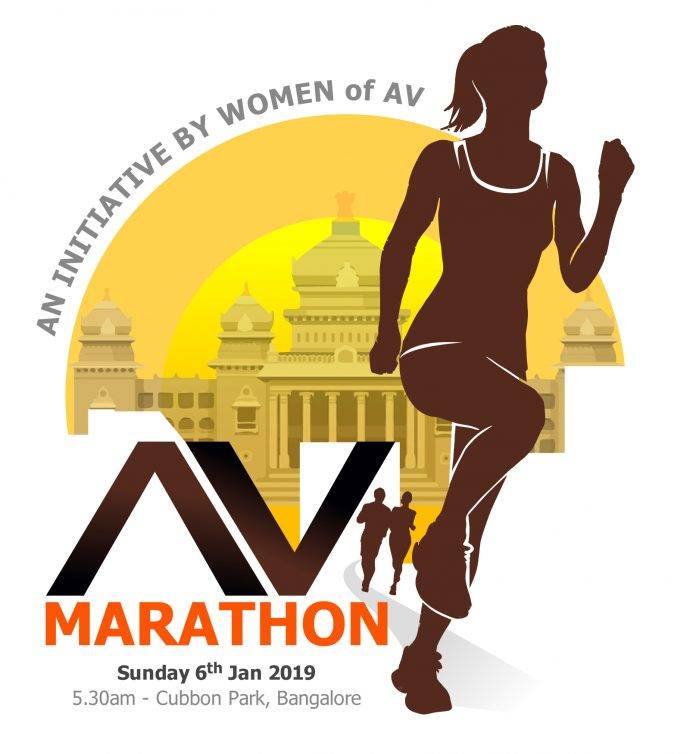 In what appears to be a yet another novel initiative in Indian audio-visual industry, a dedicated group of women in AV – called 'Women of AV' – is launching an AV Marathon event in the industry's de facto capital Bengaluru with a slew of unique messages.
Scheduled to be organized on 6 January 2019 inside the popular Cubbon Park in Bengaluru,
from 5.30 am onwards, the 'AV Marathon – An Initiative by Women OF AV' – as the initiative is called, is planned with five specific objectives, while staying a strictly industry-specific event.
The five specific objectives of the initiative are
Happiness quotient
Fitness
Green
Swach Bharat, and
Charity
"We had actually been contemplating something like this for long," Kavitha Nandakishore,
HR Manager at the Bengaluru-headquartered systems integration/consultancy firm
IdeasAhead told SIA. "We had long been exploring several ideas amongst our circles on creating a unique value proposition from women in AV; it took a fine shape now."
According to Kavitha, it is not just a first-of-it-its-kind initiative in the industry, that too, ideated and organized by women in AV, but also the for the macro vision of promoting a unique set of values to benefit and better the AV individual, institution, industry, society and the nation as a whole.
The organizers have formed a Core Committee of seven women comprising Kavitha K (IdeasAhead); Kirti Shetti (Kramer);  Monalisa Thakur (Crestron); Prabha Lakshmi (Office 2000); Roopa K (SoundScape India); Shobha K (Extron) and Sonam Gupta (Samsung).
"In today's AV industry, while women have been playing a significant role, contributing to the common cause, we do not hear much about them; we thought it's time we did something that speaks out what women can do to improvise industry value-adds to society," said Kavitha. "What can be a better way than to organize a marathon which takes together all sections of society, and also blends unique aspects like fitness, mental health, and more."
"Being a jogger myself, I know what it means to an individual; it helps one stay fit physically and mentally, irrespective of being male or female," said Shobha K Nair of Extron. "We ideated to blend this format with other novel aspects to contribute to a better, healthier society."
Kirti Shetti of Kramer Electronics added, "Though it is an initiative by women, it is aimed at bringing both the sections – men and women – together, for a common, social cause. It helps the AV professionals literally breathe free from the rigours of professional pressures."
Referring to the Audio-Visual Cricket League's impact on the industry, Kirti observed that
though the sporting event contributed to rejuvenate the industry from many stress factors,
it remains a largely male and team effort, whereas marathon is for the individuals to better themselves and still to contribute to community. That's a key factor.
The Five Objectives
AV professionals are taken to live a variety of business challenges and hectic project schedules that have been visibly impacting their life styles in general. It also impacts the fitness quotient of the professionals.
"We wanted to do something that eases out this stress, and infuses the happiness quotient," Kavitha explained. "We wanted to create a platform from where these essentials of life could be promoted amongst the AV families."
The 'Women of AV' didn't want to stop just there. That being 'green' is the necessity of human life today, they decided to promote the indispensability of staying green. The AV Marathon would therefore be a total plastic-free event with 'natural' implements replacing all plastic materials. "So much so that, the LOGO is being created by Karnataka Horticulture Department with plants and leaves; with saplings to represent the earthly natural themes; no flexis, banners or plastic," revealed the IdeasAhead Exec.
Promoted alongside the green wagon is the mission Swach Bharat (clean India), since cleanliness is an equally big imperative for a 'healthy society' today, she vouched, the AV Marathon event will play a decisive role to promote the mission amongst the AV fraternity- towards contributing to a larger, cleaner cause.
Three Races for Men, Women
While staying strictly AV industry-specific, the AV Marathon is open for both men and women above 18 years of age. There is no restriction of their role or department of work, but the company. They can, however, be manufacturer, OEM, AV-Partners, SIs or Consultants. The participating company have to nominate their spokesperson – who will be called Champion – and will be the single point of communication between the company and organizers.
Post-registration, the Organizers will send invitations, and bibs to the Champion who will use them to figure out the runners from their respective companies. The Marathon will be held for three races- 10km, 5km, and 2km beginning at 20 minutes of intermission. The first three positions for men and women from 10km will be awarded a trophy, medal and a certification while five male and female toppers each from 5km will be awarded with medal and certification, followed by a certification to all the participants of 2km race.
Moving further, Shobha of Extron has created an AV Runners Club group on WhatsApp, towards sensitizing people concerned. More, on behalf of the commune, she intends to organize weekend training camps for the aspiring joggers at the Cubbon Park in the run to the event.
Charity Begins at Park
According to Kavitha, while the ambitious nature of the initiative makes it a cost-intensive activity with aspects like safety, and security, recreation, and recognition (awards/felicitation) requiring substantial investment by means of sponsorships, whatever proceeds that remain post-event would be donated as charity.
The event is offering/inviting three levels of sponsorship- the Platinum Sporsorship of ₹100,000 (US$1400+); Gold Sponsorship of ₹75,000 (US$1000+) and Silver Sponsorship of ₹50,000 (US$700+).
Enthusiastic AV companies can contact: theavmarathon19@gmail.com