VR Days Europe is the continent's leading conference and exhibition celebrating virtual, augmented and mixed reality (XR) business innovation and creativity. The 2018 event ran from 24 – 26th October in Amsterdam and attracted nearly 1,800 registered attendees – an increase of nearly 10% compared with 2017.
VR Days Europe was produced in collaboration with Integrated Systems Events, the organisers of the Integrated Systems Europe exhibition.
More than 550 delegates filled the auditorium at the DeLaMar Theatre for the Vision & Impact Conference, held on the first day. More than 20 speakers from the arts, the corporate world, healthcare, storytelling and other disciplines discussed the role of XR technologies in our lives – both today and how they should develop in the future.
Mel Slater, Co-Director of the Event Lab, University of Barcelona, talked about how VR can be used to experience life in a different body.
Miriam Reiner, Head of the VR and neurocognition lab at Technion, Israel Institute of Technology, related how VR and AR can be used to boost mental performance. Marie Jourdren, Chief Creative Officer of DVGroup, described the nascent immersive entertainment industry, which blends VR and theatre with techniques from film and games.
Benjamin de Wit, Founder of VR Days Europe, commented: "The fourth edition of VR Days Europe was another step towards a true industry event where realities really meet. Researchers, artists, developers, corporates and the VR and AR community came together to get inspired, create new content, listen to great speakers, get together at roundtables and network events, forge new partnerships and do business."
This year's event saw an increased focus on practical applications of XR technologies in business, including many sectors that are served by the AV industry. Added de Wit: "What we are seeing now is how XR solutions have permeated all areas of traditional business, and numerous sectors are embracing the opportunities that are being created."
Held at the Kromhouthal across the second and third days of VR Days, three Summits explored the use of XR technologies in the worlds of enterprise, medicine, and media/arts/entertainment. In a full programme of engaging and insightful speakers, other sessions considered the future of storytelling, design in XR, and the use of XR technology in museums. Attendees also enjoyed a large and varied exhibition area featuring 60 companies, and some amazing VR experiences.
VR Days Europe attendees included technology experts, XR startups and investors. One of the show's many opportunities to bring these different groups together was the XRBASE Investor Event. 8 XR startups from across Europe presented a three-minute pitch to a panel of investors. In addition, seven location-based entertainment startups took place in an LBE Pitch Fight where they had just one minute to persuade a panel to back them. The winner of the pitch fight was Incarna from France.
The XRBASE Investor Event also featured global and European venture capitalists sharing their views on the kinds of startups they are looking to support.
The Church of VR showcased a fascinating selection of 40 VR works from around the world – some of which received their European or world premiere. Collectively, these works showed how VR can be used to tell many different kinds of story: dramatic, playful, personal, reflective, inspiring – and always immersive.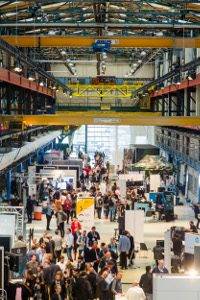 The Halo Awards, which recognise outstanding creative and innovative work in AV, VR and mixed reality projects, took place on Thursday afternoon. Entries were judged by a specialised jury of industry experts, who awarded Gold, Silver and Bronze Halos in six categories: Cinematic, Gaming, Location-Based, Non-fiction, Creative Accomplishment, and Applied.
Mike Blackman, Managing Director of Integrated Systems Events, said: "Every year we see VR Days draw the world's leading creative developers and solutions providers to Amsterdam. They provide real insight into the XR market of today and tomorrow and the impact it is having on vertical market sectors, including those serviced by the AV industry. It remains an exciting sector to be involved with."