C
hristie has announced that
Vettri Theatres
has become the first cinema in India to be equipped with Christie's next-generation
CP4325-RGB RealLaser cinema projector
.
Located in Chennai, Vettri Theatres is the most prominent cinema in the city's Chrompet district with a single-screen auditorium featuring ergonomic cushion seats, three-way stage speakers and eye-catching interiors.
The massive auditorium has a capacity of 776 seats and is highly popular among students, working professionals and residents in and around Chrompet district.
"As a forward-looking exhibitor in Chennai, we've always thinking of new ways to elevate the movie-viewing experience and introducing state-of-the-art cinema technologies to our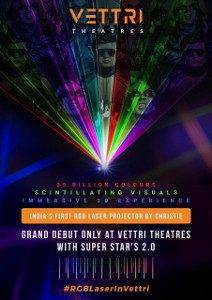 patrons," said Rakesh Gowthaman, Managing Director, Vettri Theatres. "The Christie CP4325-RGB, with its compact, all-in-one form factor, 25,000 lumens and unmatched cinematic performance in 4K resolution, is exactly what we need to deliver the best cinematic visuals to our discerning audiences. We're proud to embrace RGB pure laser projection and be the first cinema in India to deploy the CP4325-RGB."
Christie's RealLaser family of projectors, which includes the CP4325-RGB, offers all the advantages of a high-performance laser projector in a compact 'all-in-one' form factor that eliminates the need for sub-ambient external cooling, while providing a low cost of ownership, excelling in image quality and posting an impressive operational lifetime of over 30,000 hours of theater operation without lamp changes.
RealLaser delivers superior and more consistent brightness levels, meeting DCI standards, throughout the entire lifetime of the projector.
Rajesh Patkar, Deputy General Manager, Cinemas Sales, Christie India, concluded, "We are delighted that Vettri Theatres has selected our CP4325-RGB RealLaser cinema projector for its flagship auditorium. This is a validation of Christie's technological leadership in the cinema market and the confidence that exhibitors have in our direct-coupled RGB pure laser projector, which is DCI-compliant and brings low cost of ownership and unrivaled cinematic performance to mainstream auditoriums."