Venuetech chief Nour Assafir welcoming guests
I
n a major initiative, leading AV and lighting solutions distributor in the Middle East and GCC region Venuetech conducted last week a technology seminar titled 'The Future of Technology in A/V Industry'. Organized at the Al Falak ballroom in Burj Al Arab on Wednesday 6 December, 2017, the event was aimed at presenting updated solutions in meeting and conference room environments to the professional AV community.
Summing up this year's demand and the looking forward to the requirements from the regional industry in the coming year, Venuetech found it best to communicate the latest in audio-visual and conferencing technologies to system integrators and consultants in the field. The highlight of the event was that latest solutions from as many as nine manufacturers – Active Audio, Altman Lighting, Arthur Holm, Atlona, Barco, Global Caché, Robert Juliat, SGM Lighting and Televic Solutions – were presented to a decently large gathering of over 100 professionals from across the region. The participants had a chance to have the first 'hands-on' experience the solutions from the four majors with the demo systems that were set up at the venue.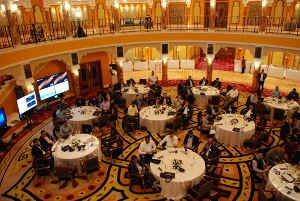 Atlona's award winning Omnistream AV over IP solution was part of the hands-on demo with a video wall showcasing its capabilities, namely low latency, crop and zoom support, and seamless integration with Velocity control system.
Venuetech chief Nour Assafiri thanked the participants and representatives of the company Prinicipals for making the event a grand success, as also for their continued contributions to the advancement of the regional AV market.