The recently commissioned VUE al-Class line array based system at Austin's Great Hills Baptist Church is drawing rave reviews from Church leadership, sound engineers, and worshipers alike. Designed by Springfield MO -based Paragon 360, the VUE al-Class hybrid line array system replaces an old JBL Vertec rig, and is the first step in a multi-phase electro-acoustic renovation. Thanks to VUE's unique Continual Source Topology (CST) which enables the assembly of seamless hybrid arrays of different-sized elements, the al-Class was the perfect solution to address coverage issues and provide improved clarity throughout the 3,500-seat venue.
To deliver consistent 180-degree coverage across the half-circle-shaped sanctuary, Paragon 360's lead audio designer Mark Coble specified four discrete arrays incorporating six al-8 elements with four subcompact al-4s for near-field coverage. VUE's proprietary CST technology virtually eliminates the transition between the al-8 and al-4 elements resulting in exceptional near-field coverage with consistent fidelity, optimal line length, and minimal weight.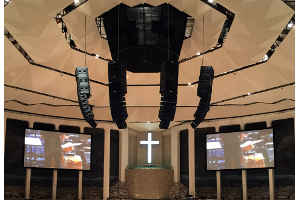 Capping each array are three al-8SB flyable 18-inch subwoofers in a cardioid directional configuration. VUE presets courtesy of the VUEDrive Systems Engines handle the phase and frequency settings for the cardioid configuration making setup and tuning quick and easy. The system also included a monitor package with six hm-112 h-class single 12-inch high output monitors, and V4-i VUEDrive Systems Engines.
"When we first fired up the system, everyone was blown away by the seamless coverage — both vertically and horizontally," explained Paragon 360 associate audio designer and installer Rich Nelms. "From the last row to the first, the sound level varied by only 1.5db. Even the best-tuned and designed systems you expect to find shifts in frequency response as you pass horizontally between the seams in each array's coverage. The VUE system was perfectly seamless horizontally throughout the entire sanctuary and required very little tuning to achieve optimum performance."
In addition to coverage uniformity, Paragon also set out to ensure that the cardioid sub array eliminated the previous system's issues with stage and rear wall low-frequency interference. "The versatility of the VUE system allowed us to very easily go the cardioid route and solve this long-standing issue, while keeping the newly installed orchestra section clear of excess low-frequency energy," remarked Nelms.
In fact, after the very-first worship service with the VUE system, several Church members noticed the marked improvement in sound quality and made note to Church leaders. "This was one of those projects where the system performance was almost too good to be true," added Nelms. "Thanks to VUE's CST technology, the system exceeds all client expectations and has added a new level of experience and meaning to each service."