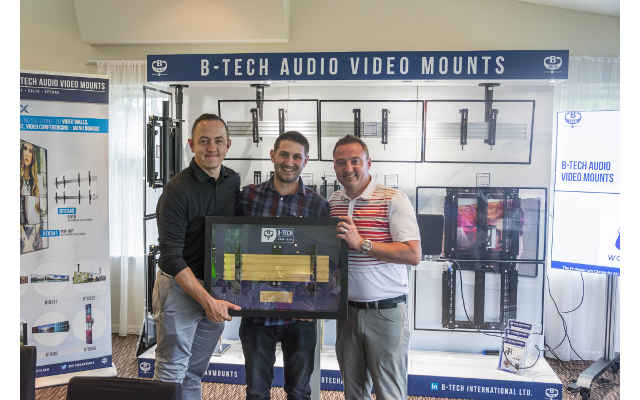 TVC has been awarded a special accolade from B-Tech AV Mounts in recognition of their support of B-Tech's System X range of mounting solutions.
With a client list that includes the world's largest online bookmaker – bet365, as well as many other UK bookmakers and leisure & hospitality establishments, TVC was one of the first integrators to champion System X at its launch and has since gone on to become one of B-Tech's most knowledgeable customers.
TVC is such an advocate of B-Tech's mounting system that they have ordered over 1080m of aluminium rail since its inception – applied end-to-end the rail would tower over the Burj Khalifa in Dubai, hailed as the world's tallest building.
IA gold System X wall plaque was given to TVC management in recognition of their efforts, and now sits proudly on the wall at their Bolton Head Office. Presenting the award at B-Tech's recent Invitational Golf Day, Key Account Manager Matt Nixon said: "From its launch, TVC have favoured our System X mounting solutions and have gone on to be the biggest supporter of the range. Their staff have helped us impact heavily in new markets, particularly with big brand-name chain establishments in the hospitality market and UK bookmakers, including the huge AV install at bet365's global headquarters in Stoke."
Matt added: "Working with TVC is an absolute pleasure. All key staff are fully trained in B-Tech's offering and are qualified to specify the correct System X solution. Special mention needs to go Chris Whitlock, Andy Greaves and Michelle Ellis who have been instrumental in B-Tech's growth in new markets with TVC."
On receiving the award, Chris Whitlock, TVC's Technical Director, said: "I first saw System X as a prototype three years ago and could instantly see its potential. With fast installation and easy to use screen alignment features, System X presented itself as a modular and future proof range that is absolutely ideal for our business."
He added: "As soon as this range became available we started to take sample kits out for demonstrations with our clients. They too could see the immediate benefits of using a universal rail system for multiscreen installations. System X gives us so many options we can confidently offer a solution to meet our clients' requirements. We work directly with B-Tech to ensure our clients get fast response times and the best service on project delivery, which are key to the ethos of the TVC group."
Since its inception, System X has gone on to receive a Highly Commended gong at the 2016 AV Awards, and has helped B-Tech earn an inclusion on this year's finalist list for the coveted Manufacturer of the Year crown at the 2017 event.
B-Tech's online tool is available for Integrators, consultants and distributors and can be found here.