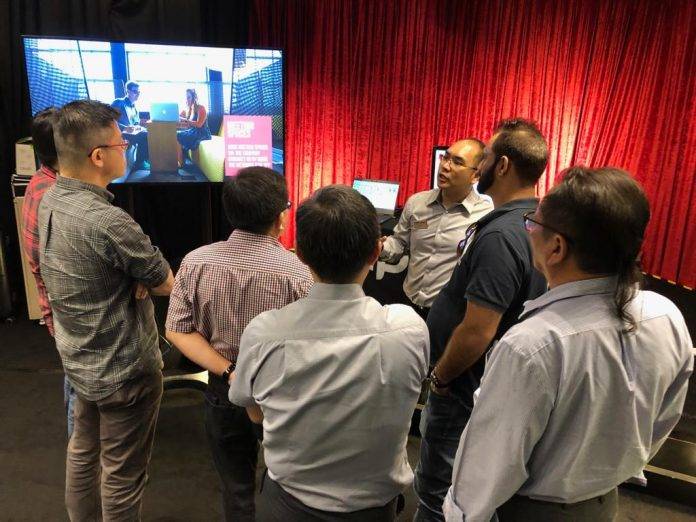 System Integrators, consultants, end-users and dealers got a sneak preview of solutions that Tripleplay will be displaying at ISE. Held on 24 January in Singapore, the event attracted guests from Singapore and the region.
Gary Tay (pictured left), General Manager of Tripleplay Asia, took the opportunity to introduce the local members of his team. The event was also supported by Steve Rickless, CEO of Tripleplay together with Anna Roberts, Group Marketing Manager.
Steve gave a brief overview of the company and emphasized to the audience that all developments are managed by an in-house team. "This allows us to be agile. We also continually add features and improve usability".
He also highlighted that Tripleplay solutions can be found in eight of the top 20 financial institutes, five of the top 15 legal firms and 11 of the FTSE 100 and are involved with 60% of the UK premier league teams' stadia.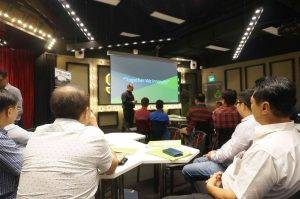 Mr Rickless also took time to talk about System on Chip (SOC) vs Set Top Box (STB) options. He pointed out that Tripleplay is a flexible solution, designed to work with a wide variety of devices, including STB and SOC. Steve highlighted about the importance of security and secure content that Tripleplay pays much attention to.
"We have appropriate DRMs for all streaming and all devices. We adapt and comply to different client requirements, example banking and enterprise."
"We can also deliver securely to mobile devices. Furthermore, we are able to adjust and conform to different security regulations in different locations."
On the digital signage space, Steve spoke on creating 'intelligent spaces' with digital signage and IPTV through offering meeting room booking and management system support; wayfinding solutions; Intelligent Building Management Support (BMS); environmental monitoring and desk booking and location services. All of which are available features in Tripleplay solutions.
Anna Roberts presented on the product development cycle and new features.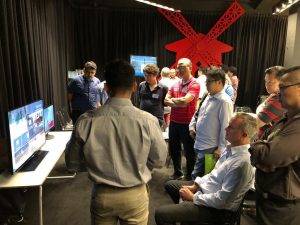 The solutions showcase featured amongst others the Google Chromecast for IPTV in their new Xenia Interactive Panel. A mobile app enables users to mirror their programmes onto the panel without using mobile bandwidth. Also showcased was the brand-new feature, Multiview, that allows up to four multicast HD streams to be delivered to one screen via a single Digital Signage Media Player.
An ideal solution for live events, sports arenas, broadcasters and town hall addresses, Multiview simplifies implementation of multi-stream displays and vastly reduces the cost vs traditional technologies.