Sri Lanka – the small but bountiful and beautiful island in South Asia – has been a focal point for many for long. From conquerors to colonialists, from royal envoys to religious preachers, from ethnic repulsions observers to economic analysts, and, of late, market economy harbingers to ICT enthusiasts! Even as the country continues to grapple with oddities, there has been a fair amount of hope for a prospering time, and sync with regional, if not global market.
For audio-visual and systems integration industry, while it's been extremely tough going for SI Asia eliciting response from the small but emerging AV industry – as part of our regular Country Analysis – there is a light visible at some distance. A snapshot:
---
For a small country that struggled with a high degree of civil war for 30 long years, followed by periods of uncertainties, it might not sound fair to expect great turnaround in quick span of time- let alone wonders! However, some steely resolve at the top echelons of governance, progressive looking citizenry, and more encouragingly, positive, and promising outlook taken by regional powers and market players offers a great prospect.
"That's exactly what it is…or what we can take to be fair," comes the assumption from Arijith Ranaweera. A freelancing sound engineer who is also a music enthusiast with some good exposure to entertainment and audio visual industry in the region, Ranaweera says the kind of turmoils that the country had been through, it isn't easy to make it that quick.
"We had enough of it, we all know; more, the government; which is why we are seeking forward," Ranaweera wants us reckon. "It will take some time, but surely." Hansi Chaturasinha and Amanthi d'Mel, Arijith's young club acquaintances, working with a top hotel in Colombo, exude a bit more enthusiastic. Apparently judging from the audiovisual set-up in the hotel they work, the women in late-20s feel it's a 'new Sri Lanka' now. "We have, banquet halls, clubs and conference rooms with audio-visual set-ups; and they are maintained fine," Amanthi qualifies. "Most hotels in Colombo have good AV set-ups; and they are getting better and bigger."
Interestingly, Amanthi and her friend know much about Chennai and Bengaluru hotels, but not much about other parts of Sri Lanka. "We are told things are fast changing," they say. According to Ronil Samaraweera, who works for a leading distribution firm, feels that there has been a fair amount of enthusiasm of late- across all major segments. "There have been some big constructions, both in government and private sector, and most of them are seen to implement some or other kind of AV," he says. "People in professional segment appear to be growing up to modern business requirements."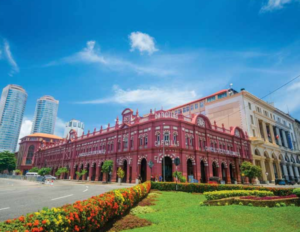 Leaders Take Positive Note On Growth
Their assumption fi nds, perhaps, the strongest endorsement it could get- from Swedish Trading Audio Visual Pvt Ltd (STAV), Sri Lanka's top most AV industry player. Dulith Senanayake, Managing Director of STAV, vouches for the industry's dynamism: "The industry is very dynamic; most customers are today requesting for latest technology. They want their AV install on par with the international benchmark, if not better."
According to him, the Lankan customers are well informed and very IT savvy, and therefore demand only the best. They are willing to invest in quality solutions and services. The legacy systems are being done away with, giving way in to modern, and high-end systems. One reason for this enthusiasm, could be increasing funding opportunities with convincing finance models coming into access.
"The one challenge here is with the old timers," comments Dulith. "The other big challenge, of course, is the dearth of skilled and certified professionals; it is extremely difficult to get locally, and we always have to rely on India."
For one, STAV enjoys the luxury of some of the country's most prestigious AV builds to its credit. Sri Lanka Parliament Chamber, multiple numbers of Parliament Committee Rooms; Institute of Policy Studies auditorium; Ministry of Finance's VC room; and UNDP office; have been some of its accomplishments.
The year ahead holds good prospects for the industry, feels Dulith. "It's a growing market," he asserts, "so, it is bound to grow."
More or less endorsing the view is yet another leader of Lankan AV industry, Dynamic AV Technologies. "The industry will surely go up in the months to come, specially, with the way investments have been taking place in hospitality and leisure industry," says Mohan Abeysinghe, Managing Director of Dynamic AV Technologies.
According to him, there have been quite a few number of projects coming up in recent times, and all that should bode well for the industry. The company has had the unique experience of executing some of the largest AV projects in the country- Sri Lankan Parliament, the BMICH, and Western Provincial Council to mention a few. Riding on these successes, the company has quickly emerged to be among the leading players in a short span of seven years since its inception in 2009.
The growth prospects for the coming year or near future gain further ground with yet another positive outlook coming from Cyber Illusions Pvt Ltd's Managing Director Lalindra Amarasekara who vouched for a strong growth factor taking shape right now, and accrue the benefi ts in the coming months.
Overall, there is a strong sentiment for a positive growth of the industry, albeit a discordant note. Dammika Caldera, Managing Director of The Light House Audio Visual feels that the industry is faced with a very challenging time due to the recent big change in the government. "It's new and coalition government out there, and it has had very little time to devise its development strategies," he opined. "It needs some more time to formulate and put in place its plans, and until then, it's going to be tough."
That the nature of the current government being coalition is taken as a weak link by Mohan Abeysinghe too, but the Dynamic AV chief gives a positive mark that the government has been initiating some strong measures to boost the industry fortunes in general, and that should auger well for AV. That there are some new and big projects in the pipeline, and a generic betterment in willingness among user communities to invest in quality solutions and services, all that should contribute to the good of industry in the short term.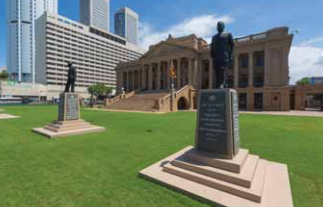 Growth To Be Visual, Over IP!
Taken the sentiment on growth prospect, but in which domain and segment? "Digital Signage" comes the assertion from the Dynamic AV head honcho whose prospective domain is hospitality. Indeed, the hospitality and leisure segments are voted by most to be the strongest growth areas. Cyber Illusions chief, while vouching for hospitality segment, also feels Corporate and Rental & Staging to be most prospective.
Interestingly, STAV chief Dulith and Cyber Illusions boss have common voice in favour of collaboration and conferencing solutions. Dulith adds the domain of UC too as the domain with good promise of growth. More, he feels the industry is being driven by IP technologies and has a fair stake on the format.
"There are quite a few large projects pending from Government side itself," observes Ronil. "If the corporate segment too catches up, then the domain that will receive boosters will be conferencing and collaboration."
Challenges, Few But Crucial
Like in most cases elsewhere, the Lankan AV industry is almost unanimously in agreement on one challenge as the greatest dearth of certified human talent.
While they all agree about the growing awareness among prospective buyers about the importance of AV, the industry suffers from extremely low quotient of skilled and certified professionals. There hasn't been any great booster happening in recent times in this regard.
While the new government has introduced some courses in academia to help develop certified talent pool for the ICT industry in general, it's been a tough going- for a simple reason that technological advancements on the global front has been proving rather faster, and catching up its pace skills training wise hasn't proven good.
For Cyber Illusions' chief, the low AV awareness among customers has been the big challenge. That most customers do not understand what AV companies do, selling the concept, let alone the product, is often very very diffi cult, and that proves a big deterrent for the industry's growth.
Most industry pundits opine that the country is being administered by a coalition government, the stability factor is missing, and that tends to dilute the prospects. Either the government should be stable to hope for a big, good change, or the government should implement measures that strongly impose the good changes, and ensure that they stay for long. "Until either of this happens, there tends to be this feel of uncertainty," observers say.
According to STAV chief Dulith Senanayake, the industry as of now is posting revenues of about 1.5 million USD per month on an average, which means 18 million USD per annum. Given the situations that the island nation had been through over the years, this figure may look okay or promising. One only hopes it gets better with time.
*Editor's Note: This article first appeared in Systems Integration Asia Aug-Sep 2016 issue.