Pro-AV solutions manufacturer Clockaudio recently partnered with AV design and integration firm sparkAV to create a new, state-of-the-art boardroom for rights management company ole Majorly Indie's corporate office in Toronto, Canada.
To ensure the best audio quality in the boardroom, sparkAV insisted upon the installation of Clockaudio's C303 microphones to meet the unique needs of the office space. Because the ole meeting rooms have many hard surfaces and furniture that could not accommodate in-table boundary microphones, sparkAV felt that ceiling microphones were necessary and the best option for the build out.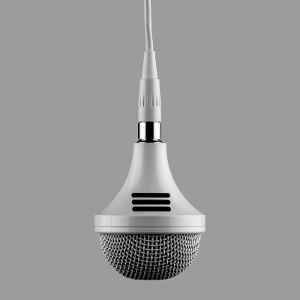 The sparkAV design team noted that each of the Clockaudio C303 microphones were designed with a ceiling enclosure locking grommet and 2.5 meter cable for easy height adjustment, which worked perfectly for the needs of ole's renovations. The C303 product features three high quality Cardioid capsules covering a 360 degree pick up pattern. Each independent capsule is RF immune, and captures approximately 120 degrees and is optimized for speech intelligibility. In addition, the C303 is equipped with a RJ45 to enable a fast connection.
The project was a complete success despite the tight deadline and under the direction of sparkAV, Clockaudio's microphones allowed the client to leverage its VoIP and bridging platforms to effortlessly make clear-sounding audio and video conference calls.