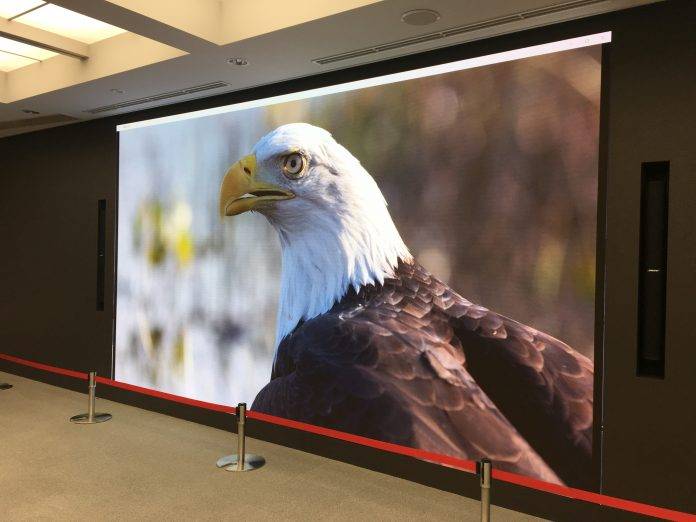 One of Japan's biggest construction companies, Fujita, has unveiled a 4K 3D LED wall at Fujita's technology center to showcase new projects to clients with computer generated 3D images.
With the use of 3D active glasses clients can visualize in three dimension their projects on the 220" (5.5m) SiliconCore fine pixel pitch display, providing a one of a kind experience for its customers.
The LED wall combines SiliconCore's master clock patent with Common Cathode to achieve refresh rates of over 120Hz per second and highly efficient power consumption. This display can achieve active 3D imagery that is flicker free, totally immersive and 1200 nits maximum calibrated brightness.
The brightness of the display is especially beneficial in 3D applications to compensate for any loss of brightness through active viewing. The additional benefit of SiliconCore's Common Cathode Technology is overall heat dissipation, enabling the displays to run cool without the requirement of fans.
Fujita required a screen to showcase its projects to clients at close viewing proximities. With a pixel pitch of 1.2mm (0.04"), clients are able to view from a distance of just one meter, allowing for more of an immersive environment within the 4K resolution at 220" diagonal.
When the content is not generating 3D imagery; presentations, video and data can be viewed by customers as well.
Yoshinori Kumita, Operating Officer, General Manager, Technology Development Division, Fujita Corporation, commented: "We needed a display that would be able to showcase content in both 2D and 3D, without a complicated setup for our employees. Due to SiliconCore's incredibly high refresh rates and HDR technology, the display produces the best color reproduction and image clarity that we have seen on the market."
"This ensures that the fine details shown in the content will not be missed. SiliconCore's own technology also offers advanced features such as high brightness and power efficiency, which assures us we've invested in a high quality and long-term product."
Installed in a presentation room in Fujita's technology center, clients can view documents in both 2D and 3D, with staff easily switching between the dimensional content with the use of 3D glasses.
Achieving 4K resolution at 4.864mm (0.191") wide by 2.736mm(0.107") high, the display also uses SiliconCore's Z.A.C.H technology to enhance color reproduction in areas of low brightness, increasing its color gamut, and enhancing vibrant colors.
Eric Li, CEO, SiliconCore Technology, commented: "SiliconCore is first and foremost an LED technology company. This gives us the advantage to develop our own processes to open up the market, and push the boundaries of what is possible with LED."
"We are able to enhance all of our displays to become a 3D application, without compromising on any of the displays features that are unique to SiliconCore. The way in which Fujita uses the screen to showcase its projects to clients, and switch between 2D and 3D content is highly forward thinking. The customer experience becomes very memorable."