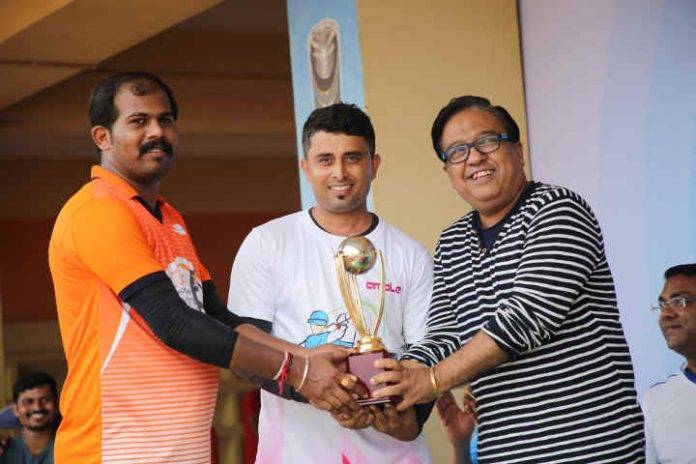 AVCL-II Joint Winners: Shyl Kumar Balu, Managing Director of GITIL presenting Winners Trophy to the Captains of SigmaAVIT & Ample
Sigma AVIT and Ample Technologies have jointly lifted the Audio-Visual Cricket League (AVCL) Championship for the year 2017. The much fancied, AV industry-exclusive event, held amidst much fanfare and enthusiasm, on 14 Oct 2017 in Bengaluru apparently brought together the cricketing skills of AVians – as the sportspersons of AV industry are called – as well as the thought leaders. SIA being the Media Partner to the event takes pride to present a snapshot of the event.
The second edition of the Audio Visual Cricket League (AVCL-II), held at the BEL Cricket Stadium in Bengaluru on the second Saturday of October, by all means surpassed the enthusiasm and standards set by inaugural edition last year.
The event was significant in that it had increased participation by the industry in terms of number of teams (from 16 teams in 2016 to 24 teams 2017); energy levels; cricketing records; sporting skills as well as sporting spirit.
The event was also significant in that both the finalists – SigmaAVIT and Ample Technologies – were declared joint winners as the final match could not be held due to heavy downpour at the stadium.
Similarly, the two losing Semi-Finalists DNI and Panasonic were declared as joint runners (third spot), due to the same reason.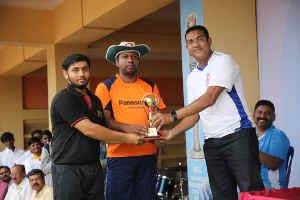 AVCL-II Joint Runners: Kaushik Mukhopadyay, MD-CEO of IAV India presenting the Runners Trophy to the Captains of DNI & Panasonic
The winning honours:
Best Batsman – Satish of Sigma AVIT
Best Bowler – Siddharth of Ample
Prolific Hitter (most sixes) – Madhusudan of HMPL
Man of the Series – Alex of DNI
Interestingly, SigmaAVIT won the Championship for the second time in a row, while two new entrants to the tourney – DNI and Panasonic – got to winning posts (joint-third).
The tournament was also significant in that generated tremendous enthusiasm from the participating teams and their management and supporters who stayed till the very end of the tournament despite the rain playing spoilsport towards the end.
The Prize Distribution Ceremony was marked by the presence of industry stalwarts such as Shyl Kumar Balu, Kaushik Mukhopadhyay, Shyam K Shankar, and Raymond Soans who stayed till the very end to honour the winners.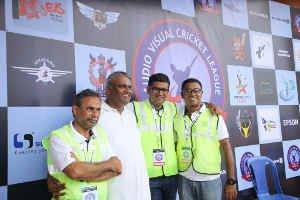 The AVCL Core Team: (L-R) Ram Bhavanashi, Bharath Kumar, Naveen Sridhar, and Mak
"The tournament only upped the ante," said Naveen Sridhar, Director-Sales, SAARC Region for beyerdynamic, and one of two Promoters of AVCL. "The enthusiasm came out striking in the increased participation of teams, promoters, supporters," he said. "The contribution of the support staff added a unique professional flavour to the tournament."
Says Bharath Kumar, Managing Director of Kramer Electronics, the other Promotor of the brand AVCL: "AVCL is now like an IP property we have created for the AVians. It will only take us further and stronger as we move ahead. Expect more for 2018."