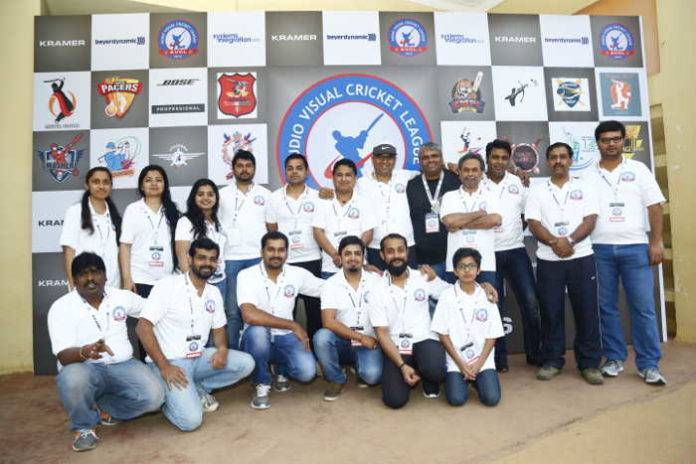 After making it big with the inaugural Systems Integration India Awards in Mumbai, beyerdynamic, Kramer and SI Asia came together to score yet another stupendous success in a span of a fortnight- this time with a sport that is simply taken as religion, if not more than that. Cricket- a game that says, and sells like anything in the country!
Conceived and announced just six weeks ago, the inaugural Audio-Visual Cricket League (AVCL- 2016) proved to be a super success story, as it not only brought together a wide spectrum of the AV industry, but also provided a fulfilling sporting entertainment for all.
Sigma AVIT ROCKERS won the Championship, while IAV AVengers came runners in the first-of-its-kind initiative in global AV.
For the sheer technicalities- the Inaugural Audio-Visual Cricket League Championship has been won by Sigma AVIT Rockers who defeated IAV Avengers in the rather one-sided final by six wickets. Over 350 people turned up to the event, cheering the players.
Putting IAV into batting, after winning the toss, Sigma AVIT Rockers, virtually rocked IAV, bundling them out for just 44 runs in 8 overs, and then belting the required runs with a plenty of deliveries remaining.
By virtue of emerging champs, Sigma AVIT won the cash prize of INR 50,000 (approx. 1026 SGDs) while IAV was awarded half the amount (INR 25000 – approx. 513 SGDs) as the second prize.
The total entry fee collected from the 16 participating teams, i.e. INR 32000 (approx. 657 SGDs) had been donated as charity to Vivekananda Girijana Kendra, a Bengaluru-based tribal welfare institution that had been relentlessly working for the welfare and academics of tribal children in Karnataka.
A total of 16 teams participated in the tournament that began at 7.00 am on Saturday, after the 'assembly of all the teams for the National Anthem, followed by Invocation', and ended by 4.30 pm, with Closing Ceremony that had the Prize Distribution as well.
The 16 teams competing in two groups included:
Christie Roadsters;
Godrej Aviators;
HMPL Tigers;
Online Smashers;
Progility Firebatz;
Royal Challengers Bose
Sigma AVIT Rockers; and
T2 Warriors in Group-A; and
Actis Avengers;
Ample Allrounders;
Genesis Strikers;
High Voltage Hansa;
IAV Avengers;
PeopleLink Pacers;
Sentil United; and
Traegen Warriors in Group-B
"This is a wonderful initiative; I'm happy to see so many AV professionals gathered here and sporting it so entertainingly" said Kelvin Ashby-King one of the two Chief Guests for the event. Kelvin, who also did the honours for Sigma AVIT team with the Winners Trophy presentation, hoped that the AVCL makes a long and successful journey as it travels in future.
"This is one of the most novel and innovative initiatives in the AV industry, something never imagined," said Shyl Kumar Balu, Managing Director of Genesis IT Innovations Ltd. "I congratulate both Naveen, and Bharath for having conceived the initiative, and more for organizing it so nicely."
A brainchild of Naveen Sridhar, Director-Sales (SAARC) at beyerdynamic, and Bharat Kumar Allur, Country Manager-India at Kramer Electronics, the AVCL had a rather fast-track application in that it was conceived just six weeks ago, and four weeks before the InfoComm India 2016, an event which is the biggest fare for Indian AV movers and shakers.
They moved swiftly – and with Systems Integration Asia joining the 'opportunity' that it was its Media Partner – the initiative quickly gathered momentum with an overwhelming response from the AV fraternity, so much so that the registrations had to be closed within a week. There were as many as four standby teams, and still had requisitions, when the event had just a few days to go.
"The main objective of the initiative is to bring the AV onto a common 'playground', and provide or a friendly networking platform amongst the SIs and Consultants, manufacturers and distributors," said Naveen. "The other objective is to promote social responsibility within the AV industry," he said, adding "with an eco-friendly approach and charity intent."
Endorses Bharath: "We are extremely happy that we met our objective, in the most fulfilling fashion; it could have gotten better- kudos to every single individual who contributed to the success of the event. We will come again, and do this for our industry and society."
The duo commended the efforts put in by their teams comprising Deexith, Shaik and Ramya from beyerdynamic, and Jithu Jose, Vinay, and Kirti Shetty, from Kramer.
Bharath and Naveen were of a special particular praise for Mahesh Kumar- Regional Manager at Extron who had stayed as the central pillar with his team as the Match Organizer for the entire event, and ensured that all the matches were conducted to a meticulous precision and finesse.