As an industry serving the needs of other industries, we design and plan solutions to help achieve objectives. In that vein, hot-desking has become very popular among corporations as a way of work. We admit that this is the first time we have seen our own industry operator talk the talk and walk the walk. (I am sure there are many others out there but this is our first witnessing).
So what is it that rocked us. Traditionalism is out the window for one. The term for the open office space with no permanent seating for anyone, including the managing director is "Activity Based Working" (AWB). Managing director Martin Low highlighted that it is a new way of working and though they moved only about a month back, they are already seeing benefits in terms of collaboration and team work. Vince Tan, VP Pro Audio Solutions Sales commented that the company even hired a specialist to talk to staff and management about AWB and how to get the most out of such a system of work.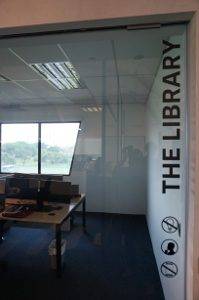 The office has a service centre and a consumer R&D electronics department, a small warehouse and an open plan office space. There are two phone booths for a more private conversation, four meeting spaces of varying sizes and if one wants a quieter space to work at – the library – where mobile phones and talking within the space is not allowed. The phone booths and meeting spaces are named after the capital cities within Southeast Asia.
When one enters the office, there is a reception and showcase space and just behind it is a space termed by the Sennheiser Asia team as The Town Hall. An open space that features a large screen, point source speakers, video camera and the TeamConnect ceiling microphone. There is also a stylish pantry area that doubles up to serve beverages during events. The space is used for quarterly meetings with regional offices joining via video conferencing.
Just beside the space is the Board room (named the Singapore room) – a more formal meeting space that features a display, TeamConnect ceiling microphone as well as the portable TeamConnect Wireless microphones. The systems are controlled via a Crestron enabled touch panel.
A walkway to the open office space separates the boardroom and the Studio. The Studio showcases the quality and clarity of studio monitors for potential customers and also doubles up as a space for meetings or video conferencing needs.
The glass windows that stretch from one end to the other on one side of the wall certainly adds to a bright and non-claustrophobic vibe. There are also strategically placed lockers for staff to use. Stylish seating sofas for discussion are also found within the working space. It was also nice to see the company's culture principles prominently displayed on a wall as a guiding light for all.
The Sennheiser Electronic Asia office was officially opened on 29th November by Daniel Sennheiser. In his speech Daniel highlighted that the company, though having a long history, is now operating with the third  generation. "Though we are doing things differently our philosophy remains the same. We are a family and we build relationships with our employees as well as our customers. It is a continuous learning process and with this new office we are aiming for new heights."
"In a way it is like a fresh start," added Daniel. "We have done things well in the past but this office symbolises a new beginning, new perspectives. The space has been designed to inspire and to look at things from different angles and how we can make things better. We should have a beginner's attitude and rebuild trust and relationship which are the foundation of our success."
Sennheiser collaborated with Electro-Acoustics System (EAS) to integrate the AV solutions
and with Crestron for control applications, for the office space. "The integration work and control solutions are in a way a showcase of both EAS and Crestron capabilities." In fact a plaque is placed at the reception space highlighting the collaboration. EAS has worked with Sennheiser for a very long time and being involved in the new office further cements their ties with the brand.
As it should be, the office space is smaller than the old office space but it is certainly more invigorating and inviting.