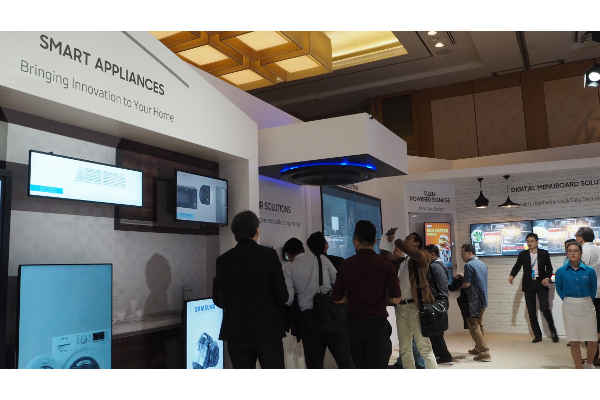 South Korean tech giant Samsung pulled out all the stops to show its best and brightest innovations during the Samsung Forum 2017, held at the Marina Bay Sands Convention Centre. The packed event saw guests comprising distributors, dealers, integrators and regional staff from Southeast Asia attend the event.
Showcased technology included smart home appliances like a smart refrigerator and Wind-Free air conditioner, all made to connect and come together in a Smart Home environment.
Other highlights included the Q7, Q8 and Q9 – the newest additions to Samsung's QLED TV range. With a peak brightness of HDR 1500 – 2000 nits, and new metal material added to nano-sized semiconductor quantum dots, the TVs are able to deliver better mixes of light and colour that can be viewed from any angle.
Also on display were Samsung's SMART Signage and monitor line-up. Said to be the world's thinnest bezel video wall, the video wall featured a thin bezel-to-bezel design that supported UHD content play through daisy chaining.
The event also featured other digital signage solutions from Samsung, including a mirror display – featuring 55% reflectance, the display portrays both real-time mirror imagery as well as complementary content with minimal visual impairment, and can be used as a sales tool.

Menu boards suitable for Quick-Service Restaurants (QSRs) were also showcased, displaying how the solutions could be utilised to help companies save cost on paper-signage printing and handling.
Other digital signage solutions showcased also included the fourth generation of SMART Signage Platform (SSSP 4.0) – integrated with the Tizen operating system, the solutions are enabled with PC-less touch navigation for increased convenience, as well as remote application management and development without a compromise in security. This security architecture also makes the SSSP 4.0 suitable for finance, payment and IoT.
One key feature displayed at the Forum included Samsung's Knox Technology, a multi-layered technology built into both the hardware and software of Samsung's latest devices. Satisfying the five principles of software integrity, least privilege, data storage protection, network protection and data isolation, the technology provides solutions such as device containment and customisation, cloud-based device management and personal security.
Catered to the hospitality industry, Samsung's LYNK SINC 3.0 was also on display – the technology offers effective management of hospitality TV content through an IP-based infrastructure. With LYNK SINC 3.0, hotels are able to provide their guests with a customised, intuitive display menu that can promote their brand and deliver content that is tailored to the guests' interests.
"At Samsung, we remain committed to developing thoughtful innovations that not only address the ever-changing needs of our customers, but are also aimed at making a meaningful impact in their lives," said Samsung Electronics (Southeast Asia and Oceania) President & CEO Yong Sung Jeon. "Despite some challenges, we've made big strides in 2016 and will continue to look forward as we engineer a smarter future together with our consumers."