Gregory Revell (RTI's Director of International Business) and Johnny Wong (Mindstec's General Manager of North East Asia Region)
R
TI (Remote Technologies Inc.) and Mindstec announced their strategic partnership to the industry and public with the "RTI and Mindstec Strategic Partnership Signing Ceremony" that was held on 4 September at Mindstec's showroom in Hong Kong. Over 35 guests and Toby Chan, the hosting emcee who was Miss Hong Kong 2010, participated in this memorable ceremony to witness and celebrate this significant moment for RTI and Mindstec.
RTI and Mindstec have been working closely with each other since this year. Mindstec's vast network of worldwide partners and dealers have been helping to bring RTI products into more markets all over the world. RTI training centres have even been set up in various Mindstec's regional offices, allowing customers to experience the powerful functions of RTI systems in real operation. The two companies also pro-actively participated in many international trade fairs including InfoComm China in April, InfoComm Brazil in May, Retail Asia Expo 2017 in June, MediaTech Africa in July, to boost global exposure of RTI central control and automation systems. Series of promotional campaigns carried out by Mindstec successfully promoted RTI in different corners of the world. To further strengthen their partnership, the Strategic Partnership Signing Ceremony was successfully concluded with blessings from various business partners and mass media in Hong Kong.
"As a specialist in central control and automation systems, RTI's fully customizable control systems help us outshine our competition in the market. Users can customize the user interface of the control panel base on their needs, giving them a truly personalized smart living," said Gregory Revell, Director of International Business of RTI.
RTI's central control and automation systems enable one-stop wireless control over multiple electronics including air-conditioners, lightings, curtains, audiovisual systems, security systems or any electronics as required by users. Everything can be under control simply at users' fingertips via wall mounted or tabletop touch panels, or even via smart devices. RTI control systems are widely applicable to any residential, commercial or hospitality environment, or even luxury yachts. To let guests understand the outstanding features of RTI products, Mindstec showcased an iPad with RTI Control App installed, enabling guests to experience how flexible a RTI touch panel can be.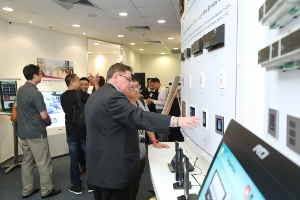 "Smart home and smart office are obviously leading trends with more and more real-life applications, creating immense business opportunities of control and automation technology. Mindstec looks forward to working closely with RTI to promote their intelligent control systems to our worldwide customers, enabling customers to live intelligently with the advantage of 'you can control whatever you want," said Johnny Wong, Mindstec's General Manager (North East Asia).
Gregory and Johnny representing the respective companies signed the partnership agreement of mutual commitment in cooperating with each other with full support. Apart from the signing ceremony, a product demo tour was also hosted by Gregory and Mindstec's sales representative, Benny Yu. Guests not just had the chance of understanding more about RTI's control systems, but also got to know the signal management system developed by another brand distributed by Mindstec, MTC. The system integration of the two brands impressed guests and showcased the wide application of both systems.
Mindstec would keep utilizing its international business network to penetrate RTI's products into more potential markets, while RTI will continue developing distinctive advanced systems to fulfill varying market demands.