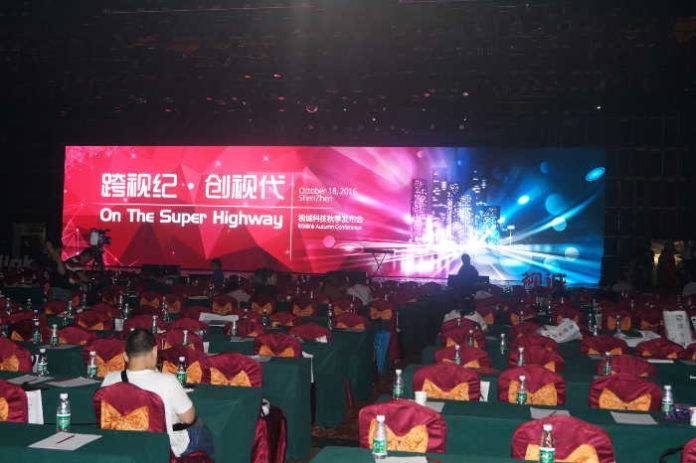 Video processing manufacturer RGBlink held there Autumn Industry Conference in Shenzhen on 18 October. Over 500 delegates attended the event held at the Gems Cube Events Centre, comprising LED manufacturers, rental companies and integrators.
The event formally got underway with a lead in video shot in 4K, displayed across a 15m wide LED display to great effect – somewhat prefacing what was to come.
RGBlink tailored the conference to the audience, with the presentations largely in Chinese. First up Managing Director Ben Hu gave an update on the market place and the plan RGBlink is bringing to market. This included announcing the opening of a brand new and dramatically enlarged facility in Shenzhen which began operation earlier in the month. Clearly RGBlink is continuing to grow strongly and enhancing the support for both their local customer base and the large number of international visitors the company receives in Shenzhen too.
Next up, Marketing Director Justin Knox took to the stage to announce a brand new product – CP3072pro is an evolution of an earlier all-in-one mixer scaler product, bringing both modularity and some of the advanced features of the X3 Live to a compact format which is likely to further increase their presence in the small conference and houses of worship space where ease of operation is key. CP3072pro will start shipping later this year.
The CP3072 was the first of several new product announcements at the conference. RGBlink also announced MSP200pro – continuing with the 'pro' theme of evolving to next generation products. The MSP200pro is an interesting device aimed at the AV professional, this testing unit is not only a signal generator, but also a signal monitor. HDMI (or optionally SDI) signals can be input and previewed on the touch screen, and even passed through. And if the built in test patterns are not enough, there is a USB media player that allows you to use custom video content as a test source.
RGBlink announced the X7 universal processor is coming market in November providing up to 32 inputs and outputs on a fully modular card frame style structure. And X7 will include Art-Net based remote control.
Actually RGBlink had a lot to say about Art-Net – not only X7 for video control but also a number of their other products will receive updates in coming months extending Art-Net control capabilities to the universal processors. And RGBlink announced G3 Net – an integrated scaler/processor for popular LED control systems including Linsn and ColorLight that also features Art-Net remote configuration.
A major theme at the conference was integration, and bridging the gap between remote control, video processing and the display device, particularly LED displays. In bringing Art-Net control to LED, RGBlink is unlocking some LED display native capabilities that to date have been isolated from coordinated control.
And in keeping with the integration theme, the conference included what RGBlink called the Xperience Zone – a space where delegates where able to touch and play with solutions from a range of companies including audio, lighting and display technologies. Almost a mini expo, the zone gave visitors a chance to see products in action and importantly really interact.
Says Ben Hu, "We are totally thrilled to have so much support from the local industry, and internationally, here in Shenzhen. The event was huge for us, but really more importantly we wanted to give support to all our clients with this conference."
Continues, Justin Knox, "RGBlink really works close with the industry, so importantly today we spoke about more than simply product, and more about the solutions and technology trends moving forward. 4K of course, but beyond that with 8K. And also discuss about connectivity through the whole video system with Art-Net enabled devices and also simplifying control with universal apps like our XPOSE platform."