Electronics & Engineering Pte Ltd (E&E) has announced the recent relocation of their Indonesian branch, PT. ENE Indonesia, in Jakarta.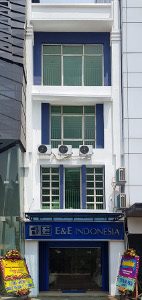 The new 4-storey office space provides ample capacity and brings together customer support, sales, engineering, and a showroom to showcase products to potential and existing clients.
"We were fortunate to find such a well-served space. Our new location and enhanced operations efficiencies will help us continue to grow and develop to keep pace with our clients' needs,'' commented Ronald Goh, Managing Director, Electronics & Engineering Group of Companies.
PT. ENE Indonesia is now located at Jl. Gunung Sahari Raya No. 1, Mangga Dua Square Blok A No. 9, Jakarta Utara 14420 and can also be reached via email at: eneindo@eneindonesia.com