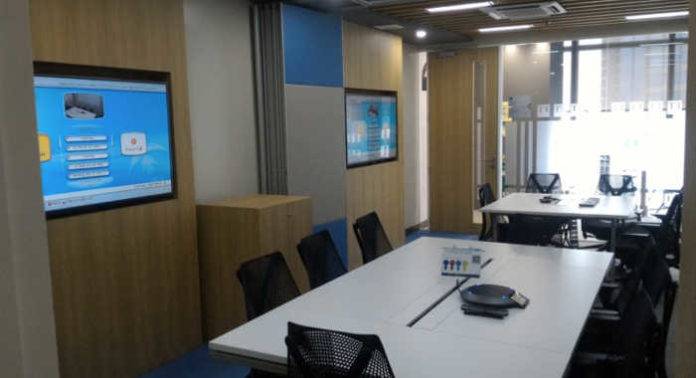 Financial Times Electronic Publishing (FTEP) Philippines is part of the London based Financial Times Group. It is located in the middle of the financial district in Metro Manila. FTEP provides broad range of essential services, such as news, comment, data and analysis globally. With a team of almost 600 editorial staff around the globe, the solutions proposed and provided by ESCO corresponds to their requirements to interact with different regions.
Initially, Financial Times only required an upgrade to their existing Audio Visual (AV) Systems. Soon after, ESCO was entrusted with providing additional system integrated solutions. These solutions include the fabrication of their Monitor Tree brackets, installations of Monitor Displays and System Integrated Video Conferencing equipment in their conference, huddle and meeting rooms.
The Dashboard Monitors made monitoring of metric reports easy. Fifteen ceiling pole mounted displays were installed to display other related statistical information. Each dashboard monitor is controlled by Financial Times through their existing Dell micro PCs.
For the Monitor Tree, ESCO fabricated and installed a customized bracket to fit the industrial design of Financial Times' new office fit design. The Monitor Tree is composed of ten 360 degrees rotatable displays that were installed by ESCO as well. The displays are connected to a micro PC provided by Financial Times. A KVM switcher was also installed to control the micro PCs.
The video conferencing requirement was integrated with other Audio Visual System in 3 combinable rooms – Conference, Meeting and Huddle Rooms. The AV functionalities of the conference room are controlled and integrated via touch panels to fit Financial Times' requirement for conference room AV upgrade. ESCO installed CP3N in the touch panels which are designed and programmed to manage or control other functions of the rooms. One conference room was installed with a new Lifesize Team 220 unit while the other one already uses an existing Lifesize unit and a Chromebox which were both provided by Financial Times.
Both Meeting and Huddle Rooms are also combinable with the same design as the conference room except they are not installed with a touch panel. Extron DXP 44HDMI was installed in each room to manually control the system.
In addition, ESCO also installed Display Monitors along with a micro PC behind each monitor in the Reception, Editorial and HR Area. Aside from these monitor displays, a 138" Motorized Projector Screen, Wireless Microphones and 6 Speakers were installed within the Financial Times Breakout Space.
Being a globally recognized publishing company, these solutions are expected to be of efficient use to their everyday work. ESCO was challenged with the preparation of the pre-requisite requirements but was eventually, able to ensure that all the rooms are up and functional by the completion date.