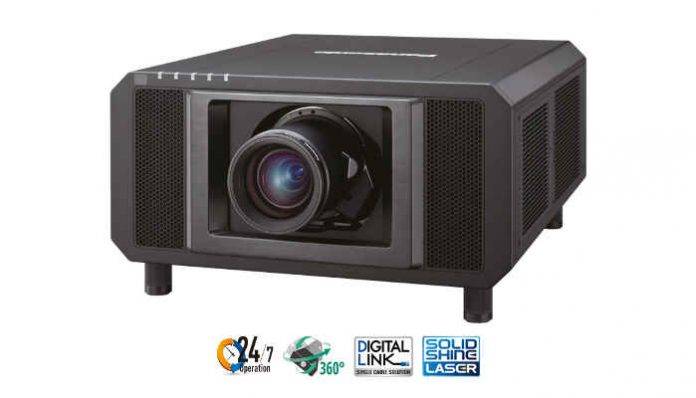 According to Panasonic Europe, the PT-DZ21K which was launched in 2012 is Europe's best selling high-brightness projector. In keeping with the momentum the company has now released a laser light source companion to the PT-DZ21K, the PT-RZ21K.
The PT-RZ21K is a 3-Chip DLP SOLID SHINE laser series aimed at the rental, events and large venue market. It is compatible with existing Panasonic lenses and comes in a similarly compact,lightweight body as the DZ21K.
The RZ21K generates up to 20,000 lm of brightness at WUXGA or SXGA+ resolution using dual solid-state laser drives. A durable dust-proof optical system means that the projector offers extended maintenance free operation beyond lamped rivals.
"The industry is ready to make the switch from lamp to laser," said Hartmut Kulessa, European Marketing Manager at Panasonic. "Panasonic research identified that many projection projects are not being realised because of the high operating cost caused by replacement lamps and service requirements. We believe moving the industry's most popular high brightness projector to laser will grow the market for projection even further.
We have ensured that the RZ21K is similarly lightweight compared to other projectors in this class, enabling easy handling. This expedites transport and installation for staging professionals at major events, and, because it's laser, rental companies will find the ability to maintain brightness levels much easier than with the lamp version."
The PT-RZ21K series consists of the PT-RZ21K (WUXGA) and the RS21K (SXGA+) and is set for release in Autumn 2017.