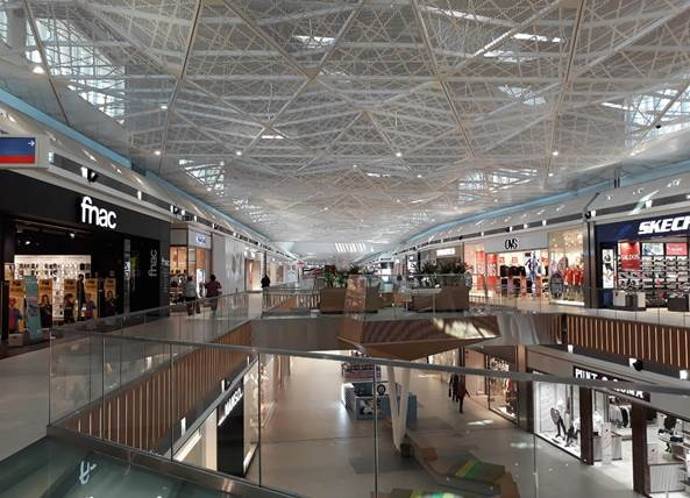 Scores of tourists are attracted every year to Algarve, Portugal's most southerly region, where vacationers enjoy the sun and beaches and descend on popular seaside resorts like Lagos or Albufeira. However, whenever people have had enough of sunbathing, Algarve also offers a multitude of other things to do – whether it is hiking or shopping, there is something for everybody.
Those fancying a spot of shopping have every opportunity to do just that in "IKEA MAR Shopping" – an IKEA-run mall in the Algarve that is home to about 100 other brand shops. The safety technology in such a mall has to work smoothly and on the dot as every day numerous visitors frequent the mall which presents a challenge to the staff at the checkouts. This is why the architects and planners of the IKEA MAR Shopping mall decided to use a connected, smart safety solution from Bosch Building Technologies.
"Our customer wanted a fully-integrated solution whose systems could be controlled via a single management system," is how Luis Gomes, Bosch Building Technologies Sales Manager Iberia, described the remit. Networked systems that communicate with each other have to facilitate quick and precise measures in emergencies. The customer also requested a means by which they could schedule the deployment of security personnel more efficiently plus intuitive-to-operate and clearly-structured systems to make their jobs easier.
Together with the customer and partners, Bosch has created a harmonious overall picture consisting of a video and public address system, a fire and intrusion detection system and access control within the space of two years.
It includes 1,100 loudspeakers inserted in the ceiling and 390 video cameras. The mall is equipped with a total of 4,000 fire detectors and 520 sensors for both intrusion alert and controlling access to IKEA MAR Shopping.
The Bosch Intelligent Video Analytics software which is installed in each and every camera processes the image data in real time and recognizes suspicious activities by means of an algorithm. For one person, it is virtually impossible to continuously retain an overview of the images provided by 390 cameras.
therefore, Whenever there is danger, information is made available to the staff who need it as quickly as possible to initiate appropriate measures.
"Intelligent Video Analytics and the complete solution make the security personnel's everyday jobs significantly easier," said Luis Gomes. "At the same time, the customer has lower costs – and every shopaholic can feel safe."